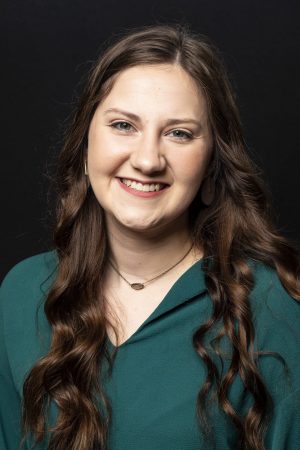 Name:  Bailey Reed                   
Major:   Media Marketing 
Class Year:  2022
Hometown:  Laneburg, Arkansas
Please tell us about your future plans once you graduate from Southern Arkansas University.
I will graduate in May of 2022 and plan to begin working in Online Marketing, where I can work in website communications and social media analytics.
How are your experiences in the Rankin College of Business preparing you for your professional career?
The Rankin College of Business is not only providing me with skills, but also tons of opportunities through organizations such as the Internship Program and the Business Student Advisory Council. Some of the skills I've obtained are professionalism, networking, leadership, and time management. These are developed through group projects, classroom learning, and events like Backpack to Briefcase and The Executive Network.
What specific courses have been your favorite, and why?
Website Development for Business and Commerce with Mrs. Pearson was my favorite class! When I came into marketing, I was not sure what I wanted to do but quickly found that website development is my niche. We made websites about ourselves, and I remember drawing out a storyboard. With some help from Mrs. Pearson, I was able to make my website look exactly how I wanted and even added some neat operational aspects to it.
This semester I am taking Social Media for Business and Marketing Research. In these classes, we are partnering with businesses in the area and conducting research for them, as well as helping them promote their business through social media. I love that the RCB is giving my classmates and me the opportunity to gain experience while still in school.
Do you have any favorite memories with Rankin College of Business faculty or fellow students?
I have many memories with the RCB faculty and fellow students, but my favorite is the Light for the Fight ceremony. In October, the RCB holds this in honor of our friends and family who have had cancer. Attending the ceremony was a surreal experience. Students and faculty, as well as Magnolia community members, came together to support the strong souls who were honored with luminaires. The RCB donated the proceeds to Steel Magnolias Breast Cancer Support Group, Magnolia, AR. A member of this group came to speak at the ceremony, and I do not think anyone left with a dry eye. I think this ceremony, hosted by the BSAC, was a great opportunity to bring education and community together. I am very thankful for the event and that I was able to attend!
What advice would you offer to a new student beginning their course of study at the Rankin College of Business?
Time flies when you are having fun! I strongly suggest creating a camaraderie with your classmates, as that can create the sweetest friendships but can also provide you with supporters that are in the same field of study as you. I would also recommend forming a relationship with your professors. They are there to help you and want nothing more than to see you succeed. As stated in the core values, expect excellence from the RCB!