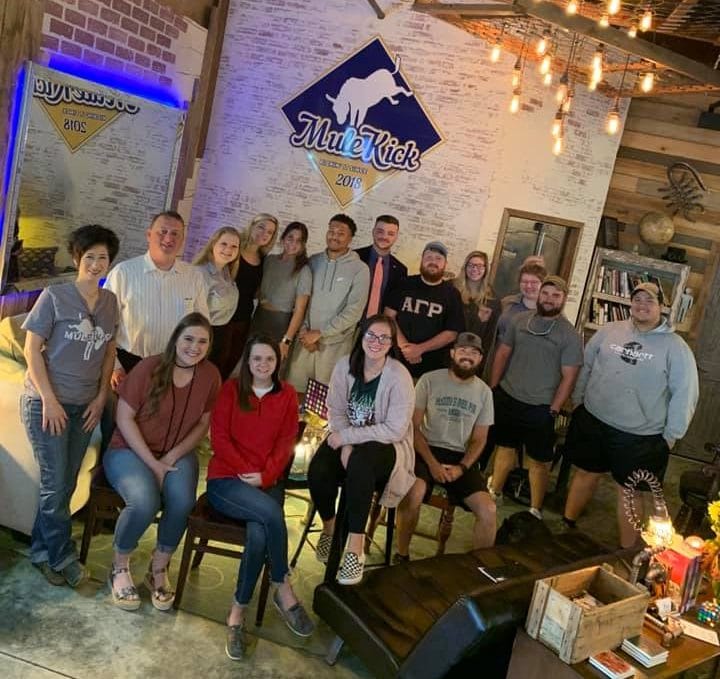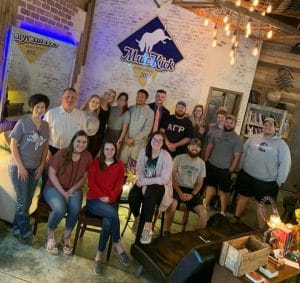 When Christy Ouei opened MuleKick in July 2019 she knew right away she wanted to involve Southern Arkansas University and not just because of its location, although that certainly helps.
MuleKick is located right down the road from the heart of SAU's campus at 2158 N. Jackson.
The eclectic eatery is open from 6:30 a.m. to 10 p.m. Sunday through Thursday and open until 12 a.m. Friday and Saturday. They have a breakfast menu and also offer craft beer and pizza, among other things.
"We offer 'all things Arkansas,'" says Ouei, the owner, who has tried to locally source many of the items sold at MuleKick.
Ouei, a business and agriculture graduate of Southern Arkansas University, knew right away the opportunities she could provide for SAU students and staff.
"When I opened, I hired 13 students," she says. "I really wanted MuleKick to be a part of this community, not just a place to eat pizza. SAU, by nature of being a University, has a plethora of ways for us to be involved. So I reached out to the business department."
Before MuleKick even opened, Ouei had a design contest with students studying graphic design. The logos they currently use were designed by students at SAU.
She employs several SAU students as wait staff, baristas and cooks, but strives to provide them ways to use their degrees as well.
Her social media person is a marketing student at SAU, her brand manager did his internship here, she has two engineering students on staff who, in addition to their other roles, are tasked with making sure the air filters and water filters and technical setups for open mic nights are working properly. One staff member, an environmental engineer, is tasked with reducing all waste and making sure the facility is as eco-friendly as possible.
"We're one of the only places in the area that does not have a dumpster," says Ouei. "We use cloth napkins, we don't have single-use plastic containers or straws and really try to make everyone more aware of the footprint we create."
Her office manager is also an SAU student and is tasked with MuleKick's nonprofit and community fundraising initiatives. "She organizes everything," says Ouei.
Ouei is focused on being a good leader, not just the owner of MuleKick, and employee engagement is at the top of her list of priorities.
"I want to make my employees my number one investment," she says. "College does a wonderful job of preparing students for some things, but I knew I could provide opportunities for them that are above and beyond what they learn in the classroom."
Ouei is focused on being an integral part of SAU's learning curriculum and has worked directly with several departments at the University—including some in the Rankin College of Business.
This past semester, MuleKick worked with RCB's Marketing Research class to assist with developing the breakfast side of their services.
"When we launched, I felt that we were more prepared to offer the pizza and beer side of our business, but coffee and breakfast was always on the agenda," she says. "We have a state-of -the-art espresso machine and work directly with a local coffee roaster who extensively trains our employees. Our coffee is great, so I really wanted to grow that side of the business as well."
Mark Trout is the instructor of the Marketing Research class. "We worked with MuleKick, as well as a few other companies, to conduct market research on operational or sales challenges they were having," says Trout. "For MuleKick our team of students organized a survey to help her better understand what the community was looking for from a breakfast place."
Southern Arkansas University and the Rankin College of Business has a long history of working relationships with the business community in Magnolia.
The Marketing Research class consisted of 17 juniors and seniors who were divided up into three teams to work on these projects. Six students were assigned the work associated with MuleKick, but the entire class was invited to talk with Ouei about her business and her strategy, Trout says.
The students put together a survey, with Ouei's approval, asking the community about their preferences as they related to breakfast items, drinks and price, Trout says. They collected about 200-300 responses and finalized the information in a report at the end of the semester.
"The students really enjoyed the project, and all were able to gain some valuable experience about what it's like working with real clients running real businesses," says Trout. "Christy was fantastic; she really gave the students a glimpse into what running a business like this entails. I think they really enjoyed it."
The research gave Ouei and her team an opportunity to refocus, she says.
It was valuable to have their report. Ouei plans to continue to expand the way she works with the University.
Departments at Southern Arkansas University have started to host a weekly Trivia night at MuleKick. The music department has had students perform on the patio, and Ouei is working with the English department to host a poetry slam event.
"I really want to develop this relationship so students know they can come to me to not only gain valuable experience, but also to introduce them to business and a network of local professionals," Ouei says. "We have started to become the spot for local business leaders to host business luncheons. I'm focused on building a level of trust with the business community as well as students and faculty at SAU. I want students to know, if they come to me, they are not only going to develop the skills and work ethic necessary to really succeed in their next job, but that they will also have opportunities to expand their networks and meet people who could be potential future employers. I'm really looking forward to continuing to grow in our community."