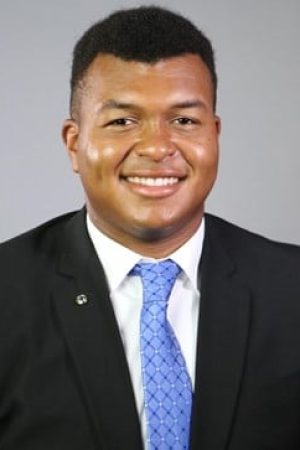 Name:  Neriah Brown                 
Degrees Earned:BBA in Financial Analysis, MBA
Class Year:  '18 and '20
Current Profession: Head Men's and Women's Golf Coach / Officer of Development
We'd love to share more about your professional success with our current and future students – please describe your career path to this point as well as your current profession:  
After earning my associate degree from National Park College I transferred to Southern Arkansas University, where I joined the men's golf team and earned my bachelor's degree in Financial Analysis from the Rankin College of Business. After getting my degree, Dr. Hough advised me to get my MBA. Unsure of my career path, I decided to take her advice. While earning my MBA I worked as a GA with the ASBTDC and an assistant for the university golf program. After earning my MBA and interviewing for a few positions in my field, an opportunity came about to become the new head golf coach for SAU. I received the position of Head Coach / Officer of Development, which is the position I continue to hold.
How did your experiences in the Rankin College of Business prepare you for your professional career?
The responsibility and professionalism I gained while attending the RCB prepared me for virtually any career path. But the experiences of working with a team as a member of the Business Student Advisory Council, Investment Advisory Council, and the NYC trip greatly helped me in my career.
Were there any specific courses or areas of study that were especially useful to you?
The business analytics, networking, communications, and management skills prepared me specifically for this career. They truly helped me get this position.
Do you have any favorite memories from your time at the Rankin College of Business?
The study abroad in Greece and trip to New York were really great memories. Speaking to the CMO of a corporation based in Greece, then seeing that brand being completely sold out by tourists from Asia hours later was fascinating. But I also remember a lot of the class discussions in my first year that stick with me to this day.
What advice would you offer to a new student beginning their course of study at the Rankin College of Business?   
Take advantage of the professors. They truly want to help you, and despite everything I just stated, I feel that I could have gained even more from speaking with my professors in and out of class a little more often.