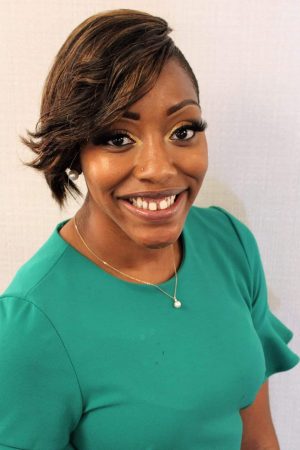 Name:  Mia Hyman                   
Degrees Earned:Associate of Arts, BBA, MBA
Class Year:  '17 and '19
Current Profession: Assistant General Manager of The Burgundy Hotel, Tapestry Collection by Hilton
We'd love to share more about your professional success with our current and future students – please describe your career path to this point as well as your current profession:  
My story is the perfect example of how starting from the bottom and hard work can lead to career success. I started hosting at a restaurant, Table 28, while finishing my MBA. I loved that job, but it was a part-time job, so I started working the front desk at the hotel. Table 28 is located inside The Burgundy Hotel. I went above and beyond my job duties, so much that my boss, our hotel owner, kept his eye on me. He would always tell me that I have a lot of potential and that he wanted to keep me around. A week after I graduated and came back to work, I was told that I was promoted and would be the Marketing & Events Coordinator. My very first "big girl job"! I had to learn almost everything on my own, as I did not have anyone to train me for my new position. I love being a learner and acquiring new information. That is why it was not hard for me to take on more responsibilities and grow career-wise. After some time, I transitioned into the role of Director of Marketing & Sales. I was responsible for adding new clients, marketing, events, and revenue (setting rates). Now, I am transitioning to be the General Manager.
How did your experiences in the Rankin College of Business prepare you for your professional career?
I am very happy that I decided to be involved in my classes and extra-curricular activities. I learned how to interact with various people and personalities, speak confidently in front of any size crowd, and invest in myself. I was not sure what I wanted to do upon graduation. I was leaning towards Higher Education. I know that no matter what field or position I went into that I would be equipped with the basics that I needed to better understand and do my job. You really do get an all-around experience. The professors are a bonus. They made it easy to connect with them and in return learn from them. They are why I plan to go into Higher Education once I retire from my career in hospitality. I want to inspire and encourage.
Were there any specific courses or areas of study that were especially useful to you?
Mr. Trout and his sales classes! He made us read books that were not your typical boring classroom reads. Zig Ziglar's voice is forever burned in my head. He has helped me seal several deals.
Do you have any favorite memories from your time at the Rankin College of Business?
The end of semester dinners at Dr. Clark's!
What advice would you offer to a new student beginning their course of study at the Rankin College of Business?   
The RCB gives a well-rounded business education in all business aspects. Even if a required course is not interesting to you, take what you can from it. Be a sponge and soak up information in addition to being open-minded to opportunities. Use college as your time to practice and get out there. You never know where your career may lead you. Do not stay in your room or keep your head in the books, join clubs and make friends. It only takes ten seconds of courage to step out of your comfort zone.