2021
| | |
| --- | --- |
| 2021 Magale Library Friends Luncheon | |
Janis Faye Kearney grew up surrounded by dirt roads, bayous and cotton fields. Thanks to a father who moved her with stories, she fell in love with the sound and feel of words – the magic of stringing them together into stories.   The author and publisher wears her southern-ness on her sleeve and creates stories about hers and other southerners' miraculous and banal lives through short stories, memoir, autobiography, biography and fiction.  Janis's path has taken her many places, including her role as publisher of the AR State Press founded by civil rights legend Daisy Gatson Bates, and as Personal Diarist to America's 42nd President William J. Clinton. A more recent role that brings enormous joy and passion is founder and president of the Celebrate! Maya Project, a nonprofit she and a handful of women created after the death of the iconic Maya Angelou in 2014. What started out as a celebration of Maya Angelou's life and legacy, has magically transformed into a bridge for young people seeking to find their own voices. Janis says, "We are a forum for young people to learn their own history and create their own stories, and in the process, discover their own voices through writing workshops, literary competition, and public forums. We're impacting children's lives, and that is what Maya would expect of us."
Southern Arkansas University
Magale Library

Celebrates Opening of the
National Museum of African American

History and Culture With
Smithsonian Poster Exhibition
The Smithsonian Institution opened its newest museum, the National Museum of African American History and Culture Sept. 24, 2016. The celebration continues and reaches beyond Washington, D.C., to Magnolia as Southern Arkansas University Magale Library presents "A Place for All People: Introducing the National Museum of African American History and Culture." The commemorative poster exhibition will be on view Spring Semester 2021.
Organized by the Smithsonian Institution Traveling Exhibition Service (SITES) in collaboration with the National Museum of African American History and Culture, "A Place for All People" highlights key artifacts that tell the rich and diverse story of the African American experience. From the child-size shackles of a slave and the clothing worn by Carolotta Walls on her first day at Little Rock Central High School to Chuck Berry's Gibson guitar, "Maybellene," and the track shoes worn by Olympian Carl Lewis, the exhibition presents a living history that reflects challenge, triumph, faith and hope.
The poster exhibition and related public programs are an opportunity for Southern Arkansas University Magale Library to showcase its work in sharing the many stories of African American and African diaspora people and their contributions to the local community and the American story.
The journey to establish this museum began a century ago with a call for a national memorial to honor the contributions of African American Civil War veterans. After decades of efforts by private citizens, organizations and members of Congress, federal legislation was passed in 2003 to create the National Museum of African American History and Culture. Since then, thousands of artifacts have been collected to fill the inspiring new building that has risen on the National Mall. Through its exhibitions and programs, the museum provides a shared lens to view the nation's history and the possibility for hope and healing. It is a place where all can gather to remember, reflect and embrace America's story: a place for all people. For more information, visit nmaahc.si.edu.
2020
Votes for Women: A Portrait of Persistence
2019
Smithsonian Shares Lincoln Portraits with Educators  across the Nation through Portfolio Set and Online Resources

The Smithsonian Institution Traveling Exhibition Service (SITES) and the National Portrait Gallery have partnered to share the scholarship and collections of the exhibition "One Life: The Mask of Lincoln" with thousands of educators across the country through an educational portfolio. Designed for middle-school and high-school students and their history and American studies' teachers, the portfolios present 10 iconic portraits—each one a 13-by-19-inch mini-poster—incorporating interpretive text. The portraits show the changing face that President Abraham Lincoln (Feb. 12, 1809-April 15, 1865) presented to the world as he began his presidency and led the fight to preserve the union during the Civil War.

"The Mask of Lincoln" portfolio was made possible by a grant from the Smithsonian Women's Committee. SITES connects Americans to their shared cultural heritage through a wide range of exhibitions about art, science and history, which are shown wherever people live, work and play. Exhibition descriptions and tour schedules are available at www.sites.si.edu.

 
2019 Magale Friends Luncheon

Joe David Rice

Joe David Rice is a well-known and respected resource on all things Arkansas. An accomplished promoter of the state as a "must-see-and-experience" destination, Rice served as Arkansas's tourism director for thirty years, working under five governors. He enjoys exploring the Arkansas countryside, be it by foot, canoe, or car, and unearthing those lesser-known tidbits that make the Natural State so special.
2018
Arkansas African American Legislators, 1868-1893
A traveling exhibit of the Black History Commission of Arkansas and the Arkansas State Archives
| | | | | |
| --- | --- | --- | --- | --- |
| | | | | "Arkansas African American Legislators, 1868-1893" is a traveling exhibit produced by the Black History Commission of Arkansas and the Arkansas State Archives. Eight-five African Americans are known to have served in the Arkansas General Assembly between 1868 and 1893. African American did not serve again in the General Assembly until 1973.  Images of panels 1 and 4 from the exhibit. Images from the Arkansas State Archives. |
Judy Barrett 2017
Judy Barrett was the founding editor and publisher of HOMEGROWN: Good Sense Organic Gardening, which was published for 12 years as a magazine and is currently available online.  She was previously the editor of The New Garden Journal and one of the hosts of the public television series, The New Garden.
Judy is the author of several gardening books including Tomatillos:  A Gardener's Dream A Cook's Delight and How To Become An Organic Gardener in 7 Easy Steps.   Her book: What Can I Do With My Herbs? was published by Texas A&M Press in the spring of 2009. What Makes Heirloom Plants So Great? was published by Texas A&M Press in October, 2010. Recipes From and For The Garden came out in the spring of 2012. YES! You Can Grow Roses came out in September 2013.  Her newest book:  Easy Edibles: How to grow and enjoy fresh food, came out in the fall of 2015.  A new book is in the works.
She is a regular columnist for the Austin American-Statesman and an occasional columnist on gardening for Edible Austin, ACRES U.S.A and the Harris Old Farmer's Almanac.  Judy speaks to groups about gardening across the South and Southwest regions, including garden clubs, events and nurseries, herb societies, Master Gardeners and Expert Gardener training.  She holds BA and MA degrees in English from the University of Texas at Austin and has edited books on a variety of topics, including gardening, business, medicine and others.  In addition to all that fun, Judy is married, has 2 daughters, 2 stepdaughters, 10 grandchildren – all fabulously intelligent, beautiful, clever and kind.  She lives in Taylor, Texas.
Dr. Sventlana Paulson 2016
Dr. Svetlana Paulson gave a presentation entitled "The War of Trenches and Zeppelins." for the Grand opening of "The Great War" Exhibit.
Dr. Ben Johnson Lecture 2016
Dr. Ben Johnson also gave a presentation entitled "Arkansas during World War I" in honor of   "The Great War" Exhibit
The Great War Exhibit 2016
The Great War: Arkansas in World War I, a free traveling exhibit that tells the story of Arkansas's role during World War at home and on the battlefields, will be displayed at Southern Arkansas University's Magale Library, 100 East University, Magnolia, AR on November 3rd until November 20th, 2016. The grand opening will be November 3rd at 2:15 p.m. with a presentation by Dr. Svetlana Paulson, entitled "The War of Trenches and Zeppelins." The library will also host a second lecture on November 11th at 3:00 p.m. entitled, "Arkansas during World War I" by Dr. Ben Johnson.
The traveling exhibit consists of 12 panels that showcase images from the Arkansas State Archives' holdings, including original documents, photographs, posters, maps and historical objects, giving a first-hand look at the lives of Arkansans during the war.
"I am very pleased that Magale Library is sharing The Great War: Arkansas in World War I with their visitors and community," stated Dr. Lisa Speer, State Historian and the Arkansas State Archives' Director.  She continued, "This exhibit, created to commemorate the centennial anniversary of America's entry into World War I, powerfully memorializes the impact this first modern, global war had on the 65 million who were mobilized, including the 70,000 soldiers from Arkansas."
The Arkansas State Archives is located in Little Rock. It maintains the largest collection of historical materials on Arkansas in the world and is dedicated to collecting and preserving the documentary history of Arkansas.
For more information about the exhibit at SAU's Magale Library, call 870-235-4170 or email library@saumag.edu. To schedule this exhibit at your institution, call the Arkansas State Archives at 501-682-6900 or email state.archives@arkansas.gov. To learn more about the Arkansas State Archives and its collections visit www.ark-ives.com. The agency recently changed its name from the Arkansas History Commission to the Arkansas State Archives when it became a part of the Department of Arkansas Heritage on July 1, 2016.
This exhibit is funded in part by a grant from the Arkansas Humanities Council, the Department of Arkansas Heritage and the National Endowment for the Humanities.
The Arkansas State Archives is an agency of the Department of Arkansas Heritage and shares the goal of all eight Department of Arkansas Heritage agencies, that of preserving and enhancing the heritage of the state of Arkansas. The agencies are Arkansas Arts Council, Arkansas Historic Preservation Program, Arkansas Natural Heritage Commission, Arkansas State Archives, Delta Cultural Center in Helena, Historic Arkansas Museum, Mosaic Templars Cultural Center, and the Old State House Museum.
Carl Drexler Talk 2016
Please join us as Dr. Carl Drexler, archeologist at the SAU station of the Arkansas Archeology Survey, gives a talk about the book "Historical Archaeology of Arkansas: A Hidden Diversity" to which he contributed and edited. In nine essays that range from Civil War sites to the Ozark Mountains to the nineteenth-century Jewish community, Drexler and his contributors show an Arkansas unknown to all but those dedicated individuals working to bring attention to the state's intriguing and varied cultural history.
Kat Robinson Friends Luncheon 2016
Kat Robinson is a food and travel writer based in Little Rock. She travels Arkansas and the South searching for good stories, tall tales and the next great little restaurant.  In addition to Tie Dye Travels, Kat has written three books —Arkansas Pie: A Delicious Slice of the Natural State, Classic Eateries of the Ozarks and Arkansas River Valley, and Classic Eateries of the Arkansas Delta.  Her fourth book, tentatively titled Classic Eateries of Southern and Western Arkansas, is expected in 2016.  Before starting her writing career in 2007, Kat produced and wrote for several Arkansas-based television and radio outlets, including an eight year stint producing Today's THV This Morning, the morning show for Little Rock's CBS affiliate.
Dr. Henry Robison
Magale Library is delighted to welcome Dr. Henry Robison, author, researcher, and professor emeritus of biology at SAU as our guest speaker for our Annual Spring Luncheon on March 4, 2015.
Dr. Robison began his career in the biology department at Southern State College in 1971. He has an international reputation in the field of ichthyology (fish) and has discovered fourteen previously unknown species that include crayfish, beetles, wasps, and crustacean. Cambarellus robisoni is a crayfish named in his honor by the Smithsonian Institution in Washington, D.C. During his career, he has focused his research on fishes of Arkansas and Oklahoma and has published five books and over one hundred articles. Three of his books focus on Arkansas animals, Fishes of Arkansas, (1988), Only in Arkansas: A Study of the Endemic Plants and Animals of the State (1995), and The Amphibians and Reptiles of Arkansas (2004).
In 2005, Dr. Robison was moved to the highest rank of distinguished professor by the SAU Board of Trustees, an honor only previously held by Dr. George Sixbey, an English professor who received this honor in 1972. Dr. Robison taught at SAU for over thirty years before devoting himself exclusively to his research and publishing. In 2012, he was awarded the Frank Blair Eminent Naturalist Award by the Southwestern Association of Naturalists, demonstrating his continual active research as a biological scientist.
Bill Mercer "We Reported the Kennedy Assassination"
Thursday, November 20, 2014 at 2:30 p.m. in Foundation Hall, Donald W. Reynolds Campus & Community Center Southern Arkansas University.
It was while Bill Mercer was working at KRLD, Channel 4, a CBS affiliate in Dallas,  that he became a witness to and reporter of history at the time of President John F. Kennedy's assassination, November 22, 1963.  This event was the first time such breaking news was covered spontaneously, something we take for granted now.  Bill Mercer and fellow reporters Bob Huffaker, George Phenix, and Wes Wise were responsible for covering the assassination and the aftermath for KRLD.  They provided news and footage to Walter Cronkite and other CBS affiliates around the country.  When the News Went Live: Dallas 1963, published in 2013, provides photos, insights, and reflections on the events these four reporters covered.
Fought in earnest: Civil War Arkansas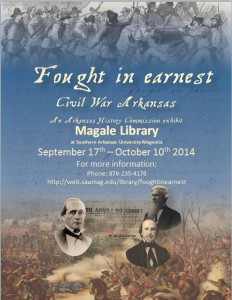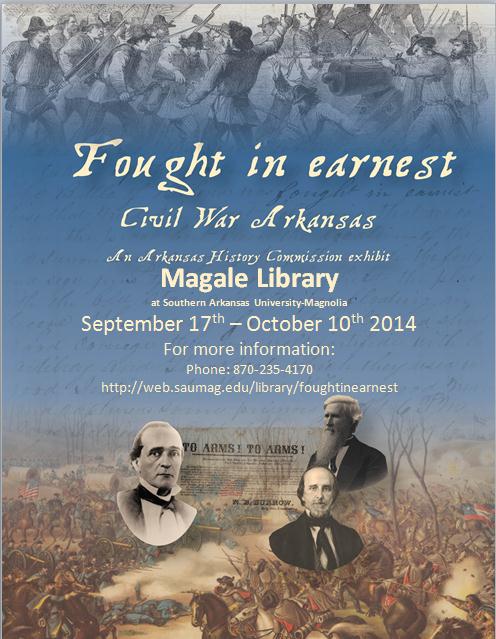 Fought in earnest: Civil War Arkansas, a free traveling exhibit chronicling major historical events in Arkansas between 1861 and 1865, will be displayed at SAU's Magale Library,  100 East University, Magnolia on September 17 – October 10, 2014 from Monday through Friday,  8:00 a.m. to 5 p.m.
Fought in earnest contains fifteen free-standing banners that showcase images from the Arkansas History Commission's holdings. Original documents, photographs, maps, drawings, paintings and artifacts illustrate the story of the Civil War in Arkansas. These primary source materials offer a first-hand look at the lives of Confederate and Union soldiers, government officials and civilians from 1861 to 1865.
"We wanted to develop several types of materials to commemorate the sesquicentennial of the Civil War in Arkansas," stated Dr. Lisa Speer, State Historian and the History Commission's Director. She continued, "I am very pleased that Magale Library is sharing this intimate glimpse into Arkansas's role in the Civil War with their visitors and community."
Other Civil War materials developed by the Commission for the sesquicentennial include two books,Traveled through a fine country: The Journal of Captain Henry Brockman, and Documenting Arkansas; The Civil War 1861-1865, the companion book to Fought in earnest. Online order forms for these publications are available www.ark-ives.com/documenting.
During its 107 year existence the State Archives has actively collected materials from this crucial era in our nation and our state. Diaries written by soldiers and citizens; letters to mothers,
fathers, wives, sweethearts, brothers, and sisters; military orders, newspaper accounts, photographs, broadsides, and even party invitations recount the day-to-day lives of people caught up in the most significant event in nineteenth century America. These publications and exhibituse these primary source materials to tell the story of the Civil War from an Arkansas perspective. The variety of items represents the breadth of the Commission's Civil War resources, while thousands more documents are available to researchers.
For more information about the exhibit at Magale Library, call (870) 235-4170 or email library@saumag.edu. To schedule the exhibit in your institution call the Arkansas History Commission at 501.682.6900 or e-mail state.archives@arkansas.gov.
This exhibit was produced in part by a grant from the Arkansas Natural and Cultural Resources Council, funded by the Arkansas Real Estate Transfer Tax.
Fought in earnest: Civil War Arkansas photo gallery:
Sherrel Johnson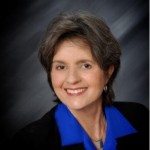 Magale Library Friends' Luncheon March 5, 2014
A 1988 Political Science graduate of Southern Arkansas University, Sherrel Johnson's interest in water, project development, and public policy began when she was the department's first independent senior research student under Dr. James Willis' direction.  In 1989 the Arkansas Political Science Association named her resulting work, Rollin' on the River: Ouachita River Navigation in Arkansas, the year's "Best Student Research Paper". Following graduation, Johnson's passion for public policy and project development was further fueled by experiences of starting Sherrel Johnson Communications in El Dorado, and later serving as the El Dorado Chamber of Commerce President and CEO, overseeing all aspects of Union County economic development.
It was during Johnson's Chamber leadership that the Sparta aquifer, Union County's only source of drinking and industrial water, was so severely threatened with depletion and water quality degradation that Union was among the state's first designated Critical Groundwater Area.  As a result, in mid-1997 she and the Chamber team took the lead in forging a countywide coalition and building extensive support for addressing the Sparta's decline as the county's top economic development priority.
The resulting Sparta Aquifer Recovery Initiative and all its components demonstrate successful, measurable practical application of public policy.  Johnson remains directly involved in the project as the Union County Water Conservation Board's Grants Administrator and Special Projects Coordinator.  The Board was the first and remains the only critical groundwater conservation Board to form as a result of Union's countywide effort.  The Board conserves and protects the Sparta aquifer by providing an affordable alternative surface source from the Ouachita River.
2013 2nd Floor Renovation
After nearly 40 years with the carpet and wall color original to the building, the Magale Library staff with funding through the Friends of Magale Library have renovated the building's main floor.
To view before, during, after photos, please select the link below:
Magale Library 2nd Floor Renovation May 2013
2013 Annual Spring Luncheon – David Jeane  April 17, 2013
Magale Library is proud to present David Jeane as our speaker for the 2013 Spring Luncheon. Mr. Jeane will be presenting "Adventures in the Atacama Desert: Excavations and Interesting Things in Peru."
Mr. Jeane retired in July 2011 from his position as the Arkansas Archeological Survey's assistant archeologist for the research station on the Southern Arkansas University campus in Magnolia.  David R. Jeane (B.A., Northwestern State University, 1969; M.S., Northeast Louisiana University, 1976) first started as a volunteer with Dr. Frank Schambach at the SAU Station in 1972.
Dr. Clarence H. Webb and David formed a small company to perform Section 106 surveys.  After a 27-year career with the Louisiana Department of Health and Hospitals, he retired and began working full-time as Station Research Assistant at SAU.  He has maintained an active role in Arkansas and Louisiana Archaeological Societies and has served in many offices including President of both organizations and as a member of several organizations. 
Mr. Jeane's interests have ranged widely, from South American mummies — he has spent five seasons in the Atacama desert in south Peru excavating tombs and mummies, two trips to Guatemala, Honduras, and a field session in the Yucatan working on Mayan sites – to 17th and 18th century English ceramics.  For much of his career in Arkansas, he worked closely with long-time SAU station archeologist Frank Schambach (who retired in 2006) on the archeology of the Caddo Indians, but he has always maintained a strong interest in the historical archaeology of southwest Arkansas.  His years of service include a strong record of interaction with the public and performance in the Arkansas Archeological Survey's mission area of promoting archeology via education. He is a past president (1982-83) of the Arkansas Archeological Society and regular participant at the Society's Training Program and annual meeting.
David Jeane has contributed to significant archeological field work and research efforts in Arkansas too numerous to mention.
2012 National Library Week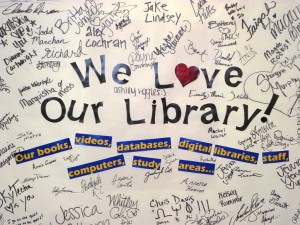 April 8-14, 2012 In celebration of National Library Week, Magale allows SAU's students, faculty, and staff show their support of the library and its resources by signing our "We Love Our Library" banner and viewing quotes about libraries.
2012 Annual Spring Luncheon – Janet B. Carson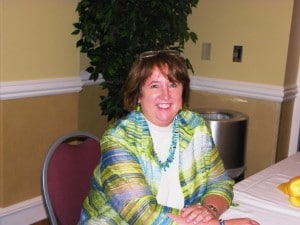 Extension Horticulture Specialist, University of Arkansas Cooperative Extension Service
Janet Carson serves as  the Master Gardener Statewide Coordinator and gives leadership to the program of consumer horticulture.  She is responsible for providing information to 75 counties for all areas of horticulture related to home gardening with an emphasis on ornamentals.  Her media work includes a weekly call-in radio show on the Arkansas Radio Network from 10:00 am – 11:00 am Saturday mornings.  She has weekly gardening columns in the Arkansas Democrat-Gazette, monthly columns in Arkansas Gardener magazine, and weekly television spots on KARK taped at Garvan Woodland Gardens.  She is the 2003 recipient of the John White Award for Excellence in Extension Education and she received the 2010 Extension Educator Award from the American Society for Horticultural Science.
She is married and has two grown children.
2011 Annual Spring Luncheon – Dr. William Shea
Dr. William Shea, a history professor and writer from UA-Monticello, was the guest author at the 2011 Spring Friends Luncheon.  He spoke on myths and memories of the Civil War in Arkansas. He is the authored the books Fields of Blood: The Prairie Grove Campaign (University of North Carolina Press, 2009), Wilson's Creek, Pea Ridge, and Prairie Grove: A Battlefield Guide With a Section on Wire Road (University of Nebraska press, 2006), Vicksburg Is the Key: The Struggle for the Mississippi River (University of Nebraska Press, 2003), Pea Ridge: Civil War Campaign in the West (University of North Carolina Press, 1992), and The Virginia Militia in the Seventeenth Century (Louisiana State University Press, 1983). He has been awarded the Fletcher Pratt Award, New York Civil War Round Table, for best book on the Civil War (2010) and the J. G. Ragsdale Award, Arkansas Historical Association, for best book on Arkansas History (2010).
National Library Week 2011
April 10-16, 2011
Students, Faculty, Staff, and Friends of Magale helped celebrate National Library Week 2011 by signing our We Love Our Library banner and viewing quotes about libraries.
Magale Library's Mystery Maze & Information Hunt
October, 18-29, 2010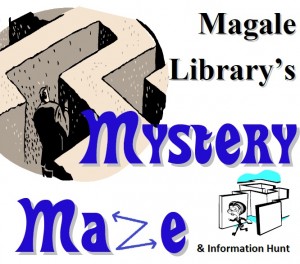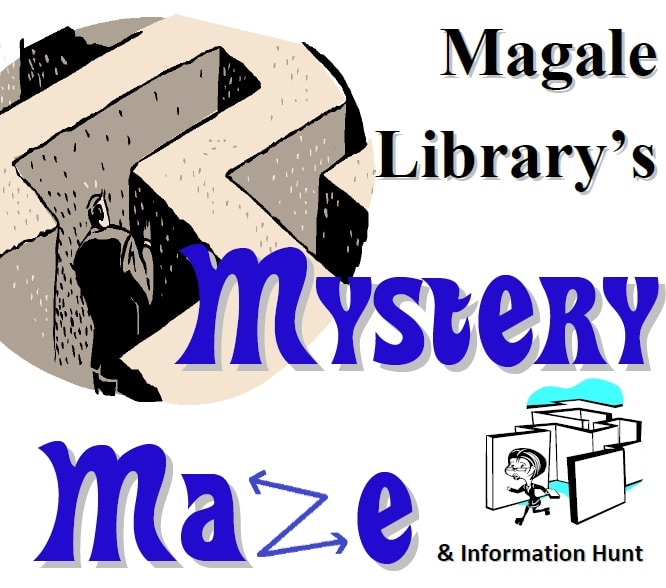 Magale's Mystery Maze and Information Hunt allowed SAU students, faculty, and staff to explore Magale's Main Collection while also learning about Magale's electronic resources.
Banned Books Week
September 25-October 2, 2010
Magale Friends and the SAU community had the opportunity to view the library's Banned Books display. The display included many commonly banned items as well as information about why they were banned from select libraries.
National Library Week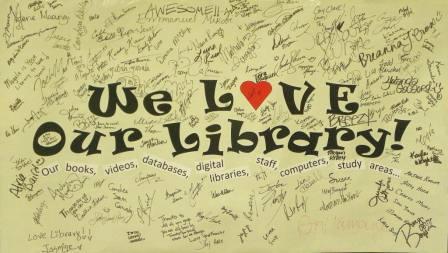 April 11-17, 2010
Students, Faculty, Staff, and Friends of Magale helped celebrate National Library Week 2010 by signing our We Love Our Library banner.
Noted Author Carla Killough McClafferty
Wednesday, April 7, 2010
Carla Killough McClafferty grew up on an agricultural farm near England, Arkansas. "My elementary school didn't even have a library. Bookshelves underneath the windows that spanned one side of each classroom were the substitutes. To this day, libraries inspire me with awe and appreciation. I always loved to read, but it never occurred to me as a child that I would become a writer. As a matter of fact, I have no background or training to be a writer.
"After high school I graduated from Baptist Medical Center School of Radiologic Technology in Little Rock, then worked in local hospitals. After my children were born, I was a stay-at-home mom except for occasional freelance work as a radiologic technologist in orthopedic clinics.
"I began writing after the death of my fourteen-month-old son, Corey, which left me struggling to answer impossible questions like 'Why did this have to happen?' I wrote a book about how God brought me through this difficult period in my life titled Forgiving God.  I found through that experience that I loved to write and have been writing ever since."
Ms. McClafferty's first book of nonfiction for children is The Head Bone's Connected to the Neck Bone: The Weird, Wacky, and Wonderful X-ray. In manuscript form, this book won the 1997 Work-in-Progress Grant from the Society of Children's Book Writers and Illustrators.
In Something Out of Nothing: Marie Curie and Radium, Ms. McClafferty gives the scientist's life and work a fresh telling.  Kirkus Reviews says the book "gives readers a terrific sense of Curie's state of mind as she worked and loved. There are many biographies of Curie; this one stands out in its shared focus on her discovery and its legacy."  The book has received many honors and awards including the International Reading Association Children's Book Award Winner, an Orbis Pictus Honor Book, American Library Association Best Books for Young Adult List, Outstanding Science Trade Book, Notable Social Studies Trade Book for Young People, and Charlie May Simon Reading List.
Ms. McClafferty's most recent book and the subject of her talk at the lunch on April 7, is In Defiance of Hitler: The Secret Mission of Varian Fry. She will discuss a little-known chapter in history when Varian Fry traveled to France in order to rescue refugees trapped by the Nazis.  Leading a double life, this debonair American, saved the lives of more than 2000 people.  Her book has been recognized as an Orbis Pictus Recommended book, Cooperative Children's Book Council Choices list, Society of School Librarians International Book Award Honor Book, and has received starred reviews in Booklist and Jewish Book World.
Ms. McClafferty is a an experienced speaker who has presented programs for a wide variety of audiences in Arkansas as well as in New York, Los Angeles, Miami, Washington D.C., Chicago, and Marseilles, France.  She and her husband Pat live in North Little Rock, Arkansas.  They have three children, Ryan, Brittney and the late Corey McClafferty.
Related site: http://www.carlamcclafferty.com/
Dr. James Willis
February 25, 2010
An Afternoon with the Author
Dr. James F. Willis, the University Historian, discusses the writing and publishing process of his book, Southern Arkansas University: The Mulerider School's Centennial History, 1909-2009.  Dr Willis shows a slide presentation of school photos while he discusses writing the book and reads from the text stories about the undefeated 1929 championship Mulerider football team, the school's first student dance in 1934, and students' construction of the Greek Theater in 1936.
Banned Books Week 2009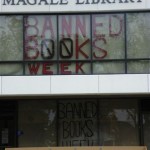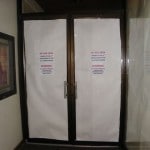 Dusty Richards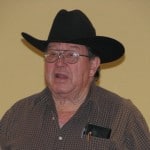 April 15, 2009
Bumpy Roads, the Western, and Me
Dusty Richards is the author of over 90 books, over 50 stories, and hundreds of articles. His latest book The Sundown Chaser was released in April 2009. He was inducted into the Arkansas Writers Hall of Fame in 2004. In 2007, he received two Spur Awards from the Western Writers of America for best original paperback novel The Horse Creek Incident and for Comanche Moon in the Best Western short fiction category. No one had won two Spurs in one year until Dusty Richards.The National Cowboy Symposium and Gathering, held each year in Lubbock, Texas, presented him with their Lifetime Achievement Award (National Cowboy Culture Award) for his writing and for his work with aspiring writers.
Dr. James F. Willis

April 1, 2008
Early SAU Traditions
Dr. Willis discusses of the origins of SAU traditions that began during its founding era, 1909 to 1925, when the school name was Third District Agricultural School (TDAS). The traditions include familiar ones, such as the adoption of Muleriders as the school's mascot and symbol, and less familiar ones, such as that of the Lone Pine Tree. The Lone Pine Tree tradition disappeared in the mid-1950s, but many of the earliest school traditions continue today, almost a century after they were established.
Dr. James F. Willis earned a B.A. from Southern State College (SSC) in 1967. Selected in national competition for a Woodrow Wilson Fellowship, he attended Duke University where he earned a M.A. in 1968. He taught one year at Little Rock University (1968-69), and two years at SSC (1969-71), before returning to Duke for additional graduate study (1971-73) and completing a Ph.D. in 1976. He taught again at SSC/SAU from 1973 to 2005.
He is the author of Prologue to Nuremberg: The Politics and Diplomacy of Punishing War Criminals of the First World War (Greenwood Press, 1982) and several articles in historical journals, most recently "The Farmers' Schools of 1909: The Origins of Arkansas's Four Regional Universities," Arkansas Historical Quarterly 65 (Autumn 2006): 224-249. He is currently researching a centennial history of SAU to be published in 2009.
Richard Mason

November 27, 2007
The Red Scarf
"The Red Scarf is a humorous and touching coming-of-age story set in the rural south during WWII. Author Richard Mason weaves tales of his adventurous childhood chasing skunks, bobcats, and robbers, with the poignant friendship of an old Black man. All in his elusive quest to buy a red scarf for the prettiest girl in school." -August House of Atlanta, GA
"Mason started school at Norphlet Elementary in the first grade and graduated from Norphlet High School before going on to the University of Arkansas to pursue bachelor's and master's degrees in geology.
He worked for Exxon in South Texas and later spent two years working as a geologist in the deserts of Libya.
After his return to the U.S., Mason became "an independent geologist" and created Gibraltar Energy, a company with offices at 200 Washington in El Dorado, with a partner.
Mason returned to Union County in 1975 and currently resides in El Dorado with his wife, Vertis, where they are actively involved in several community events and organizations." -by JAMIE DAVIS, South Arkansas Sunday News, 10.21.07
Elizabeth Jacoway

April 12, 2007
Turn Away Thy Son: Little Rock, the Crisis that Shocked the Nation
Just in time for the 50th anniversary of the Central High Integration Crisis. Learn what fears created the hysteria and forever shaped our capitol city. Memory, documented history, and oral history are combined in Jacoway's interpretation of the trauma at Central High School.
A native of Little Rock, Elizabeth Jacoway attended Randolph-Macon Woman's College and graduated from the University of Arkansas in 1966. She received her Ph.D. in American History at the University of North Carolina in 1974. She is an internationally known scholar of southern history and race relations, the author or editor of six books and 17 articles. Dr. Jacoway taught history at the college level for eight years at the University of Florida, the University of Arkansas at Little Rock, and Arkansas College. Jacoway has served several times as a review panelist for the National Endowment for the Humanities, and she has reviewed manuscripts for many academic presses and scholarly journals.
Charlaine Harris


April 2, 2007
Charlaine Harris, New York Times' bestselling author and Anthony Award winner. Ms. Harris, who will be the guest speaker at our luncheon, is the author of over 20 books, including the Aurora Teagarden, Lily Bard, Sookie Stackhouse, and Harper Connelly series. Her Sookie Stackhouse vampire series is being developed for a series, "True Blood," by "Six Feet Under" creator Alan Ball, and will be airing soon on HBO.
Ms. Harris's first book, Sweet and Deadly, long out of print, is being republished and will be available for purchase, along with several other titles, at the book signing after the luncheon.
Charlaine lives in Magnolia with her husband, three children, three dogs, and a duck. She is an avid reader, a mild cinemaphile, and an occasional weightlifter. Her favorite pastime is cheering on her children in various activities. Visit her website at www.charlaineharris.com.
Magale 3rd Floor Balcony Project – Completed Spring 2007
Original Furnishings (Click on image to see full size)
Updating Process
Finished Project