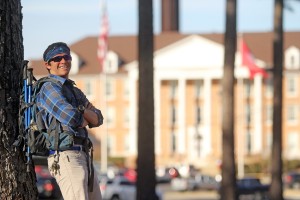 Southern Arkansas University marketing major Anthony Earl has been selected as an Appalachian Trail Ambassador for the 2014 Thru-Hike Syndicate Program.
This dream sponsorship for Earl will allow him to thru-hike (hike from start to finish) all 2,180 miles of the Appalachian Trail from Katahdin, Maine, to Georgia. All the while, he will be blogging to help market hiking products from Vasque Footwear along with a long list of other partnering outfitters.
Earl, junior from Converse, Texas, was chosen to be one of 10 ambassadors this year among many great applicants, according to a recent Facebook post by Vasque Footwear.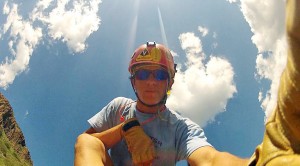 "We are happy to announce that we have selected an outstanding group of thru-hikers who are passionate about sharing their journeys, thoughts and experiences with the hiking community," said a spokesperson for Vasque Footwear.
Earl's big personality and marketing experience, both in and out of the classroom at SAU, certainly made him a perfect selection. He is known as one of SAU's premier tour guides. In fact, he has been chosen to be a member of the SAU President's Ambassadors as well as of the Housing Ambassadors group. The P.A. group represents select students from across SAU, all of which provide tours of the beautiful campus for prospective students and families. The Housing Ambassadors give tours of the residence hall offerings at SAU.
This venture for Earl will delay his graduation, as such a thru-hike of the Appalachians can take six to eight months. Earl withdrew from his spring classes the day before they were scheduled to begin, but he got nothing but encouragement from his family at SAU.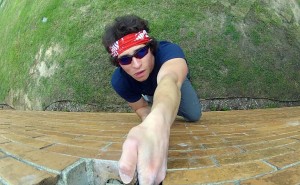 "The faculty at SAU has been very supportive in my endeavors. They have all assured me that I would be able to resume my scholarships and participation in the programs upon my return," said Earl, who has three scholarships at SAU.
Along with his on-campus jobs, Earl has been active in SAU's complete college experience. He has been a resident assistant, a member of Phi Lambda Chi Fraternity, a member of the SAU Jazz and Wind Ensemble, a Freshman Mentor, Leadership Academy Leader and a BAM II Freshman Orientation Leader.
Earl anticipates beginning his Appalachian thru-hike with some of his fellow Trail Ambassadors in March. He and the others will be blogging and making social media posts from their adventures.
The College of Business at SAU has earned the coveted AACSB Accreditation. Less than five-percent of the world's 13,000 business programs have earned AACSB Accreditation. According to AACSB.edu, accredited schools have the highest quality faculty, relevant and challenging curriculum, and provide educational and career opportunities that are not found at other business schools. SAU combines these accreditation standards with affordability and attention to every student, making it a matchless value for its students.
To find out more about SAU the College of Business, visit www.SAUmag.edu/business.