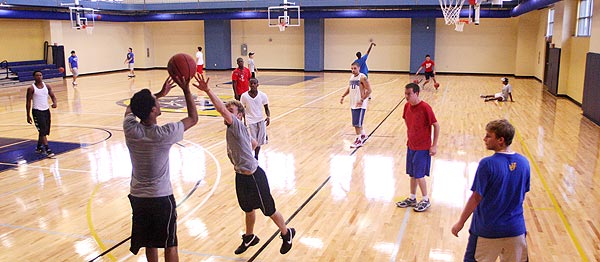 Only athletic footwear is allowed. Footwear which marks floor surfaces or is worn inappropriately is not allowed. No high heels, boots, dress shoes, or open-toed shoes are allowed.
Dunking is not permitted. This also includes hanging on the rim and "popping" the rim.
Hitting, kicking and/or bouncing basketballs, volleyballs, soccer balls or other items against the wall is not permitted.
No personal items are allowed around the basketball courts. All items must be properly stored in lockers. Items left unattended are subject to removal by the MAC staff.
Athletic clothing only is allowed in the gym. Shirts are required, and shorts/pants must be worn at or above the waist (i.e. no exposed underwear).
Please do not move the equipment already set up. If you would like equipment set up, please ask the facility supervisor for assistance.
During regular MAC hours Pick up games may only be played under 1 goal. No one playing pick up games may play full or half-court games.
Priority is given to previously scheduled activities.
Participants creating a problem or disturbance will be asked to leave.
Anyone arguing with the student supervisor over any of the above rules will be asked to leave the MAC.
Failure to follow the rules of the court will result in removal from the MAC and disciplinary action with the Dean of Students.