Mulerider Spotlight is a Social @ SAU series that highlights students, faculty, and staff of SAU.  There are so many wonderful people at SAU, and we hope this series will allow you to get to know a few of our fellow Muleriders a little better.
In this edition of Mulerider Spotlight, we are showcasing Cait Light, Miss SAU 2019. Cait is a junior  Elementary Education (K-6) major from Springhill, Arkansas. 
What are your favorite hobbies?
"I enjoying reading, singing, and listening to podcasts."
What made you choose SAU?
"When I visited SAU on a tour, I knew then and there that this was where I needed to be. My tour guide was actually someone I knew from home, and you could tell how much she genuinely loved being at SAU. I wanted college to be somewhere that felt like my home away from home, and that is exactly how SAU feels. I love the people, the campus, and the community so much."
What on-campus organizations are you involved in?
"I'm a President's Ambassador, a member of Phi Mu Fraternity, and am involved with the Baptist Collegiate Ministry."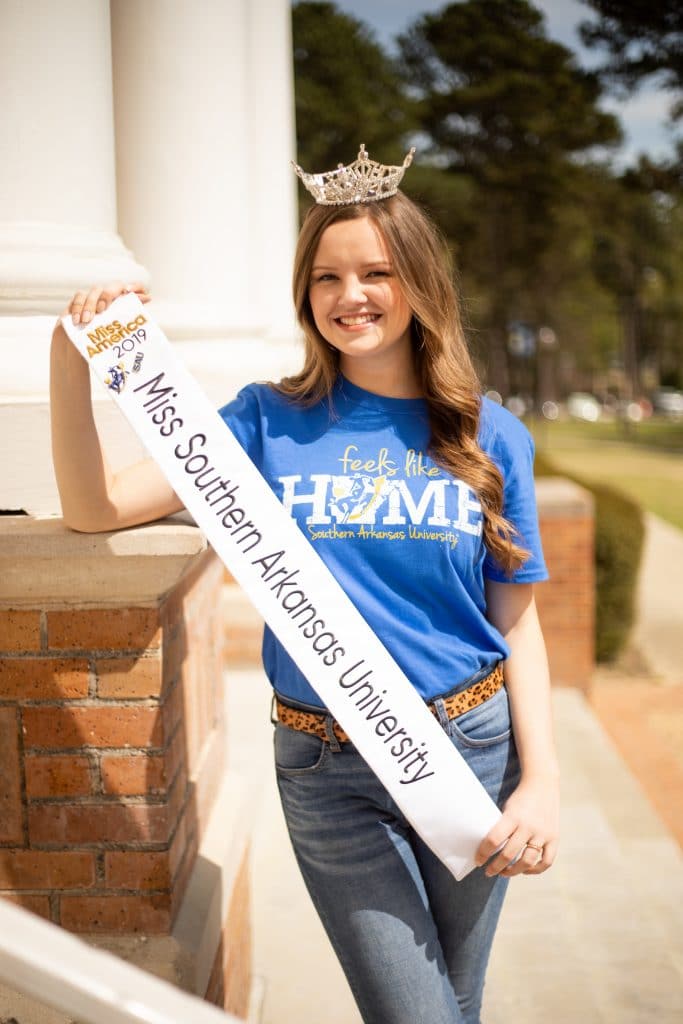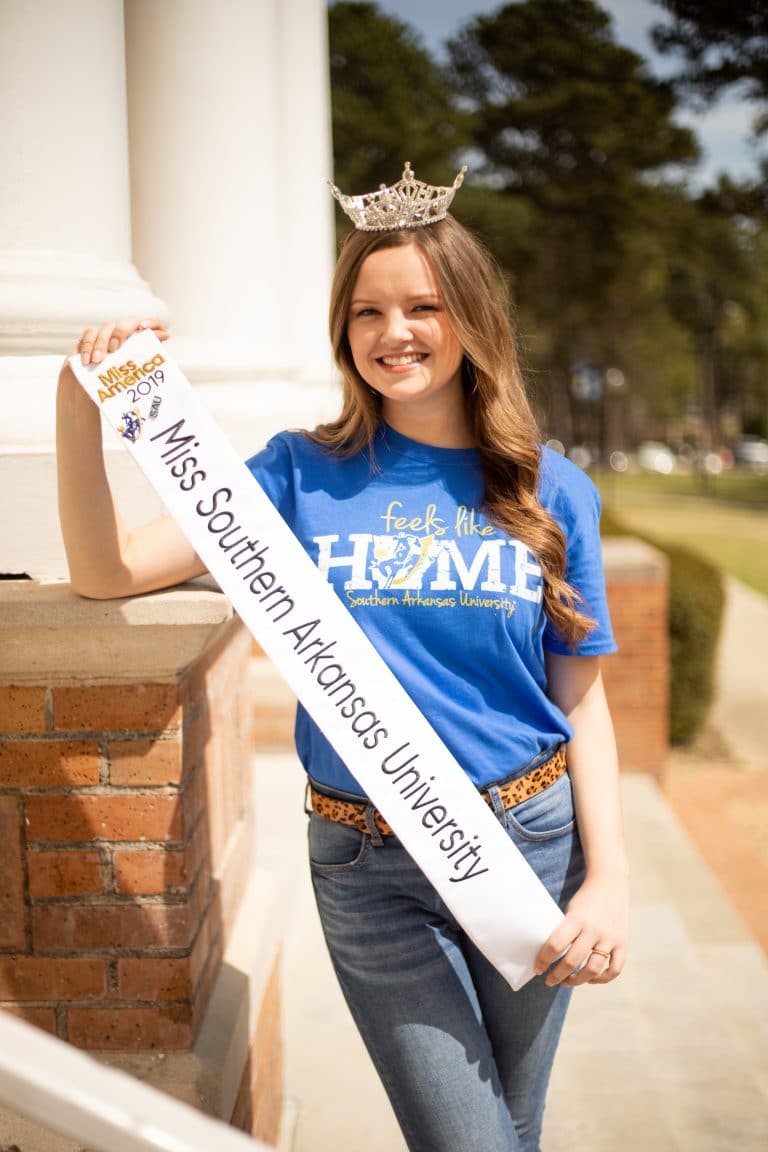 What is your favorite thing about SAU?
"My favorite thing about SAU is the number of friendships it has brought me. There are so many people at SAU that I call my friends, and I know I can go to them for anything. The people on this campus and in this community are so genuine and they truly care about you and feel like your family."
What was it like winning Miss SAU?
"When they called my name, I felt so much joy. I have worked extremely hard for this and to see it all pay off has been such a rewarding experience. SAU is my home, and now I get to represent the place and people that have given so much to me. I am so beyond proud to be Miss Southern Arkansas University. I was in shock and on cloud nine, and honestly, I still am. I am so honored to carry this title and to represent our University at Miss Arkansas, and I am going to wear this sash with so much pride and joy every single place that I go to."
Why is your platform important to you?
"Reading is something I have been passionate about for as long as I can remember. Seeing that reading scores have steadily decreased over the years has made me want to make a difference. Reading is something we all do every day, so it is something that people should learn to love and enjoy if they do not already. I love being able to escape in a book if I am not having the best day, or just for the fun of it, and I want other people to be able to do the same thing."
What do you hope to accomplish by being Miss SAU?
"I would love to give back to this campus and community as much as I possibly can. I want to make SAU proud, and I want to be someone that sets an example for younger generations. As Miss SAU, I am not just Cait anymore, so I want to make sure I am always the best version of myself and someone that people feel like they can come to for anything."
What are you looking forward to when you compete in Miss Arkansas?
"Going to Miss Arkansas has always been a dream of mine, so knowing that I actually get to go this year has been so exciting, and especially since I get to do it as Miss SAU. This school and these people have my heart, so being able to tell everyone that I am Miss Southern Arkansas University is going to be one of the most exciting things for me. I am also very excited to make a bunch of new friends. I have already had the privilege of meeting some of the other girls and they have been so kind, so I cannot wait to meet everyone else."