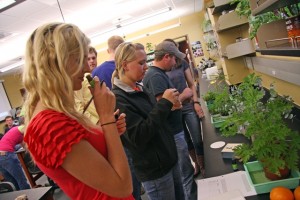 Southern Arkansas University's multi-faceted Agriculture program reflects the complexity of the vast industry providing food and fiber to the world. SAU provides students with a broad knowledge base to cover all disciplines of Agriculture to help our graduates be qualified to meet that important challenge.
Excitement within the Agriculture department at SAU has never been higher, with a move into a brand new Agriculture Sciences Center in 2013. The center houses state-of-the art classrooms and laboratories to provide increased and intensified educational opportunities to our students.  The expansion allows for even more diversified farm operations to provide unique and specialized experiential learning situations for real-life applications.
The Agriculture program at SAU has highly trained, award-winning and motivated faculty who challenge our students, and help them to achieve their goals in a friendly environment that encourages conceptual thinking.
Our students are our greatest resource and our greatest source of inspiration. We strive to provide as many diverse learning experiences as possible and the advantage to interface with the complexities of the industry of Agriculture.
Program Advisors
Agriculture Business
Agriculture Education
Agriculture Science