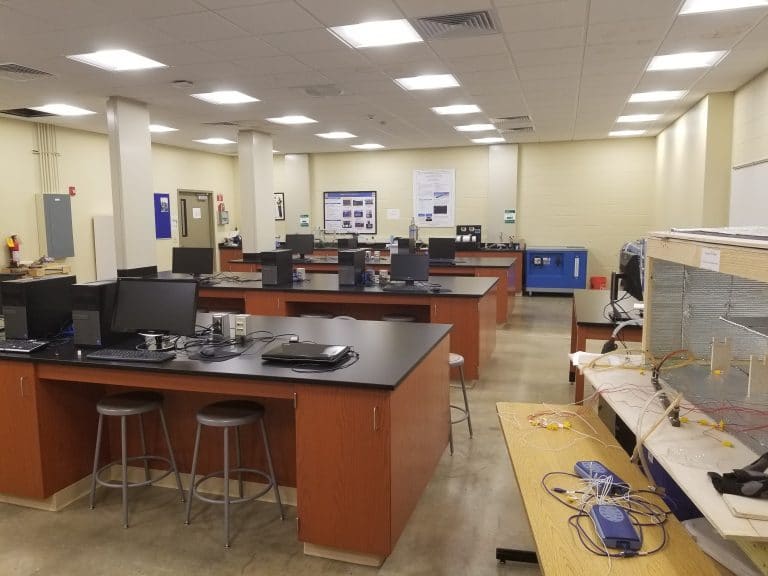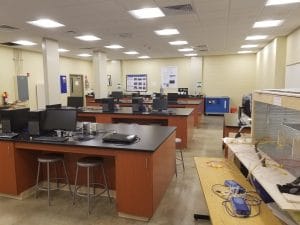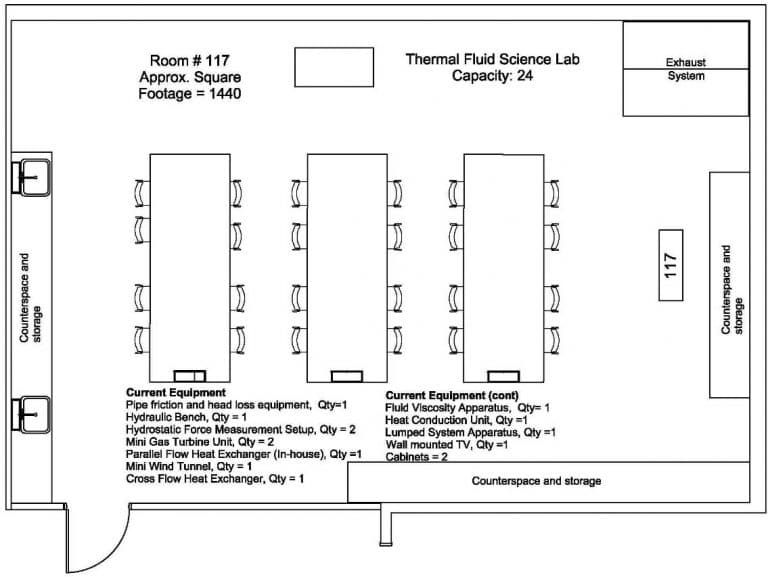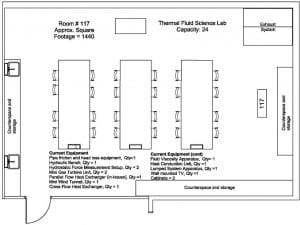 The Thermal Fluid Science Lab is equipped with a mixture of purchased and equipment in-house built equipment. In addition, the lab has six computers that are used to simulate thermodynamic systems using EES software. The lab is also equipped with a built-in exhaust gas removal system to facilitate the use of gas turbines inside the lab. A 72-inch smart TV monitor and a laser printer are available for instructional purposes and to print student lab reports respectively. The Thermal Fluid Science lab currently can accommodate about 24 students.
Hampden HVAC Trainer
The Hampden MODEL H-ACD-1A Air Conditioning Demonstrator has been designed to teach the principles of thermodynamics as related to the field of air conditioning and refrigeration. It comes with Computer Data Logging & Software. Areas covered include air flow, inlet heating and humidification, air cooling, and air reheating. This unit is designed to demonstrate complete energy balance with provisions to inject heat, water vapor, heat extraction, and changes in air flow.
---
Cross Flow Heat Exchanger Unit
In spring 2015, this DLMX series cross-flow heat exchanger was purchased for the Thermal Fluid Science Lab from Armfield Inc using the Serepta grant. It demonstrates the heat transfer between air and water. It has a reservoir that is filled with water during experimentation. The water is pumped through the heat exchanger, where it exchanges heat with the air. The inlet and outlet water temperatures can be measured to demonstrate the cooling effect.
---
Wind Tunnel
In spring 2015, this wind tunnel was purchased to demonstrate drag characteristics of objects in a flow of wind. The overall dimensions of the tunnel are 49" x 15-1/2" x 15-1/2". The test section size is 6"x 6". It has variable wind speeds between 0 to 40 mph and includes a manometer to measure the air flow. A fog system can be used for flow visualization purposes. The drag force can be directly seen on the digital display located at the front of the tunnel.
---
Fluid Friction in Pipes Unit
This fluid friction in pipes unit was purchased along with the hydraulic bench from a company called Edibon to conduct a number of activities in the area of fluid mechanics that include determination of pressure loss due to friction in different types of pipes, valves, and fittings. The unit contains 34 pressure tappings with quick action connections. It also has two water manometers (0-1000 mm), two Bourdon manometers (0 – 2.5 bar), and one flowmeter (600-6000 l./h).
---
Hydraulic Bench
This hydraulic bench is mobile and is made of fiberglass reinforced with polyester. The centrifugal pump has a flow rate capacity in the range of 30 to 80 liter/min at a head in the range of 20.1 to 12.8 m respectively, with an average power requirement of 0.37 kW. The capacity of the sump tank is 165 liters. The bench contains a control valve to regulate the flow. The bench has a capacity to conduct open channel flow experiments as well.
---
Hydrostatic Force Measurement Units
The first Hydrostatic Force Measurement Unit was constructed as a collaborative effort of the engineering faculty and a student group. A low-cost fish tank was used for the water reservoir. The white quadrant was 3D printed. The unit has been used to conduct experiments.
Below is a similar piece of equipment produced by the EDIBON company, which markets technical equipment for engineering education was also acquired later. Both units are used in laboratory experiments.
---
Lumped System Demonstration Unit
The lumped system demonstration unit was also built in-house to conduct experiments in transient heat transfer using the lumped analysis method. A hair dryer is used to heat a metal ball at the end of the plastic tube. Then the ball is allowed to cool to room temperature. A data acquisition system is used to measure the temperature during the cooling process. The lab has three of these units.
---
Conduction Heat Transfer Setup
The conduction heat transfer unit with computerized data logging was constructed in-house. This set up is currently used in the undergraduate Thermal Science lab course to determine the thermal conductivity of an aluminum alloy material.
---
Double Pipe Heat Exchanger
The double pipe heat exchanger was designed and constructed with the participation of students in a manufacturing course. The setup can be run in counter flow and parallel modes. Currently, this unit is undergoing trials, and will soon be incorporated into regular thermal science lab experiments.
---
Digital Rotary Viscometer
The recently-acquired NDJ-8S Digital Rotary Viscometer is a desktop unit that can be used to measure liquid viscosity with high accuracy. The measurement range can vary from 2 – 10 x 106 mPa.s with a measurement error of ±5%. The unit is equipped with four rotors with variable speeds ranging from 0.3 rpm to 60 rpm. This unit will be used in conjunction with viscosity cups in the Thermal Science lab course.
---
Gunt Marcet Boiler
The Gunt Marcet Boiler facilitates experimental investigation of the pressure and temperature relationship of saturated steam in equilibrium with pure water. The unit allows investigation of the saturation pressure-temperature relationship of water between ambient temperatures. Temperatures of up to 200°C are possible for recording the vapor pressure curve. The temperature and pressure can be continuously monitored via a digital temperature display and a Bourdon tube pressure gauge.