The HESI Admission Assessment Exam is used as part of the admission process by Southern Arkansas University Department of Nursing.
HESI A2 is a standardized exam that assesses three main academic areas – Math, English, and Science – along with Critical Thinking area. All sections of the exam are timed for a total of approximately 4 hours. These areas are described down below.
---
How to Register
Step 1: Add Southern Arkansas to your Elsevier Evolve account. (See screenshot below.)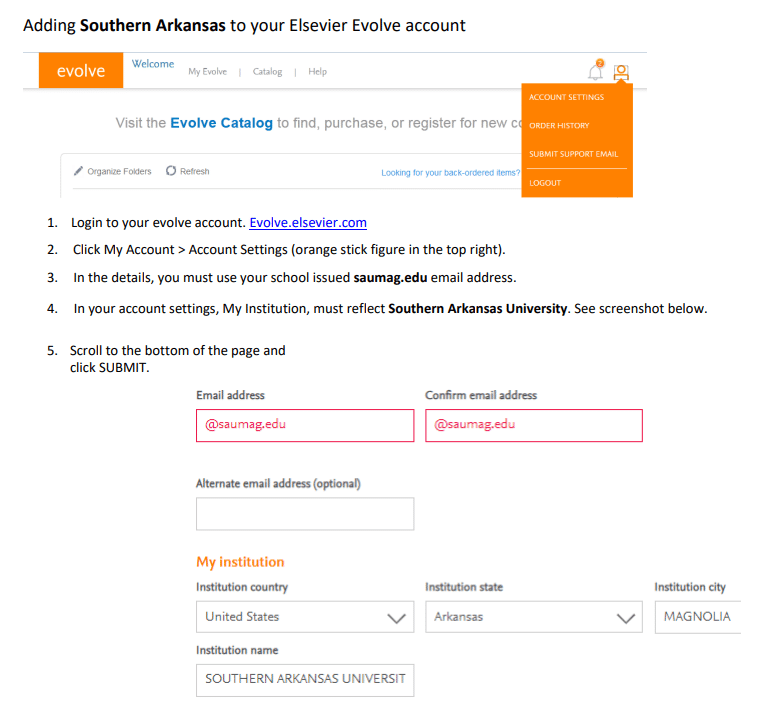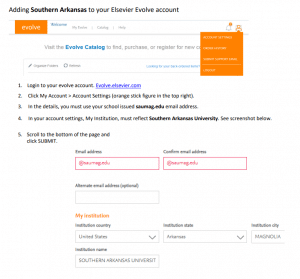 Step 2: Schedule your test time/location
NOTE: The SAU Office of Testing does NOT register students for HESI A2; please complete Step 1 before contacting.
Click the button below to view available test dates and schedule your appointment.
The HESI A2 may be taken in person or through ProctorU.
NOTE: Test must be taken at SAU (to ensure all sections are taken as required for admission by the SAU Department of Nursing) and a total of three (3) attempts are allowed for application to our program. HESI Admission Assessment (HESI A2) preadmission examination score must be 75% or greater. The reported score does not round up to 75%.
HESI A2 Test Dates
Test day instructions:
Schedule four hours to complete the exam
Arrive 30 minutes early to the test site
Present photo ID

the photo must be government issues picture ID, i.e., Driver's License or Passport
the photo must be current
the photo must bear the examinee's signature
the photo must include a permanent address

Have your HESI Username and Password (Evolve.elsevier.com – assigned when registering/paying for exam)
Examinee may bring two writing utensils
No calculators allowed
Scratch paper will be provided an collected by the test center
A 10 minute break is allowed after the mathematics section only
Late arrivals will not be allowed to test and therefore, will forfeit his/her testing fee
---
Preparing for the HESI A2
The following resources are available for purchase at SAUs Bookstore:
HESI Admission Assessment Exam Review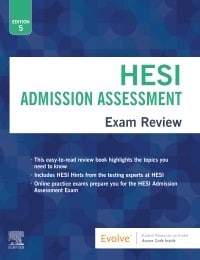 ---
HESI A2 – Content Areas
English Language (Each section includes 55 test items – 50 scored and 5 pilot)
Reading Comprehension: Provides reading scenarios in order to measure reading comprehension, identifying the main idea, finding meaning of words in context, passage comprehension, making logical inferences, etc. (60 minutes)
Grammar: Contains basic grammar, including parts of speech, important terms and their uses, commonly occurring grammatical errors, etc. (50 minutes)
Math (Exam includes 55 items – 50 scored and 5 pilot)
Basic Math Skills: Focuses on math skills needed for health care fields, including basic addition, subtraction, multiplication, fractions, decimals, ratio and proportion, household measures, general math facts, etc. (50 minutes)
Science (Each exam includes 30 test items – 25 scored and 5 pilot)
Biology: Covers biology basics, water, biological molecules, metabolism, cells, cellular respiration, photosynthesis, etc. (25 minutes)
Chemistry: Contains test items that cover matter, chemical equations and reactions, the periodic table, atomic structure, nuclear chemistry, chemical bonding, etc. (25 minutes)
Anatomy and Physiology: Provides coverage of general terminology and anatomical structures and systems. (25 minutes)
Learner Profile
Learning Style (14 items): Assesses preferred learning style. (15 minutes)
Personality Profile (15 items): Assesses personality related to preferred learning style. (15 minutes)
Critical Thinking
Problem Solving
Biases and Ethical Dilemmas
Argument Analysis
Analysis of Data
(HESI Admission Assessment Exam, 2021)