Career Services is committed to helping students navigate the job search process. It is important that students are prepared to find jobs and internships, complete interviews online, and work productively from home. Below is information about these things. Feel free to contact Career Services by emailing CareerServices@saumag.edu. Career Services will be available to help with reviewing resumes, performing mock interviews, and answering any questions that students may have.
To request a Resume Audit, complete this form.
Helpful websites
Discover Arkansas is managed by the Arkansas Division of Workforce Services.  On this website you can find information about wage rates, in-demand careers, and other resources that will help you as you prepare to choose a career path.
Occupational Outlook Handbook will provide users with information about fast-growing careers and national statistics about careers of interest.  Here you can find salary, training/education, outlook, etc. about careers that interest you.
Full-Time Job Search Resources
Career Development Plan
This Career Development Checklist Plan can be used as a template by students, both new and returning, to check their progress and see what they may lack as they continue their college careers. This plan is a rough outline for students to follow and sets out a list of activities that the Career Services office believes will help students be better prepared for their future, no matter what walk of life they may embark on.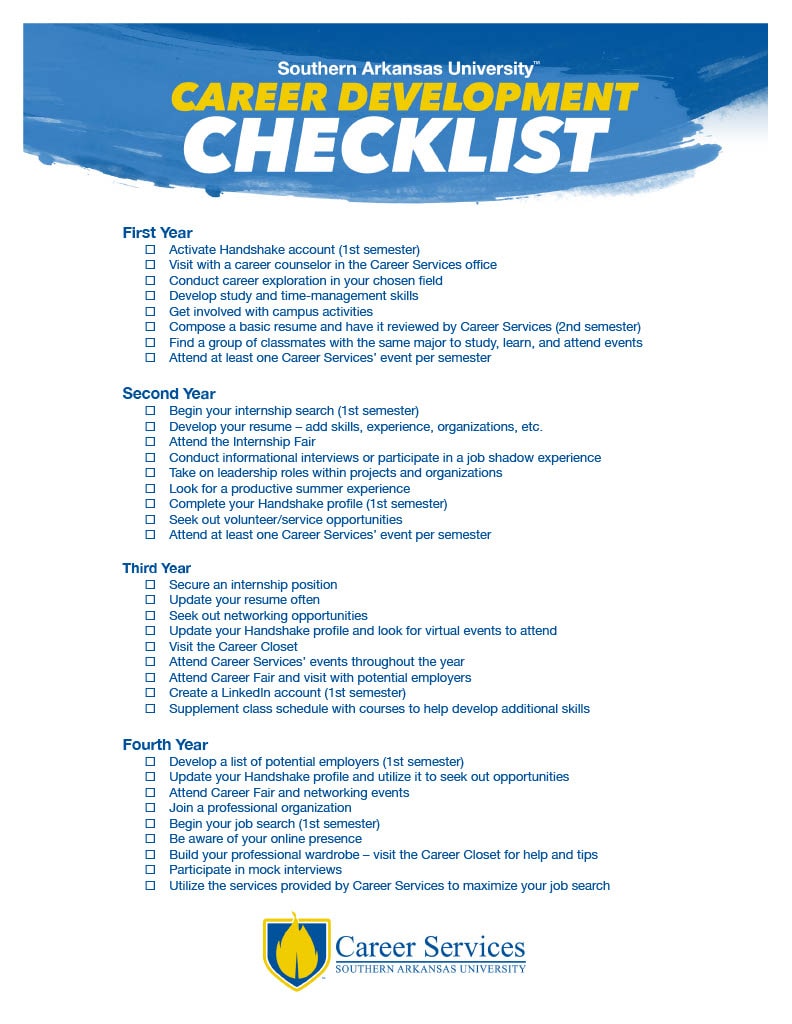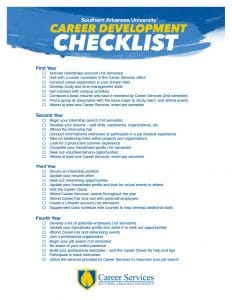 This is a template and can set a good groundwork for how to be successful in college, further education, or your career. For this plan to help you, you must take everything involved seriously and try to get the most out of each situation.