| | |
| --- | --- |
| Department: | |
| Hours Required: | 36 |
| Categories: | Graduate |
| Completion Time: | 2 years * |
| Delivery: | Online |
* Based on 2 classes per semester including summer
The Master of Public Administration (MPA) is designed to prepare individuals for positions of leadership in public service organizations. This program will provide a strong foundation in public policy, the organizational environment, the management of public service organizations, and the application of quantitative and qualitative analysis to decision-making. The development of critical thinking skills and self-motivation are key components of the MPA program.
*International students are required to meet on campus monthly. Contact the MPA Program Director for more details.
Check out our 4+1 program where you can earn your BA in Political Science AND Master in Public Administration in 5 years.
MPA with Social Entrepreneurship Emphasis
Related Links
Learning Goals
Our graduates can communicate effectively.
Our graduates are prepared to be personally and socially responsible citizens.
Our graduates can think critically, solve problems, and make informed decisions.
Our graduates can use technology and other methods to access and evaluate information, and use information responsibly, legally, ethically, and effectively.
Our graduates have content knowledge in their chosen fields and the necessary skills to be successful.
public service, community, government, administration, leadership, bureaucracy, politics, organization, non-profit
Specific Degree Requirements
Each candidate for the master's degree in Public Administration will be required to complete 24 credits of core courses, 9 credits of electives, and 3 credits of professional project.
Required Core Courses (24 credit hours):
PA                           6003                        Principles of Public Administration
PA                           6023                        Ethics
PA                           6053                        Public and Non-profit Budgeting
PA                           6063                        Public Policy
PA                           6073                        Research Methods
PA                           6083                        Organizational Leadership
PA                           6153                        Public Personnel Administration
PA                           6263                      Program Evaluation
Electives (9 credit hours) selected from the following:
PA                           6013                        Statistics for Public Administrators
PA                           6033                        Rural Politics
PA                           6043                        Legal Issues in Public Administration
PA                           6133                        Nonprofit Organizations
PA                           6183                        Special Topics I
PA                           6193                        Special Topics II
PA                           6253                        Social Activism
Required Project Course (3 credit hours):
PA                           6113                        Professional Project*
*Professional Project
All students are required to complete a professional project. This project is expected to incorporate the skills learned in the MPA program in a written product that is of use to a particular agency or organization. The student must receive prior approval in writing from the director of the MPA program before proceeding on the project. The student must be registered for PA 6113 during the term in which the project is completed. If a project is not completed during the term for which the student is enrolled, a grade of NC will be assigned. In order to complete the project the student must be enrolled for the credits during the term in which it will be completed.  If the student is successful in completing the project a grade of CR will be assigned for the term during which the project was completed. However, any previous NC grades will not be changed and only the credits the student earned while enrolled in the semester that the project was completed will be awarded.
---
After evaluating a number of MPA programs, I chose SAU. The SAU program and professors provide an excellent foundation for learning and student growth. The campus family works to ensure that each student is successful. Having graduated SAU Tech with an associate's degree, it is a great honor to continue my story at SAU.
Sterling Penix
,
Associate Criminal Justice Professional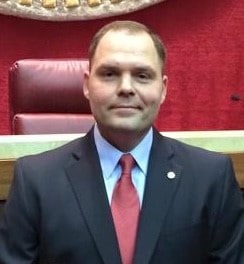 Fall
PA   6003 Principles of Public Administration
PA   6133 Nonprofit Organizations
PA   6053 Public and Non-profit Budgeting
PA   6063 Public Policy
PA   6083 Organizational Leadership
PA   6113 Professional Project
Spring
PA 6003 Principles of Public Administration (on as-needed basis)
PA  6023 Ethics
PA  6153 Public Personnel Administration
PA   6263 Program Evaluation
PA   6073 Research Methods (alternating Spring semesters)
PA   6113 Professional Project
Summer I
PA  6183 Special Topics: Public Technology (even years)
PA  6193 Special Topics: Global and Comparative Public Administration (odd years)
Summer II
PA  6033 Rural Politics (odd years)
PA 6253 Social Activism (even years)
Summer I & II
PA   6073 Research Methods
PA   6113 Professional Project
As needed:
PA  6013 Statistics for Public Administrators
PA  6043 Legal Issues in Public Administration