Ranked nationally for quality and affordability
SAU offers more than 100 academic programs, from Engineering to Musical Theatre to Plant Science
View Degrees
Future Students
Current Students
Parents & Visitors
Alumni & Friends
Future Students
SAU offers a wide range of academic programs and a culture of caring, all at one of the nation's most affordable rates. See why so many students are choosing to call SAU home!
Current Students
Parents & Visitors
Alumni & Friends
What would you like to study?
SAU offers more than 100 academic degree and certificate options, including associates, bachelors, masters, and doctorate degrees.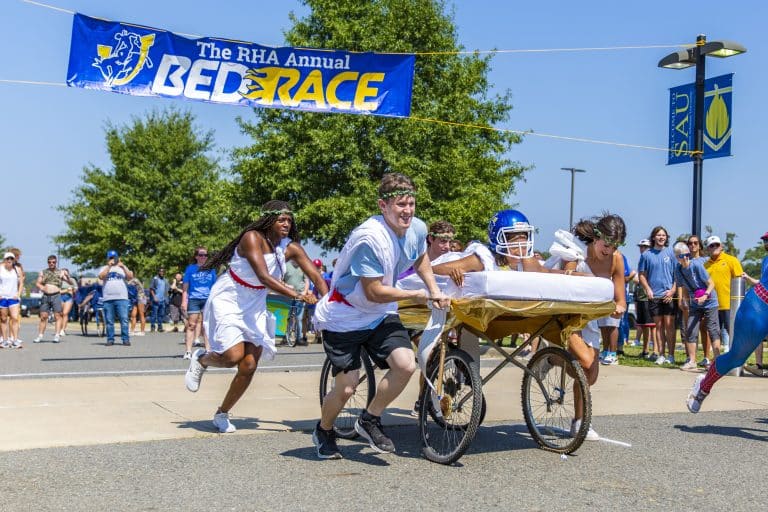 The time has finally arrived to continue one of Southern Arkansas University's most treasured traditions – Family Day! Family Day is set for September 23, 2023, with a full schedule of family-friendly events planned throughout the day, beginning at 10:30 a.m. and culminating with a Mulerider football kickoff at 6:00 p.m. "We are so excited... Read More
Acres on the northern edge of Magnolia, AR
Established in 1909, SAU has built on its dedication to student achievement and continues to grow, both on-campus and online, with more than 100 degrees in four distinct colleges and the School of Graduate Studies.
Nestled in a quiet and beautiful part of south Arkansas, SAU is a great place to call home and to study a broad range of academic programs, including some unique offerings to the state and region. Along with boasting a complete college experience on campus, the University is a short drive from outdoor activities and is central to many regional hubs, such as Texarkana, Shreveport, Little Rock, etc.