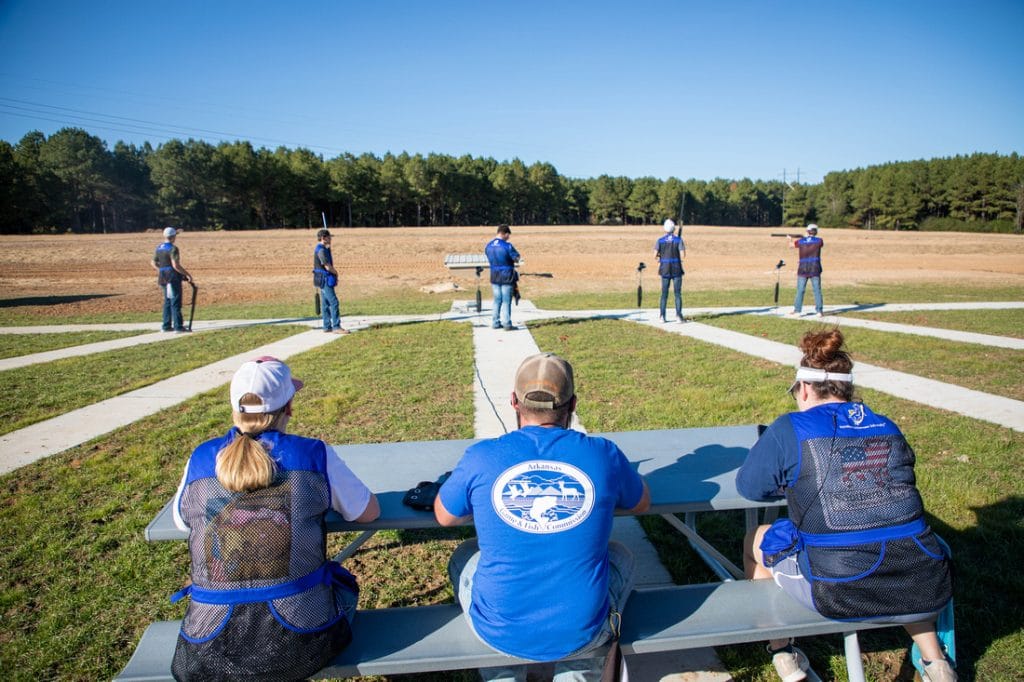 SAU Trap Shooting Facility
The SAU trap shooting range facility is located on the University's Governor Ben T. Laney Farm. It is the first facility of its kind in the state on a university campus south of Little Rock. The facility will feature a clubhouse with restrooms and storage, and three shooting ranges each consisting of five concrete lanes with high and low skeet houses.
The facility is home to both the University's trap shooting team and trap shooting teams from area high schools. It also hosts community, regional and state-wide shooting competitions and practices. Plans also include opening the facility to community memberships in the future.
About Trap Shooting at SAU
Southern Arkansas University (SAU) began recruiting students for the trap team during the spring of 2019. Thanks to generous donor support, construction on the Farmers Bank & Trust Trap Shooting Range began during the summer of 2019, and the inaugural team began practice at the new facility during the fall 2019 semester.
Trap shooting is increasingly popular among today's youth, and SAU is leading the state with the formation of a team at a 4-year higher education institution.
Steve Crowell of Magnolia will serve as the new trap shooting coach at Southern Arkansas University.
Crowell and his wife, Laura, have lived in Magnolia since 2010. He grew up in southwestern Minnesota on a dairy, hog, and crop farm. He and Laura have four children: Loman (20), Olivia (15), Charlee (7), and Scarlett (4). He is an AYSSP-certified assistant coach for the Magnolia School Trap Team, and a participant in the Lanny Bassham Coaching System, an NRA Range safety classification. In his spare time, he ministers as a life coach to those in need. He has volunteered in every school in the district and served as a Watchdog Dad. He has served as a referee for AAA-high school football for the past five years and serves in various volunteer positions at First Baptist Church, Magnolia.
As a Magnolia city councilman, he has served on the Magnolia Economic Development Council, City of Magnolia Finance Committee, the Magnolia Advertising and Promotion Council, and the Magnolia Police Commission. Crowell has also served on the Magnolia Blossom Festival board, the Magnolia Arts Board, and founded the Magnolia Police and Magnolia Schools Trap Shooting foundations.
The trap shooting program kicks off at SAU this fall, and membership is open to any interested SAU student. The team will compete in the Association of College Unions International (ACUI) Collegiate Clay Targeting Program. The sport has become popular among youth, and many high school trap shooters in the region have already made SAU their choice for fall 2019 to remain active in the sport and compete at the next level.