The Southern Arkansas University School Counseling Program prepares knowledgeable, self-aware professional school counselors and fulfills the licensure requirements for K-12 school Counseling credentials in Arkansas.
With an appropriate balance of theoretical emphasis and practical application, graduates are trained to address the developmental needs of children and adolescents and to implement Comprehensive Developmental Guidance Programs that are consistent with the American School Counselor Association's National Model and National Standards.
It is incumbent upon students from other states to determine the licensing requirements in their state.  
Admission to the School Counseling Program may be obtained
through one of the following Pathways: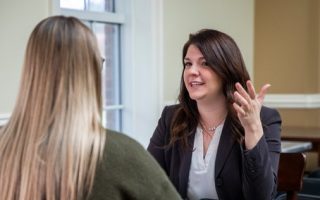 The K-12 Endorsement to a Standard License pathway* is available only to those individuals who hold a valid teaching license.

*For certified Arkansas teachers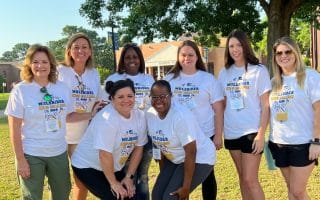 The K-12 initial license pathway is available to those individuals who hold an Education Certificate. For more information contact the program director.
An SAU M.Ed. is among the
most affordable
in the nation.
Average Graduate Tuition and Fees Per Year

 

In-State

Out-of-State

SAU

$6,894

$9,810

Arkansas

$7,702*

$13,663*

Texas

$7,502*

$16,686*

Louisiana

$9,748*

$19,310*
*Tuition and fees are calculated as an average of public four-year universities' published tuition and fees. Source: Department of Education
Our programs are routinely recognized as the best value programs nationally. SAU offers out-of-state tuition waivers to students from Louisiana, Mississippi, Missouri, Oklahoma, Tennessee, and Texas who chose to live in university housing or reside in a bordering Texas county or Louisiana parish.
"The knowledge gained in Counseling 6763 is critical to this profession. Through this course, I learned to develop an effective school counseling program using the components of the ASCA National Model and to manage my time optimally. The course provided hands-on experience, valuable tools for my counseling tool box, and the opportunity to create lasting professional friendships."
Kim Merrell
Pictured with Varonica Kennedy. Both graduated with M.Ed. in School Counseling degrees.
"I chose SAU for my master's degree in School Counseling because it was local and close to my home. The process of getting started was great and my advisors were so patient with me. Throughout the program, I really felt support by the staff in achieving my goal of becoming a school counselor. I felt I was getting the highest quality hands-on experience I could! Using what I have learned from the school counseling program and my degree, I was able to get a job as an elementary school counselor right away and build up the program at my current job."
Jessica Hogan
M. Ed. in School Counseling
"I wouldn't be the educator I am today if it had not been for the professors I had at SAU. I faced my first school crisis in February of 2018. Nothing can really prepare you for these things, but I can surely say the training and skillset I received during my time in this program prepared me to step in and assist as needed. I left campus that day knowing I had been reassuring and a comfort to the students."
Kelly Muldrew
M. Ed. in School Counseling
About SAU
Southern Arkansas University offers personalized tour visits, faculty and staff who care about student success, and a caring campus community. SAU also offers traditional and unique academic degree programs that are ranked nationally for quality and affordability.
Nestled in a quiet and beautiful part of south Arkansas, SAU is a great place to call home and to study a broad range of academic programs, including some unique offerings to the state and region. Along with boasting a complete college experience on campus, the University is a short drive from outdoor activities and is central to many regional hubs, such as Texarkana, Shreveport, Little Rock, etc.
Established in 1909, SAU has built on its dedication to student achievement and continues to grow, both on campus and online, with more than 80 degrees in four distinct colleges and the School of Graduate Studies.