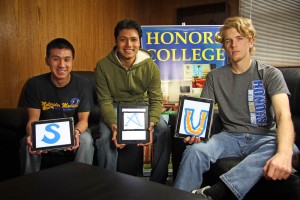 For the past three years SAU Honors College students have received iPads in their first honors course, Honors Seminar. Students use their iPads to access the Web page for the course and for many other academic (and non-academic) uses. Many use their iPads to take notes in class. Some use the cameras to supplement those notes with either still or video graphics. The Honors College supplies three apps for students: Pages, Keynote, and Numbers. Pages is a word processor, Keynote is presentation software, and Numbers is a spreadsheet. The Honors College purchases those apps in bulk; students download them onto their own devices using a coded password. Students also download a wide variety of apps on their own. In the Honors Seminar class three Friday sessions are reserved for students to report on apps they have downloaded that may be useful to others.
The issuing of iPads to honors students has been evaluated every year. Those evaluations have been extremely positive and have led to the continuation of the program. The program is self-funded. Students enrolled in Honors Seminar purchase their iPads using their Honors College annual stipend. In subsequent years they simply receive the monetary value of the stipend, currently $600 per year. Interestingly, only four students admitted thus far have come to SAU already owning an iPad. None have come owning another brand of tablet.
Students own their iPads; they need not be returned to SAU. The iPad comes with two cameras, one on the front and one on the back. Students use apps such as FaceTime, an app allowing them to video-conference (one to one) with other iPads and iPhones. Students also video-conference with Skype, sometimes doing so with friends and family halfway around the world. With their iPads students can access the Internet, send and receive e-mail, read online course materials, download textbooks, network with other students, faculty, and friends over the campus' WiFi network or any other open wireless network (such as those found at McDonald's or Starbucks). Over the past three years the iPad has opened many doors for SAU honors students.
Last year, the Honors College purchased a wireless printer. It resides on the Honors College's own wireless network in Nelson Hall. Students can come to the Honors College Student Lounge and print their assignments directly to the printer. That capability has extended the usefulness of their iPads.
The most exciting news related to iPads, however, is a soon-to-be active collaboration between the SAU Honors College and empowered.com. That Internet company and the Honors College have signed a memorandum of understanding to put the content of the Honors Seminar course onto an iPad app. In addition, the app will allow for social networking, virtual library training, and much more. For empowered.com the app will serve as a testbed for similar course development. For the Honors College, the app will make the iPad an even more powerful learning tool than it was before. The app will soon be available for use and testing.