Macbeth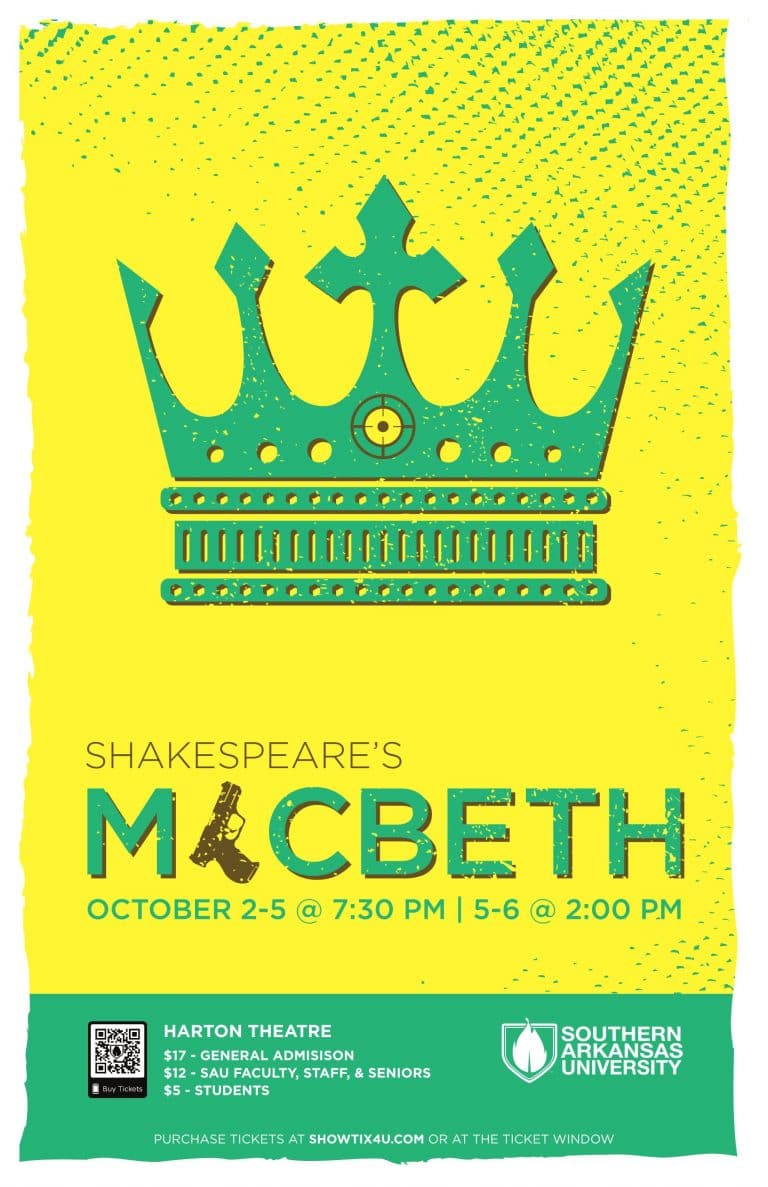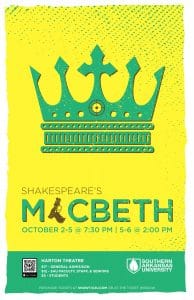 By: William Shakespeare
On August 30, 2005 (the day after Hurricane Katrina), Macbeth is visited by 3 New Orleans voodoo priestesses that tell him he is destined for greatness! Hearing these words, he shares this information with his beautiful, ambitious wife who agrees that he is the one who should rule; but first, he must kill the current leader, Duncan. When the act is committed, Macbeth and his wife both spiral down a journey of more murder, madness, and misdeeds. With the stage set for the final battle, will Macbeth triumph? Will the greed he seeks cost him his head? Join us for Shakespeare's legendary tale set in one of the most popular cities in America.
Directed by: Brandon Smith
Dates: October 2-5 @ 7:30pm, October 5-6 @ 2:00pm
---
Little Women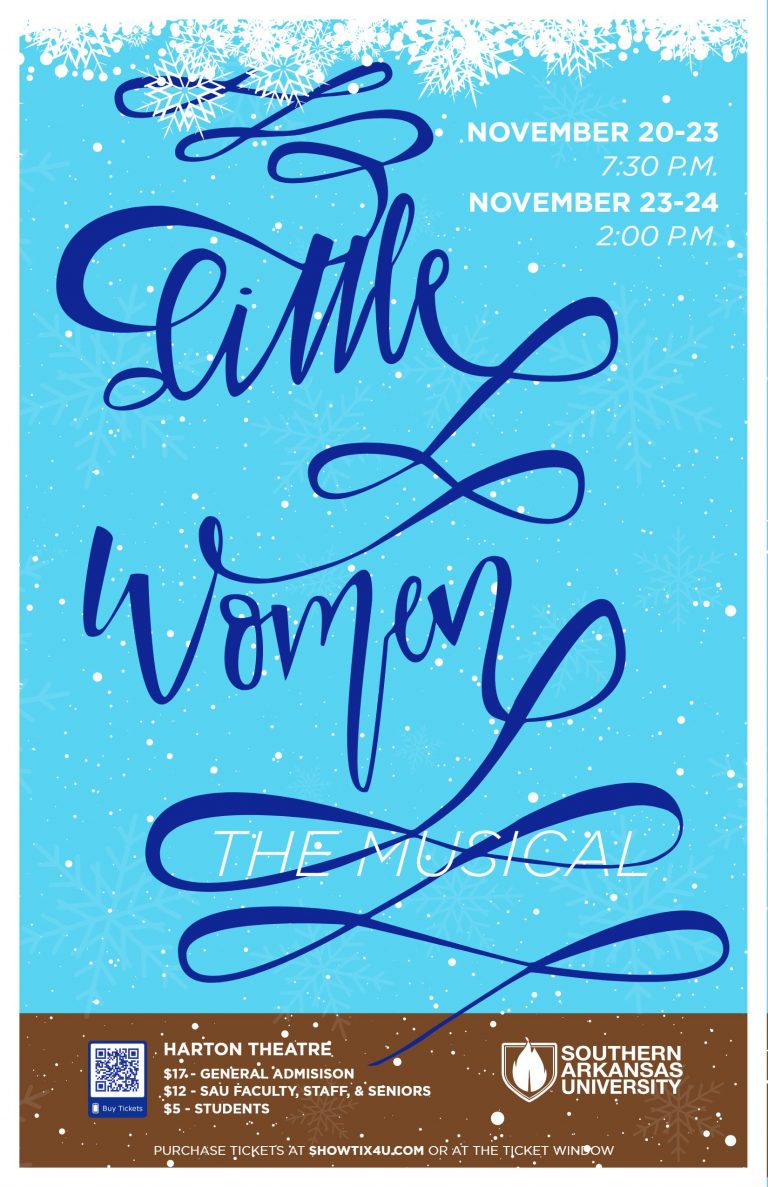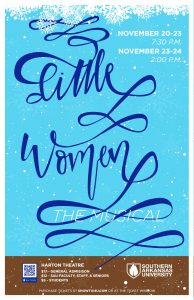 Musical By: Alan Knee
Based on Louisa May Alcott's life, Little Women follows the adventures of sisters, Jo, Meg, Beth and Amy March. Jo is trying to sell her stories for publication, but the publishers are not interested – her friend, Professor Bhaer, tells her that she has to do better and write more from herself. Begrudgingly taking this advice, Jo weaves the story of herself and her sisters and their experience growing up in Civil War America.
Directed by: Brittany Bara
Dates: November 20-23 @ 7:30pm, November 23-24 @ 2:00pm
---
Wiley & The Hairy Man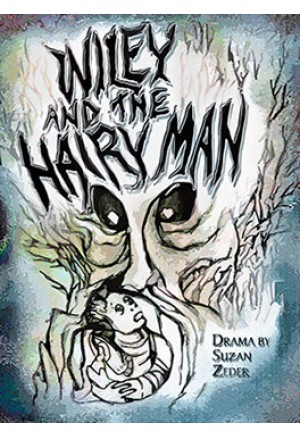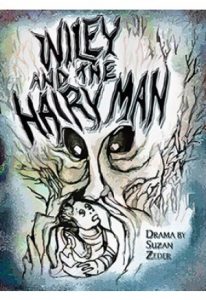 By: Suzan Zeder
Winner of the ASSITEJ: Outstanding International Play for Young Audiences and The Charlotte B. Chorpenning Playwright Award, this drama is a spine-tingling tale of a boy and his worst fears in the swamp—eventually overcome by Wiley himself. Set deep within the mysterious Tombigbee Swamp, Wiley and the Hairy Man centers around a young fatherless boy, his conjure-woman mother, his faithful dog, and the Hairy Man who haunts Wiley's days and dreams. Through rhythm and rhyme, a chorus creates the mystery of the swamp. The magic of this play is not fairy dust, it is soil—the magic of survival, the magic of the earth and the mud of the swamp. In an exciting duel of wits, Wiley learns to rely upon his own resources and conquers two villains: the Hairy Man and his own fear.
Directed by: Brittany Bara
Dates: February 19-22 @ 7:30pm, February 22-23, @ 2:00pm
---
Barefoot in the Park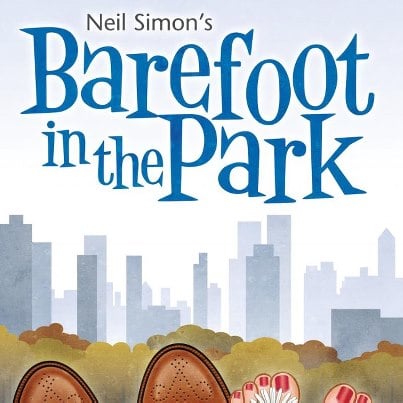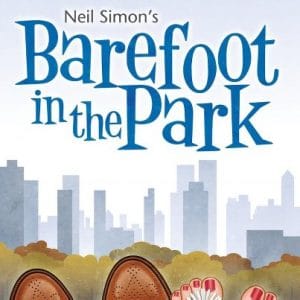 By: Neil Simon
Paul and Corie Bratter are newlyweds in every sense of the word. He's a straight-as-an-arrow lawyer and she's a free spirit always looking for the latest kick. Their new apartment is her most recent find – too expensive with bad plumbing and in need of a paint job. After a six-day honeymoon, they get a surprise visit from Corie's loopy mother and decide to play matchmaker during a dinner with their neighbor-in-the-attic, Velasco, where everything that can go wrong, does. Paul just doesn't understand Corie, as she sees it. He's too staid, too boring, and she just wants him to be a little more spontaneous. Running "barefoot in the park" would be a start…
Produced in Collaboration with the Magnolia Arts Center, this production will be performed at Magnolia Arts Center. For tickets, visit https://www.magnoliaarts.net/
Student Directed by: Emma Walker
Dates: March 11-14 @7:30pm, March 14-15 @ 2:00pm
---
25th Annual Putnam County Spelling Bee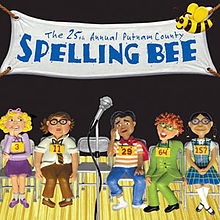 Musical By: Rachel Sheinkin and William Finn
An eclectic group of six students vie for the spelling championship of a lifetime. While candidly disclosing hilarious and touching stories from their home lives, the tweens spell their way through a series of (potentially made-up) words, hoping never to hear the soul-crushing, pout-inducing, life unaffirming
"ding" of the bell that signals a spelling mistake. Six spellers enter; one speller leaves! At least the losers get a juice box. Audience Participation – so start brushing up on your spelling.
Directed by: Daniel Pivovar
Dates: April 22-25 @ 7:30pm, April 25-26 @ 2:00pm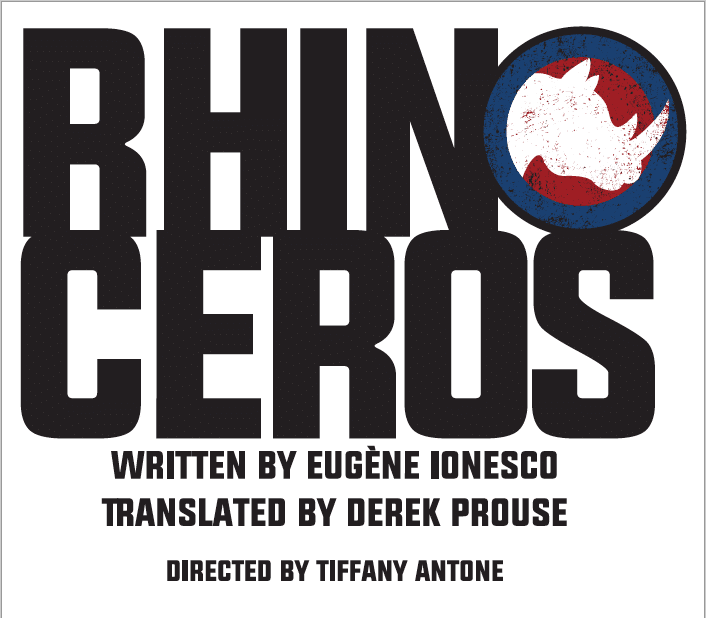 RHINOCEROS
By Eugène Ionesco
Translated by Derek Prouse
Directed by Tiffany Antone
A small town is besieged by a stampeding rhinoceros, much to the citizens' confusion. As those very citizens begin transforming into rhinoceroses one by one, the town's social order is trampled on-until almost nothing is left. One sane man, Berenger, remains, unable to change his form and identity. An absurdist, avant-garde drama-the sublime is confused with the ridiculous in this savage commentary on the human condition. Even 60 years later, it remains an "allegory for our times" (The New York Times).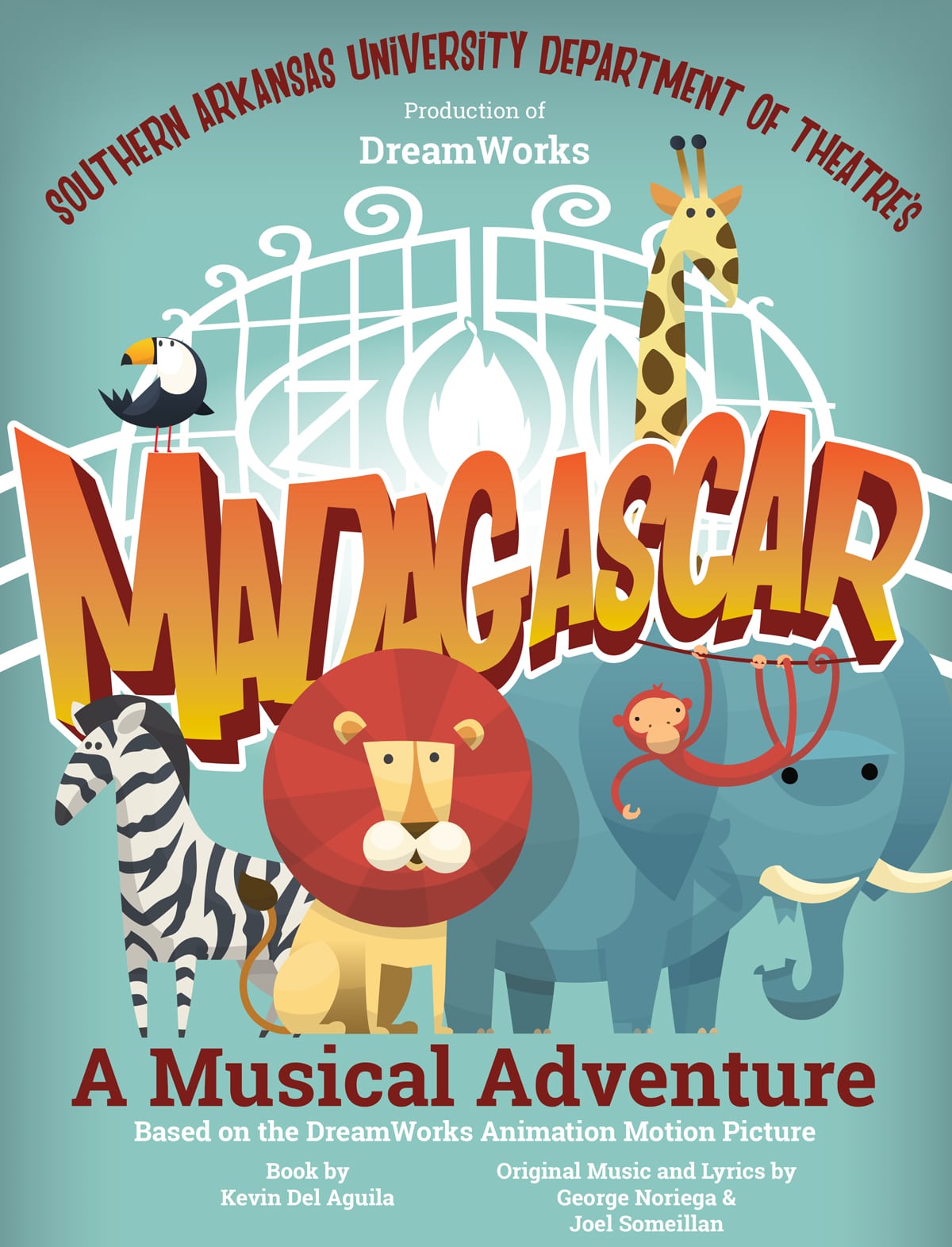 MADAGASCAR-A MUSICAL ADVENTURE
Based on the DreamWorks Animation Motion Picture
November 16-19, 2017
Book by Kevin Del Aguila
Original Music and Lyrics by George Noriega and Joel Someillan
Directed by Cason Murphy
Musical Direction by David De Seguirant
Choreography by Brandon Smith
Based on the smash DreamWorks animated motion picture, Madagascar – A Musical Adventure follows Alex, Marty, Gloria, Melman, and that wacky quartet of penguins as they escape from their home in New York's Central Park Zoo and find themselves on an unexpected journey to the madcap world of King Julien's Madagascar. Filled with your favorite crack-a-lackin' friends, adventure galore and an upbeat score, Madagascar will leave audiences with no choice but to "Move It, Move It!"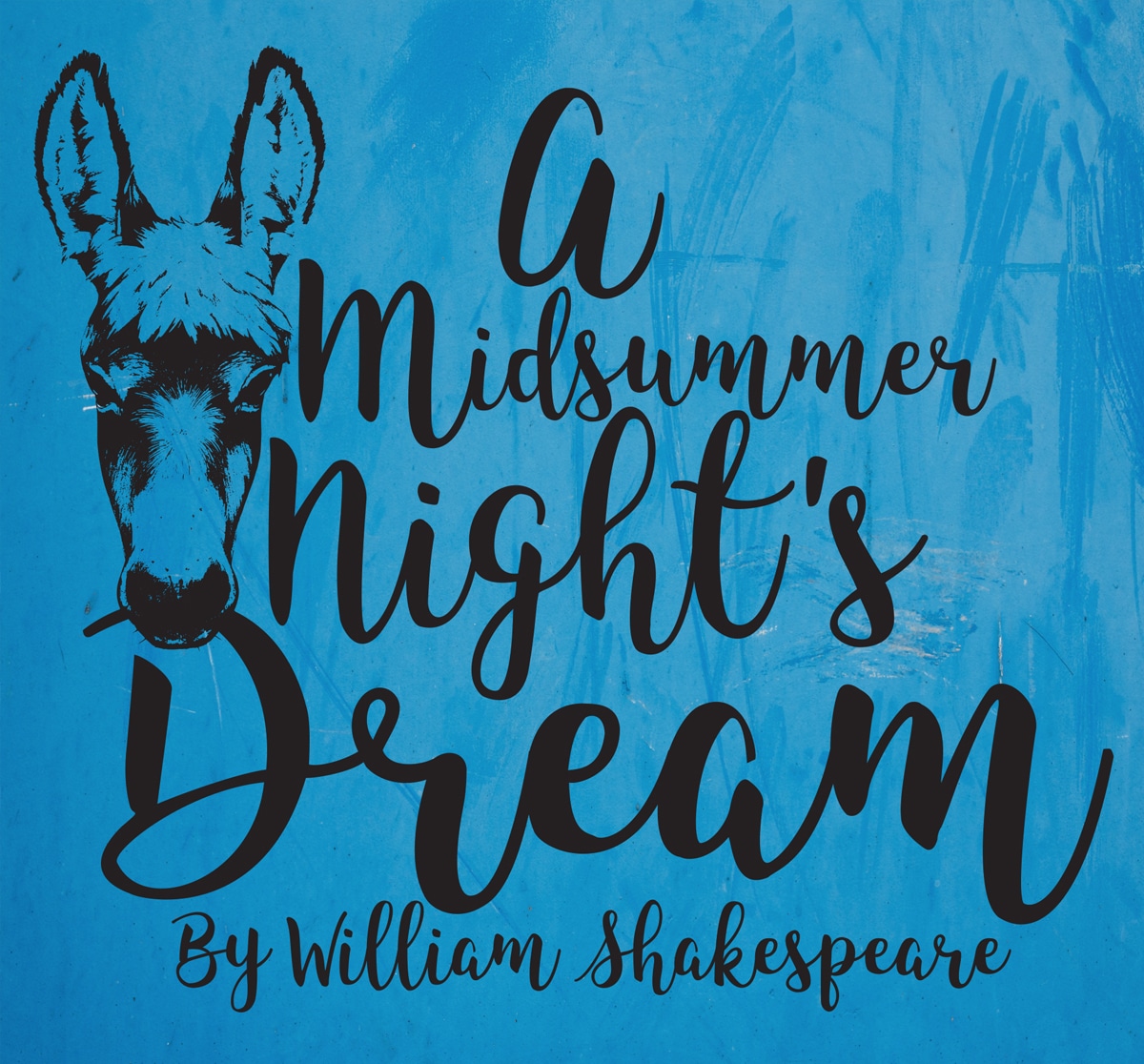 A MIDSUMMER NIGHT'S DREAM
February 15-18, 2018
By William Shakespeare
Adapted by Tiffany Antone
Directed by Cason Murphy
Just in time for Valentine's Day, SAU will present a new take on Bard's most popular and enchanting comedy in a spirited adaptation by Tiffany Antone. Join us in the woods outside Athens as four young lovers escape the city (and wishes of their parents) and unexpectedly find themselves caught up in the middle of a dispute between the King and Queen of the Fairies. Throw in some trickery, some transformation, and a traveling troupe of questionable actors and you have the recipe for a magical evening!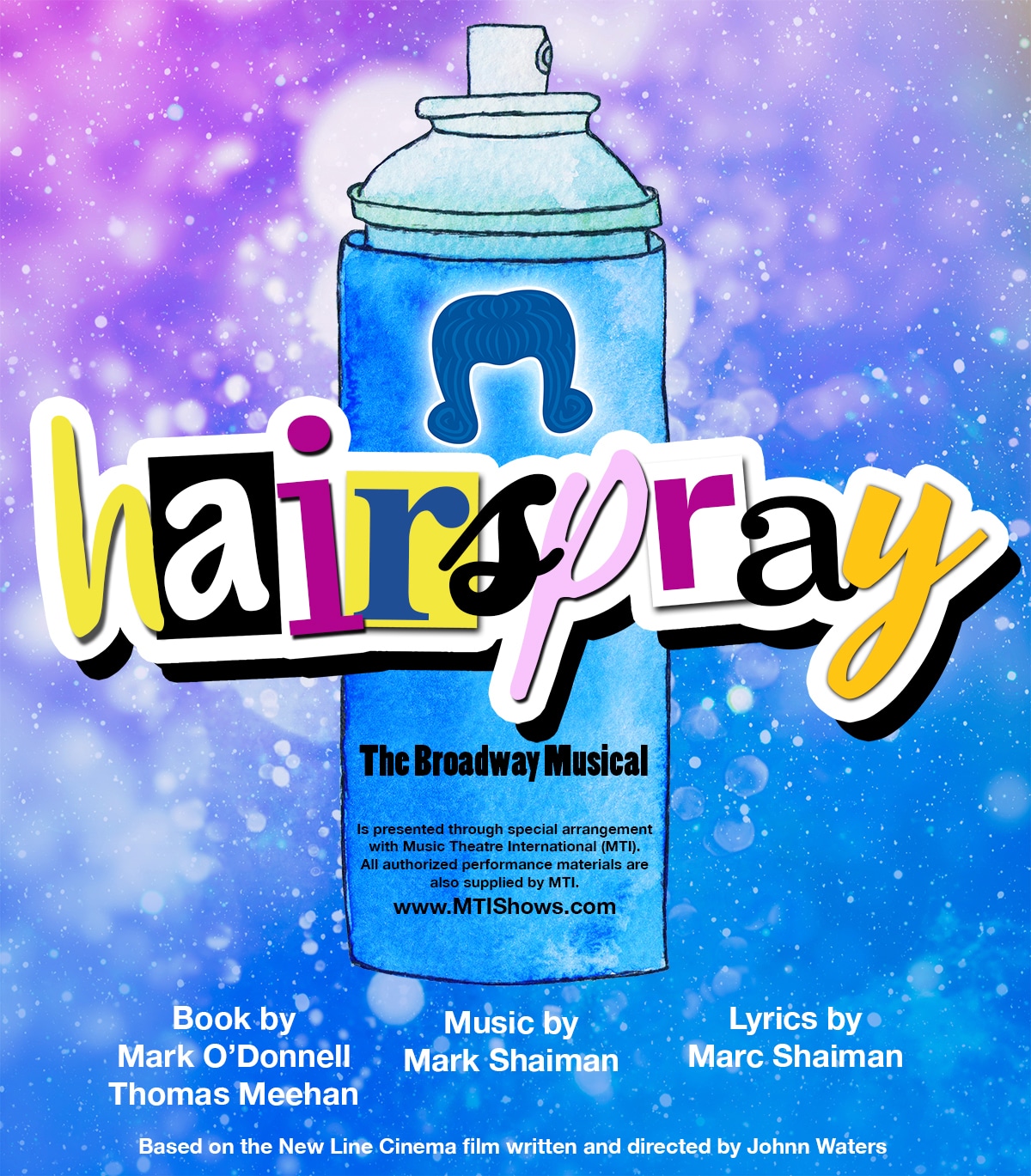 HAIRSPRAY
April 19-22, 2018
Book by Mark O'Donnell and Thomas Meehan
Music by Marc Shaiman
Lyrics by Marc Shaiman and Scott Wittman
Directed by Cason Murphy
Musical Direction by David De Seguirant
Choreography by Brandon Smith 
It's 1962 in Baltimore, Maryland, and quirky, plus-sized, teenage Tracy Turnblad has one dream: to dance on The Corny Collins Show. When she gets put in detention with the African-American students in the school, they teach her some of their dance moves, and her new-found groove wins her a spot on Corny's show. After becoming a celebrity overnight, Tracy uses her star status to help lift up those who got her there by campaigning for the show's integration. Hairspray shows us the black and white fact that when we look out for each other, "you can't stop the beat!"
2016-2017
Our Town by Thornton Wilder
You're a Good Man, Charlie Brown by Clark Gessner, with additional music and lyrics by Andrew Lippa
Dial M for Murder by Frederick Knott
Disney's The Little Mermaid by Doug Wright, with music and lyrics by Alan Menken and Howard Ashman, with additional lyrics by Glenn Slater.
2015-2016
Godspell by Stephen Schwartz and John-Michael Tebelak
The Crucible by Arthur Miller
Out of Order by Roy Cooney
The Wizard of Oz by Andrew Lloyd Webber, music by Harold Arlen and lyrics by E.Y. Harburg
2014-2015
Romeo and Juliet by William Shakespeare
A Christmas Carol by Charles Dickens
The Dutchman by Leroi Jones
Disney's Beauty and the Beast Music by Alan Menken, Lyrics by Ashman and Rice, and Book by Linda Woolverton
2013-2014
I hate Hamlet by Paul Rudnick
Proof by David Auburn
Seussical the Musical by Lynn Ahrens and Stephen Flaherty
2012-2013
Twelfth Night by William Shakespeare
Doubt, A Parable by John Patrick Shanley
Lucky Stiff by Lynn Ahrens
An Evening of Student Directed One-Acts
2011-2012
Dead Man's Cell Phone by Sarah Ruhl
The Good Doctor by Neil Simon
Royal Gambit by Hermann Gressieker
The 39 Steps by John Buchan
2010-2011
Steel Magnolias by Robert Harling
Moonlight and Magnolias by Ron Hutchinson
I Love You, You're Perfect, Now Change by Joe DiPietro
Lend Me a Tenor by Ken Ludwig
2009-2010
Boy Gets Girl by Rebecca Gilman
It's a Wonderful Life: A Life Radio Play by Joe Landry
Exit the King by Eugene Ionesco
The Tempest by William Shakespeare
2008-2009
A Skull in Connemara by Martin McDonagh
All in the Timing by David Ives
Butterflies are Free by Leonard Gershe
Driving Miss Daisy by Alfred Uhry
2007-2008
Crimes of the Hart by Beth Henley
Six Who Were There by June Lauzon
The Dining Room by A.A. Gurney
The Lilies of the Field by F. Andrew Leslie
2006-2007
Boston Marriage by David Mamet
Crumbs from the Table of Joy by Lynn Nottage
The Fantasticks by Tom Jones