Mission Statement
The Academy strives to provide a professional development system that regularly surveys faculty and staff for their needs, analyzes survey results, and coordinates and plans for professional development offerings for the campus community. There are six (6) established tracts: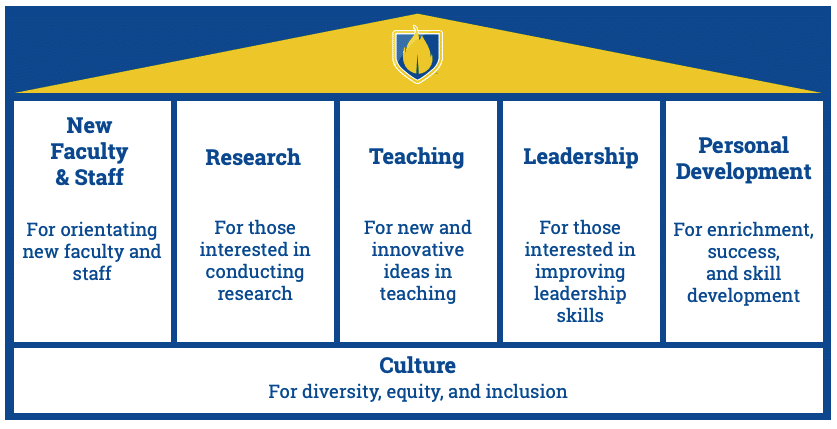 Muleriders L.E.A.D. – Leadership Program
Muleriders L.E.A.D. is a professional development program that promotes leadership through a cohort model. For more information, schedule of events, and nomination forms, please visit web.saumag.edu/lead.
Faculty and Staff Professional Development University Committee
The professional development committee is comprised of representatives from each college and department. The co-chairs are Dr. Connie Wilson and Mr. Drew Glover.  To find the representative from your college or department, click here for the committee member list.
Faculty Orientation for Hybrid and Online Instructors
If you are thinking about or will be teaching a hybrid or online class for the first time, the Faculty Orientation for Hybrid and Online Instructors will provide an introduction to the essential skills and tools necessary to design and deliver quality online courses. The Faculty Orientation for Hybrid and Online Instructors is a self-paced course available at all times and can be started and completed in a time frame that is convenient for you. The orientation can be found in the Online Learning section of the SAU Faculty & Staff Virtual Center organization on Blackboard. For more information, please email onlinelearning@saumag.edu.
Ongoing Training Contacts
Shoretel Phone System – Gary Hickson, 235-4083
Building Captain Responsibilities – Robert Nash, 235-4065
Professional Development Attendance Records
Faculty and Staff can review their attendance records for The Academy's programming by visiting The Academy organization on Blackboard. Those completing evaluation or professional development plans may find these records helpful. To receive a copy of your attendance records for The Academy's programs, please email us at: TheAcademy@saumag.edu.
Questions or Comments about The Academy
For more information about The Academy of Professional Development, please email theacademy@saumag.edu.