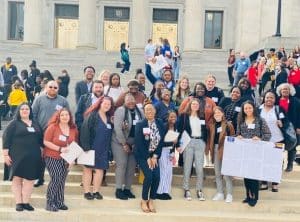 On February 16, 2023, twenty-seven Southern Arkansas University (SAU) students and two faculty members, Professors Welch and Sherman, traveled to the Arkansas State Capitol to participate in Lobby Day. This event provided an opportunity for SAU students to advocate for the social work profession at the Arkansas General Assembly. During their visit, students were able to tour the General Assembly, attend legislative meetings, interact with social workers from across the state, and witness voting.
SAU student Breaunna Cheatham presented to an audience of over 200 people on one of the bills being heard on Lobby Day. Additionally, Professor Welch presented the NASW-AR talking points on bills being heard in the General Assembly to the Arkansas Education Association. The Foundation's support of this endeavor enabled students to gain a "lived" experience in advocacy and observe political processes in action.
The SAU Social Work students expressed deep appreciation for their first-time experience of lobbying at the Capitol. Through lobbying, members of Congress, state legislatures, and city council members are informed of organizations' views and can make the best decisions for their constituencies.