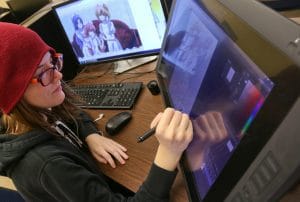 Southern Arkansas University is hosting the second-annual Game Development Summer Camp from July 11-14, 2016, for 10th – 12th grade students who think they might want to turn their hobby into a career.
Applications must be submitted online at www.SAUmag.edu/Game-Camp by July 5. Fee for the camp is $325, and includes room and board. Early-bird price is $300 for registrants before June 1. For more information, contact Rhaelene Lowther at rrlowther@saumag.edu or (870)235-4242.
This will be an overnight camp setting about game development and design with hands-on activities and programming. The camp will be four days, three nights, and curriculum will include an introduction to basic coding,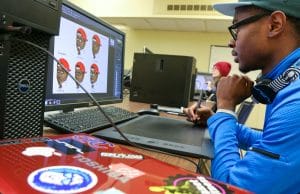 game tools and mechanics and character concept art creation. Fun after-hour activities will include video game tournaments, cosplay, board games, movies and other events.
The camp is being sponsored by SAU's two Computer Game and Animation Design programs: B.S. in Computer Science with option in Game Design and B.F.A. in Game Art, Animation and Simulation Design.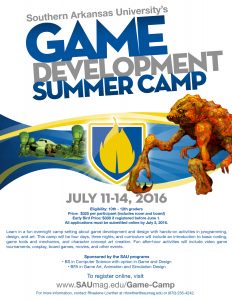 SAU's Computer Game and Animation Design degree is the only one of its kind in Arkansas, and has been extremely popular since it started Fall 2013. This unique program and others has helped catapult SAU to fastest growing university in Arkansas as of fall 2015. SAU also maintains the most affordable degree programs in Arkansas and gives graduates the highest return on investment, both according to the U.S. Department of Education.