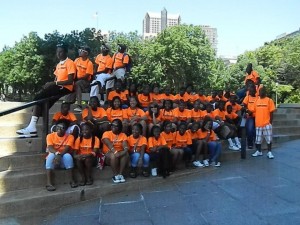 The Educational Talent Search program identifies, assists, and provides services to students who qualify for the program, with the goal of motivating students and providing them the necessary support to graduate from college.
All services provided by the Educational Talent Search program are free of charge. The Educational Talent Search program is housed at Southern Arkansas University and services 600 students from surrounding target schools
Mission/Goal
The program is designed to promote academic excellence and academic achievement by means of mentoring, counseling, and tutoring to all qualified participants. Also, to encourage participants to complete high school; give participants educational advice; help them engage in career planning and career exploration; and give participants reference information to other programs or services considered beneficial.
Program Specifics
Qualifications/Eligibility
Students must have the potential to succeed academically and must have the desire to exhibit interest in going to college to pursue a post-secondary education.
 Students must be in grades 6-12 and between the ages of 11 and 27.
Participants may also be high school drop-outs or post-secondary drop-outs between the ages of 19 and 27 and interested in furthering their education.
All participants must meet the qualifications of the program and they must show every attempt to excel academically.
Anyone interested in becoming a member of the program must go through an application process to be accepted into the program.
Applications are available in the Talent Search office, Room 214 in the Bruce Center.
Programs/Services
The Educational Talent Search program provides the following services to all of their participants:
Counseling- assistance with personal, educational, and career decision-making.
Mentoring- a variety of personal or academic support activities provided by other students or professionals and designed to expose project participants to careers and other educational opportunities available to them.
College orientation activities- workshops, college fairs, or project-sponsored trips to other post-secondary institutions to acquaint students with a variety of post-secondary educational opportunities.
Educational workshops- on and off-campus workshops that provide students with valuable information on self-esteem, career exploration, goal setting, decision making, financial aid awareness, career planning, character building, and study skills.
Workshops are conducted by an outreach couunselor from the Educational Talent Search program at target schools and on campus at Southern Arkansas University. In addition, students will be invited to visit SAU's campus on several occasions for  football/basketball games, campus tours, and other campus activities. Some activities are subject to occur on the weekend. At the end of the year a selected number of students are invited on a field trip if they have met the overall requirements of the program.
Once a student is accepted into the program, they are required to participate in the services provided until they graduate from high school. 

Background
The Educational Talent Search program is a part of the federally funded TRiO programs which are geared to promote educational opportunities and are designed to motivate and support students to attend and persist in post-secondary education. The programs are administered by the U.S. Department of Education Preparation and Support Services. The initial TRiO programs that included Upward Bound emerged from the Economic Opportunity Act of 1964 as part of President Johnson's War on Poverty. Talent Search was created in 1965 as part of the Higher Education Act and Student Support Services followed in 1968. The term "TRiO" was coined to describe these original federal programs. These programs work in conjunction with one another and they all share the same common goal: "To motivate and support each participant."