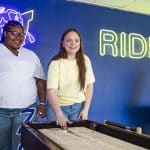 In an exciting move to accommodate students, Southern Arkansas University opened a new space for students to unwind and socialize on October 18. The area, called the Rider Lounge, is located on the bottom floor of the Bruce Center. 
As requested by the Student Government Association, the concept became one of the University's summer projects to provide students with an additional place on campus to congregate. Brad Stout, director of Student Affairs Facilities, noted, "We are very excited to revitalize an area of campus that was underutilized and turn it into a hub for fun, relaxation, and campus engagement."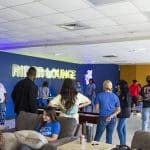 Rider Lounge hosts several activities, including ping pong, foosball, shuffleboard, air hockey, and billiards. In addition, the lounge has TouchTunes, a jukebox system through which students can play their favorite music. The welcoming and dynamic environment also provides comfortable seating areas for lounging and tables where students can enjoy their favorite Chick-fil-A, Subway, or Tacos 4 Life meals.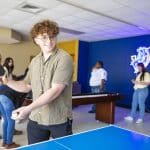 SAU strives to help students feel at home on campus while being committed to student excellence. "Our goal wa s to create a space that not only fosters academic success but also encourages social and community interaction," said Dr. Donna Allen, vice president for Student Affairs. "The Rider Lounge embodies our commitment to providing an enriched campus experience for our students." 
The Rider Lounge will be open Monday through Friday from 9:00 a.m. to 12:00 p.m. and Saturday and Sunday from 12:00 p.m. to 6:00 p.m.