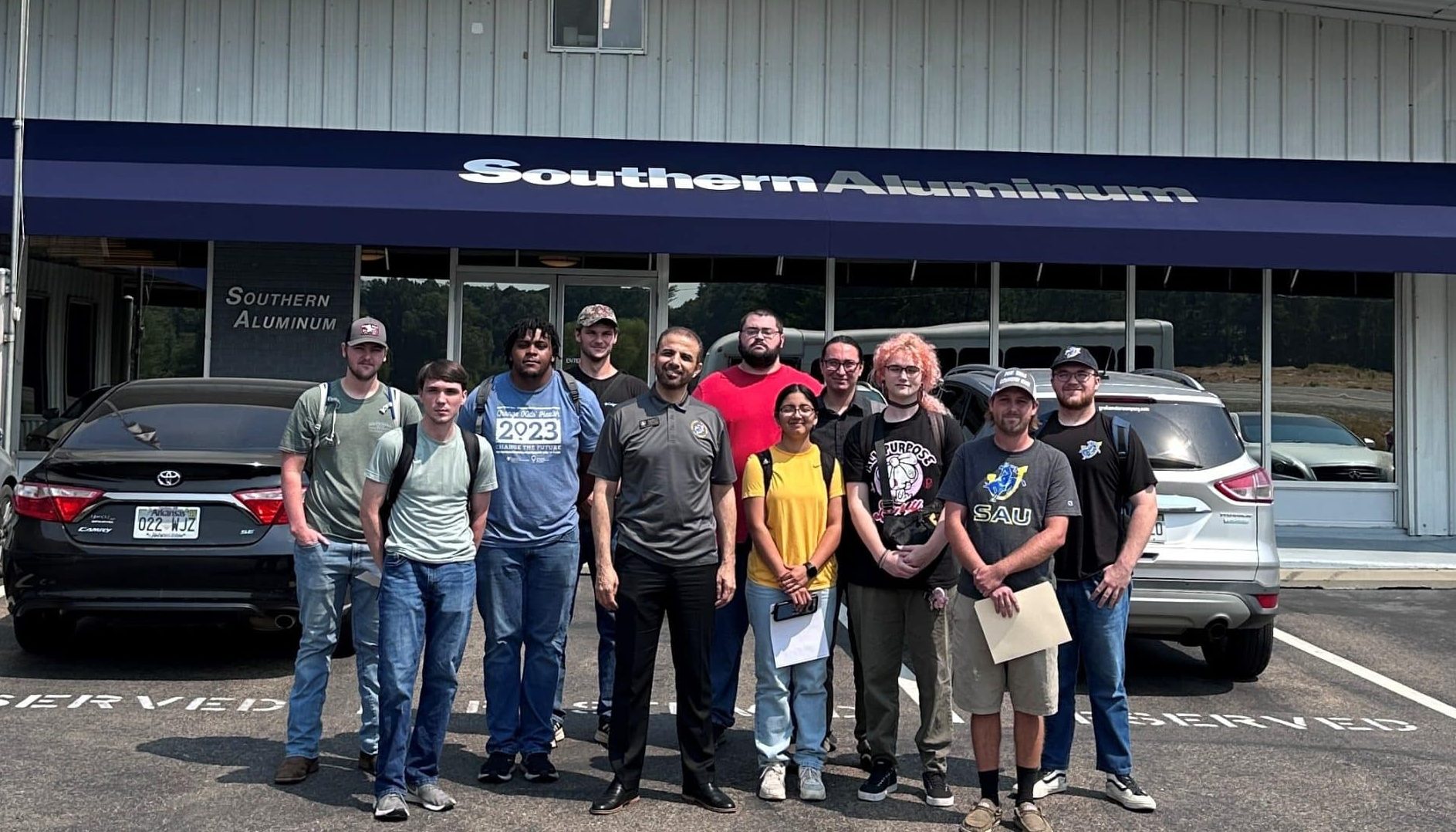 A group of 15 engineering students from Southern Arkansas University began work-study projects on lean manufacturing and production system quality at Southern Aluminum, one of the fastest growing local innovation industries.
"This is a significant partnership between SAU's engineering program and Southern Aluminum to provide our students with practical learning experiences," said Dr. Mahbub Ahmed, chair of the Department of Engineering and Physics. "SAU engineering students will engage directly in manufacturing, learning from experts and gaining valuable insights. This aligns perfectly with our engineering programs' goal of preparing students for the future workforce."
During the fall 2023 semester, students have been working on six projects, which include five Standards, Total Productive Maintenance, Product Quality, SMED Quick Changeover, Production Flow, and Production Pull. Some of the projects could be extended.
The studies aim to analyze unknown root causes and non-linear effects, processing time sequences and synchronization, developing best lean practices, preventive maintenance standards, and the implementation of Kanban systems for store and supply in three main operations of the systems, and a proposed improvement plan of solutions.
The students will gain real-world experience while applying their engineering skill sets to enhance Southern Aluminum's operations. Immersed in the manufacturing facility and learning how products are crafted from start to finish, students are expected to gain a better understanding of the process flow and to apply tools such as PDCA and DMAIC problem-solving methods, the Kanban approach, and LPMS.
"The project grant of $31,200 is an industry investment in our engineering program and our students' brilliant minds. We plan to grow the industry relationship with our department, college, and the University to excel in the future workforce," said Dr. Hayder Zghair, assistant professor of Industrial Engineering at SAU and the projects' academic supervisor.
"We are excited about the collaborative effort between SAU Engineering and Southern Aluminum, this will only increase the job readiness for the participating students all while promoting innovation and growth for Southern Aluminum. Actively engaging industries in students' projects is a prime goal for the Engineering and Physics Department; it's a win-win situation for all," said Dr. Abdel Bachri, dean of the College of Science and Engineering.