When Bryant, Arkansas, native Whitney Brown began her studies at Southern Arkansas University, Magnolia, in 2016, she'd never heard of disc golf. In fact, Whitney assumed she'd only compete in volleyball. But Whitney's collegiate career changed in 2018 when a friend handed her a disc and invited her to play.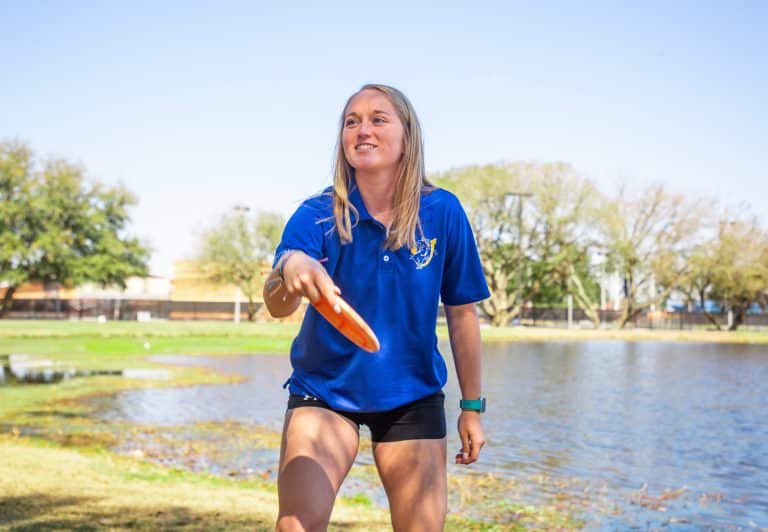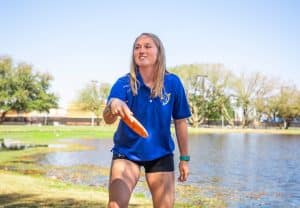 Though she was new to the sport, Whitney traveled with the Mulerider club team to Marion, North Carolina, for the College Disc Golf National Championship in 2019. Despite her nerves, she ranked fifth in the Division I Women's Individual category and Number One in the Division I Women's Team category with teammate Madi Chitwood.
"I was like, 'Okay, I've got this,'" Whitney said, chuckling as she reflected on her success.
Inspired by her performance and determined to improve, Whitney committed herself to the sport. She worked with her teammates, studied YouTube tutorials, and practiced regularly. By 2021, Whitney won her first national championship.
Fast forward to April 2022, the Mulerider disc golf team returned to Marion's North Cove Social Club to compete for the national title. After Whitney completed the course, she knew she hadn't played her best. So, when the officials announced a sudden-death match between the top two competitors, she didn't respond.
"I didn't think they were talking about me. But, everyone was like, 'Whitney, that's you! Go!'" Whitney said.
Whitney won on the first hole, and the rest is history. She was awarded the Ulibarri Leadership Foundation scholarship, a $4000 prize that paid for a semester of her college tuition. Additionally, Whitney competed in the men's division and earned a bid to compete at the women's professional level at Winthrop University in Rock Hill, South Carolina.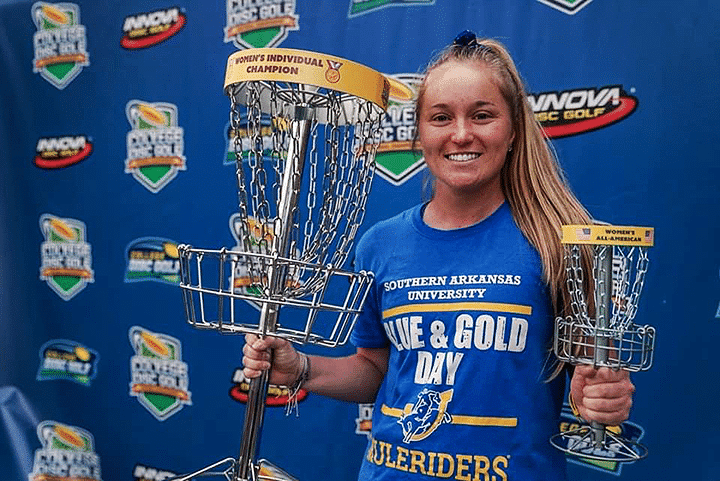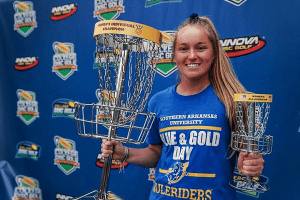 "I was super excited. I love representing SAU and being a part of something bigger than myself," Whitney said.
Disc golf has presented Whitney with opportunities, introducing her to life-long friends and the prospect of playing professionally. She encouraged Muleriders interested in club sports to "Just try it out!"
Director of Mulerider Activity Center and Intramurals Sarah Adcox said, "We have a great 18-hole course that is open year-round that anyone can play on, but it is tremendous that our SAU disc golf team has access to their own permanent course on campus."
This wasn't always the case. When the first men's and women's SAU disc golf teams were established in 2017, students were playing with portable baskets. In response to the game's growing popularity, SAU President Trey Berry and Vice President for Student Affairs Dr. Donna Allen supported the installation of a permanent course. With design input from the team, the course was completed that same year.
"Our course is an amazing draw for prospective students thinking about coming to SAU to play competitive disc golf and joining the SAU disc golf team," Adcox said.
The team is always looking for new members, has mentors available, and keeps a flexible practice schedule. Visit SAU Club Sports to learn more.