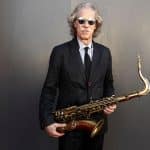 The Southern Arkansas University Jazz Ensemble will be joined by "Blue" Lou Marini on November 4 at 7:00 PM for the Artist in Residence Concert.
Marini has been a member of Blood, Sweat and Tears, The Saturday Night Live Band, The Original Blues Brothers Band, with credits in hundreds of albums, many of which have gone platinum. He's recorded with luminaries Eric Clapton, Aretha Franklin, Tony Bennett, Stevie Wonder, Diana Ross, Lou Reed and Frank Zappa, Aerosmith, The Rolling Stones, The Band and Steely Dan, just to name a few.
Electrifying audiences with his "sultry, seductive and singular" sounds, Marini is one of the most sought-after session horn players on saxophone, flute and clarinet, solo artist, arranger and composer.
The performance will be held at the Magnolia Performing Arts Center. General Admission is $10 and $5 for high school students and SAU students, faculty and staff (valid school ID required). Tickets may be purchased at the door or online at https://saupamc.ludus.com/200443321.