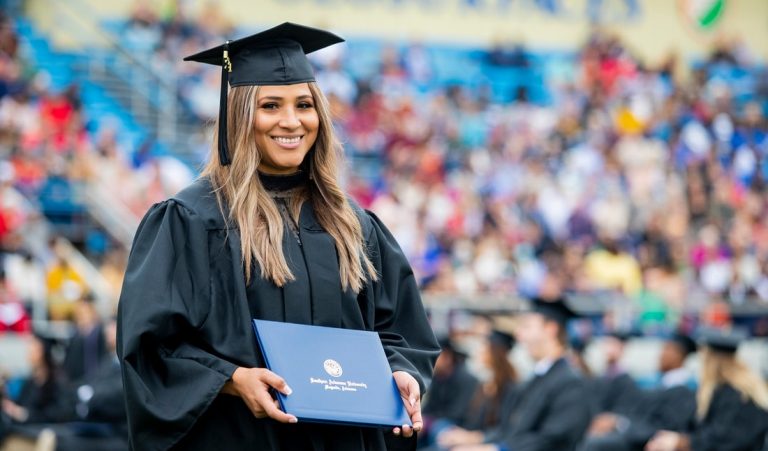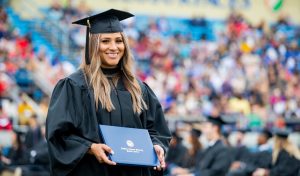 Southern Arkansas University will come together to honor over 500 spring 2022 graduates during three commencement ceremonies on Friday, May 6, in the W.T. Watson Athletic Center.
The Rankin College of Business and the College of Liberal and Performing Arts ceremony will begin at 10:00 a.m., while the ceremony for the College of Education and Human Performance and the College of Science and Engineering will be at 2:00 p.m.  The afternoon will conclude with a 4:30 p.m. ceremony for the School of Graduate Studies.  Additionally, the Department of Nursing will host a pinning ceremony for all nursing graduates in the Donald W. Reynolds Center Grand Hall at 11:30 a.m.
Monty Harrington, Market President for Farmers Bank & Trust and the SAU Board of Trustees Board Chairman, will deliver the spring 2022 undergraduate commencement address.  Harrington has been with Farmers Bank and Trust since 2000.  He is actively involved as the community facilitator for Albemarle CAP and frequently volunteers with numerous community organizations, including Magnolia's Central Baptist Church, the Magnolia Blossom Festival, the Magnolia Housing Authority, and Columbia Christian School.
The commencement address for the graduate ceremony will be delivered by Travell Green, Clinton Primary 4th grade reading and language arts instructor.  Green is a proud member of the community and school district of Nashville, Arkansas.  During his time at Clinton Primary, he created the Gentlemen's Club, an organization that was designed to teach young men life skills, social skills, and how to be a gentleman.  He was also named the 2021 Educator of the Year by the Hope/Hempstead County of Chamber of Commerce.
Each ceremony should last approximately 60-90 minutes.  There will be no guest limits or tickets required for guests to attend the commencement ceremonies, and face coverings will be optional for all attendees (candidates and guests). The commencement ceremonies will be streamed live on the SAU Facebook page for those who wish to attend virtually.