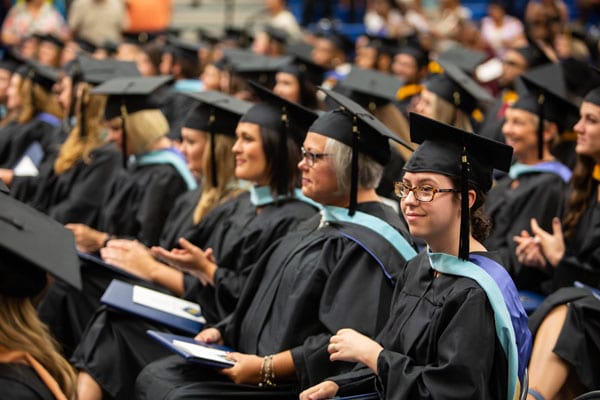 Southern Arkansas University will honor 291 Fall 2021 graduates during two commencement ceremonies Friday, December 10, at Wilkins Stadium.
A ceremony honoring associate and bachelor degree candidates will begin at 10:00 a.m., with the ceremony honoring graduate (master's) degree candidates beginning at 2:00 p.m. Additionally, the Department of Nursing will host a pinning ceremony for all nursing graduates in the Donald W. Reynolds Center Grand Hall at 12:30 p.m.
Dr. Jennifer Logan, Professor of Economics and the 2021 SAU Honor Professor, will deliver the Fall 2021 commencement address. Dr. Logan serves as the Director of the Center for Economic Education, an affiliate of Economics Arkansas, and is instrumental in providing training and curriculum to k-12 teachers for economic education. Dr. Logan has created numerous lesson plans and interactive tools for teaching economics through literacy, using popular stories such as Charlie and the Chocolate Factory and The Maze Runner.
Guests are asked to follow recommended public health protocols by practicing social distancing and staying home if sick. The outdoor venue allows SAU to celebrate its students without restricting the number of guests who may attend, and tickets are not required. Facemasks are not required for any SAU facility, but guests who need the additional protection are encouraged to use face coverings. For those who wish to attend virtually, the commencement ceremonies will be streamed live on the SAU Facebook page.
"We are genuinely excited to celebrate this day with our graduates and their families," said SAU President Dr. Trey Berry. "Watching our students receive their diplomas at these commencement ceremonies reminds us all of what is possible when we continue to have hope and pursue our dreams."
 In case of inclement weather, refer to the SAU website or Facebook page for updates.