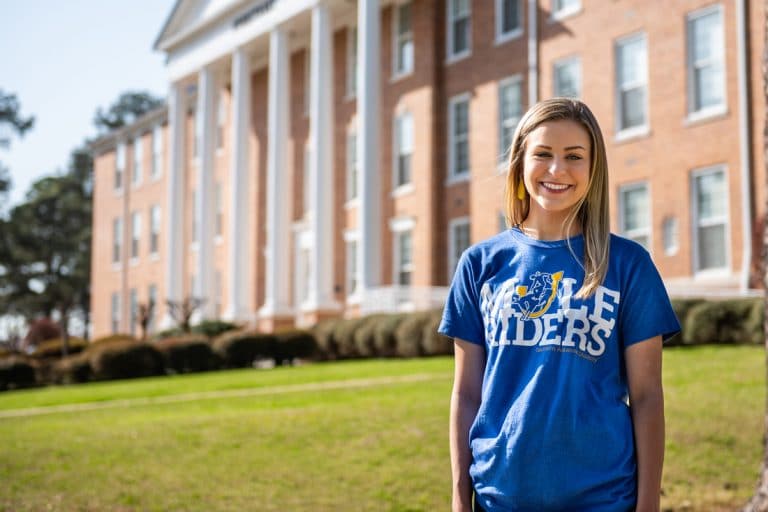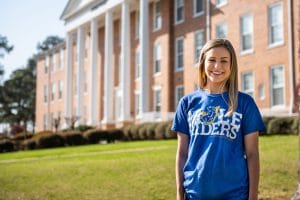 Malli Dooly, an animal science major from Emerson, Arkansas, has been selected as the new SAU Mulerider. She picks up the reins from Abbie Guin, who has served as the Mulerider since 2017. Dooly looks forward to continuing the mascot's tradition of showing the public what SAU is all about: loyalty and support.
"I attended school my entire life in Emerson," said Dooly. "SAU has always been so supportive of the organizations I participated in, so I spent quite a bit of time here with contests and conferences. That led me to call SAU home."
Dooly plans to graduate with a bachelor's degree in Animal Science with the hopes of attending veterinary school in the future.
"I knew SAU was the place for me because the agriculture program is so supportive of students and wants to see them succeed," she explained.
Dooly inherits the reins from Guin, an agricultural business major from Minden, Louisiana. She is the daughter of Amber and Shawn Dooly of Emerson. Dooly participated in 4-H for 13 years and served as the State Secretary of Future Farmers of America (FFA).
It's my job to represent all things SAU, what we stand for, and to represent the University we all love so much. I'm looking forward to the journeys we will make.
The Mulerider represents SAU in marketing initiatives and appearances across the region. "As the Mulerider, I get to represent our school as a whole," Dooly said. "Molly Ann has been just about anywhere you can imagine representing SAU, and I get to go on those journeys with her."
She said people love hearing about SAU traditions and, of course, taking selfies with Molly Ann. "It's my job to represent all things SAU, what we stand for, and to represent the University we all love so much. I'm looking forward to the journeys we will make."
Director of Farm Operations Rusty Hayes makes the mascot selection. "I remember very vividly when I got a call from Coach Hayes, and he shared the news to me that I was the new Mulerider," Dooly enthused. "My family is truly my biggest support system, so as soon as I got off the phone with him, I immediately called my parents then my grandparents to share the news with them."
She admitted feeling nervous about the application process, "but I knew this was something I wanted to do. When I got that call, Coach Hayes could probably hear my excitement over the phone. It felt so good to hear that they chose me."
Hayes said he is excited for Dooly to take over as the Mulerider. "We started with 13 applications for the position, and Malli stuck out with her personality and enthusiasm. Her excitement was contagious, and her public speaking skills are over the top. Her FFA experience will serve her well. I believe she will be excellent in the position."
Mulerider applicants had the opportunity to interview with Hayes and Guin and ride Molly Ann to get a feel for the position. "Malli was the obvious choice," Hayes said.
He praised Guin's representation of SAU during her tenure as the Mulerider. "She developed into an outstanding spokesperson for SAU," Hayes said. "We did a lot of fun stuff because I trusted her so much with Molly Ann. People were just drawn to Abbie. She has great conversational skills and was a tremendous representative for the University."
Guin called her experience as the Mulerider something she will never forget. "It completely changed my college experience in the most amazing way," she said. "I got to represent SAU but also show potential new students how much a smaller university can impact them and their future career."
She not only traveled Arkansas with Molly Ann but to events in Tennessee and Louisiana. "My favorite trip was when Rusty and I took her to the Grind City Media Podcast (which is over the Memphis Grizzly basketball team), and Molly rode in an elevator to the fourth floor."
Her most memorable occasion was Molly Ann standing next to her as she was crowned Homecoming Queen in the fall of 2019.
Guin advised Dooly as the new Mulerider to always be humble "when people start calling you famous." She also urged Dooly to "take a chance on going outside your comfort zone just like I did, and enjoy the ride!"
She promised the experience would change Dooly's life, as it did for Guin and all past Muleriders.
Dooly, a second-semester sophomore, feels honored to take up the reins. "Molly Ann and I can't wait to take on the next three years with all of the Muleriders and our fans," she said. "We will see you all soon!"