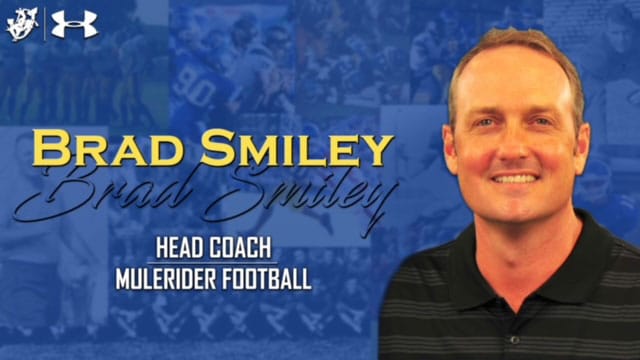 Southern Arkansas University Director of Athletics Steve Browning has announced that Brad Smiley has been named the 21st head coach of the Mulerider Football program; effective immediately. The official announcement was made at 11:35 a.m. on Friday, December 3. Smiley brings 27 years of highly successful collegiate offensive coaching experience at the NCAA Division I, NCAA FCS and NJCAA levels.
"After an extensive national search, it became evident that Coach Smiley was the right man to lead our football program," said Browning. "His experience and success at multiple levels along with his vast knowledge of recruiting in our region stood out during this process. I would like to thank Dr. Berry for his leadership during this process and the search committee for an outstanding job working through an impressive candidate pool. We are excited to welcome him, Janna, Ben and Clary into the Mulerider family. We can't wait to see where Coach Smiley takes this program!"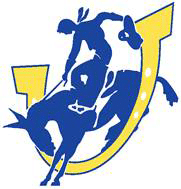 With a storied history dating all the way back to the program's inaugural season of 1911, Smiley's appointment as the newest leader of Mulerider Football will make him the sixth head coach in the program's NCAA Era (1995-96) as he now begins the journey of directing the program into its 104thseason of action in the fall of 2022.
Grateful for the opportunity, Smiley immediately realized the potential of the university and its football program on his visit to south Arkansas during the hiring process. "After spending a day on campus, we walked away thinking Southern Arkansas Football was an absolute gold mine," noted Smiley.
Smiley was impressed by the campus and facilities, but noted that it was the people that made the difference. "The campus and town were beautiful and the facilities were very impressive, but it was the people that sold us," remarked Smiley. "Everyone we came in contact with was extremely welcoming, and showed that the support for Mulerider Football will be second to none. It feels great to know that Dr. Berry, Coach Browning and the selection committee all share my vision for this program, and all see how great we can be!"
Smiley comes to Magnolia from FCS Northwestern State of the Southland Conference where he has served as the Demons' offensive coordinator and tight ends coach since the 2018 season. It was his second stint in central Louisiana as he coached tight ends and assisted with place kickers and special teams at NSU in 1996 and 1997.
While in Natchitoches, Smiley orchestrated multiple record-setting offenses, appropriately dubbed as the "Speed Demon" offense, which combined to set two dozen Northwestern State team and individual offensive records and included the school's all-time leaders in passing yards, both career and single season, in passing touchdowns, both career and single game, in receptions, and in single-season receiving yards and touchdowns.
During his time with NSU, Smiley coached a pair of NCAA FCS All-Americans, one Southland Conference Offensive Player of the Year honoree, seven All-Southland Conference selections, multiple Louisiana Sports Writers Association (LWSA) award winners and he mentored the only two quarterbacks to toss for 400+ yards in a single game in program history.
Prior to his second stop at NSU, Smiley enjoyed 20 seasons over two stints at Trinity Valley Community College. He coached the offensive line and tight ends in 1998 and 1999 and returned as head coach in 2007 where he would lead the Cardinals to eight region playoff appearances, five region title game appearances, five conference titles, and three regional championships. Three times Smiley was named the conference's coach of the year and in 2014 he was honored as the American Football Monthly Magazine National JUCO Coach of the Year.
In his final six seasons at TVCC, Smiley also served in the role of director of athletics. From 2013 to 2017, TVCC recorded a 49-9 record and spent 64 consecutive weeks ranked in the National Junior College Athletic Association Top 20 which included being ranked in the top 10 for 22 straight weeks. He remains the only coach in conference history to win five straight league championships.
His record-breaking offenses finished in the NJCAA's top 10 in total offense seven times, including the nation's best offensive output from 2014 through 2016. His rushing offenses finished in the top 10 nationally four times, while his passing attacks ranked in the top 10 six times, including four in the top five. Smiley coached 20 NJCAA All-Americans, six conference players of the year, three league MVP's, one NJCAA National Player of the Year and 103 first and second team all-conference selections.
From 2000 to 2006, Smiley served in multiple capacities within the Tulane Football program working as a graduate assistant (offensive line) in 2000 and 2001 and coaching the Green Wave tight ends from 2002 to 2006. Smiley assisted in directing some of the top offenses to come through Tulane which produced three of the program's top five all-time seasons in total offense and passing yardage and included the likes of program greats in quarterback Patrick Ramsey (former 1st round NFL draft pick), former NFL running backs Matt Forte and Mewelde Moore, and Seth Marler (2002 Lou Groza Award Winner).
With nearly three decades of collegiate coaching experience, Smiley has become extremely familiar with the region's recruiting hot beds having spent ample time in the fertile areas of central and north Louisiana, central and east Texas, Dallas-Fort Worth the state of Arkansas and even central Florida. While at both Tulane and TVCC, Smiley served as the program's recruiting coordinator.
Smiley got his start in the world of collegiate football in Waco, Texas, where he served as a student offensive assistant coach for Baylor in 1995 assisting with quarterbacks, wide receivers, and kicking specialists. He graduated from Baylor in 1995 with a Bachelor of Business Administration in Marketing. Two years later, he received a Master of Education in Sports Administration from Northwestern State.
Smiley holds several professional associations including an active 27-year membership with the American Football Coaches Association (AFCA) and an active 15-year membership with the National Junior College Coaches Association (NJCCA). Since 2014, he has spoken at numerous coaching clinics such as the AFCA National Convention and the Glazier Football Clinic among several Division I speaking engagements at LSU, Louisiana-Lafayette, North Texas, and Texas Tech.
Smiley is married to the former Janna Clary and the couple have two children, Ben (18) and Clary (16).