Three natives of Hawaii have each discovered two more reasons to say that Southern Arkansas University feels like home.
They each chose to come to SAU from different islands at our 50th state. When they recently realized their mutual connection to Hawaii on campus, a fast friendship developed that has brought them together in unique ways.
Gabrielle Gleason is a junior Elementary Education major from Hilo, Hawaii; Elisa Favela is a sophomore pre-nursing major from Ouahu, Hawaii; and Ryah Kaniho is a junior Elementary Education major from Maui, Hawaii.
Within minutes of learning their island connection, they felt a kinship.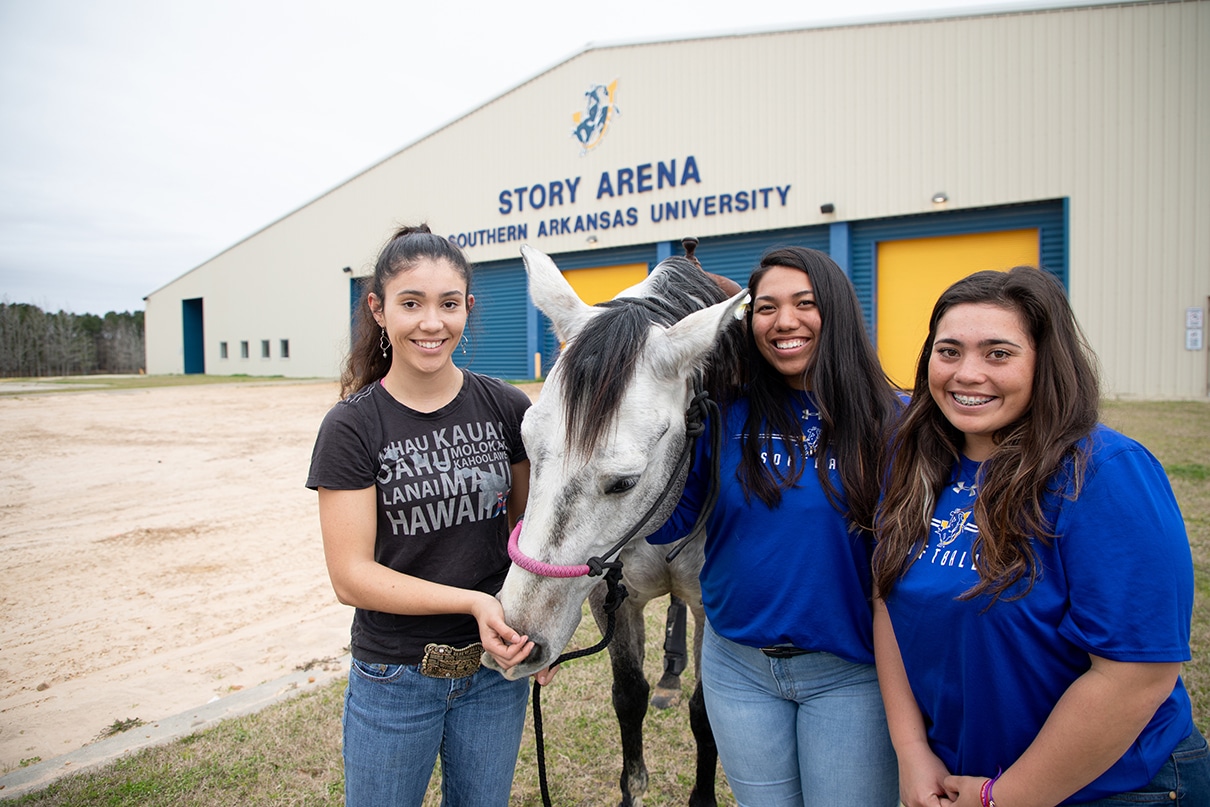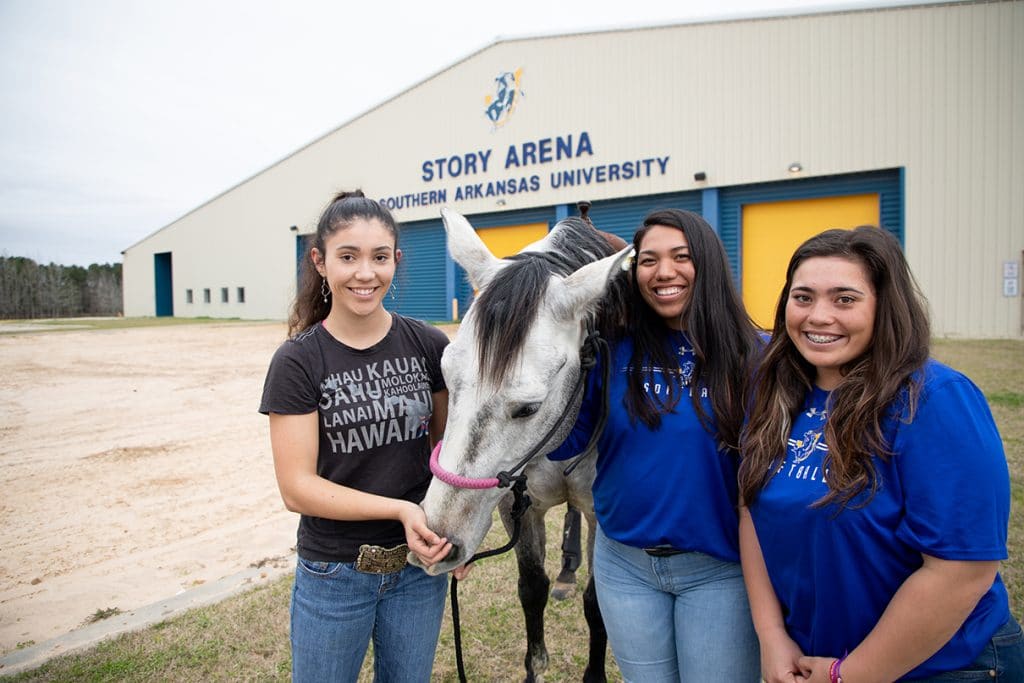 "It's like we know each other," said Favela, who along with Kaniho plays on the Mulerider Softball team.
"We already feel like we're family," Kaniho agreed.
Gleason, a member of the Mulerider Rodeo team, can't wait to do some home-style cooking for Kaniho and Favela. Her two new friends expressed their excitement to check out SAU Rodeo for the first time.
"We're going to hang out," Gleason enthused. "This helps me feel more like I am at home, just having someone who knows all the Hawaiian lingo, expressions and food."
Though rodeo and softball keep the trio busy – and on the road – they plan to deepen their bond.
Gleason came to SAU in 2016 on an academic scholarship. Having done rodeo in Hawaii since middle school, she was impressed with the facilities that SAU has to offer.
Kaniho and Favela met and became friends through Mulerider Softball, but neither had met Gleason, who did not know there were other students from Hawaii attending SAU.
All three agreed on the thing they miss most about Hawaii: the food.
"You can't always get the ingredients, but I learned how to ship the things that can be shipped and then make up the rest," Gleason said.
"I miss the food more than anything," Kaniho laughed.
They also joked about accents in Arkansas. "I think the accents are the coolest thing," Favela said. "But people back home say I'm sounding so country!"
Favela plans to become a dental hygienist while Gleason and Kaniho both plan to teach. All three plan to eventually return to Hawaii.
"It's so important to go back home and bring our knowledge and skills back to the people of Hawaii," Kaniho said. "I want to (teach) in my town. A lot of teachers are coming from the mainland, but I think it is important to instill in our children a sense of our Hawaiian values."
Gleason agreed that teaching and respecting Hawaiian cultural values is important. Favela said she already has a job set back home. "We need a lot more people in dental hygiene school in Hawaii," she said. "I can't wait to get back home and start to work."
For now, the girls are enjoying getting to know each other and reaffirming their island connection. Favela and Kaniho were excited to meet Gleason's horse, Bobo, who was shipped over to the mainland from Hawaii.