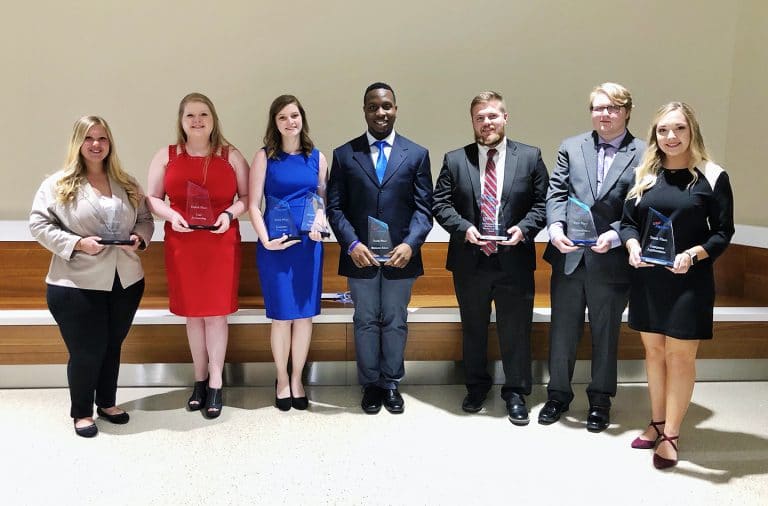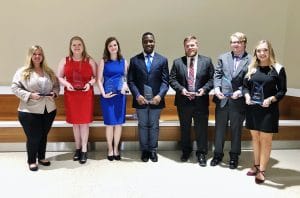 Southern Arkansas University achieved resounding success at the 2019 Phi Beta Lambda National Leadership Conference in San Antonio, Texas, June 24-27.
Students of the David F. Rankin College of Business who placed at the 2019 State Leadership Conference represented SAU and Arkansas PBL by competing in their respective events in San Antonio.
Those attending included Kelsie Collatt, Amanda Easley, Satajah Fields, Curt Jennings, Kaitlin Kitchens, Micah Larey, Chase Lovell, Olivia McClure, Joshua Okwuazu, Wesley Price, Chioke Thomas, and Cameron Ulmer. The PBL National Leadership Conference features student competitions, workshops and keynote speakers, national officer elections, and networking opportunities with members and professionals from around the country.
SAU brought home eight awards, including: second place, Forensic Accounting, Easley; third place, Local Chapter Annual Business report, Kitchens and Larey; fifth place, Microeconomics, Price; sixth place, Project Management, Collatt; eighth place, Cost Accounting, McClure; ninth place, Insurance Concepts, Easley; 10th place, Business Ethics, Okwuazu, and 10thplace, Computer Applications, Kitchens.
Lindsay Givens, instructor of management, and Dr. Gerald Plumlee are the advisors for SAU Phi Beta Lambda.
"I'm so proud of all of our NLC winners," Givens enthused. "My goal for our group was to bring home more awards than we did last year, so I was absolutely thrilled when we doubled last year's count by winning eight awards."
Givens shared her pride in Easley's second-place finish in Forensic Accounting.
"This is a competition in which our PBL has always placed in the top three nationally, and Amanda kept this streak alive," Givens said. "Our students can compete with anyone in the country, and their performance at NLC shows that."
Students in the David F. Rankin College of Business are leaders in campus, community, and national activities. For more information, please visit https://web.saumag.edu/business.