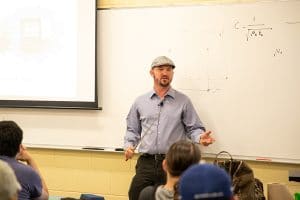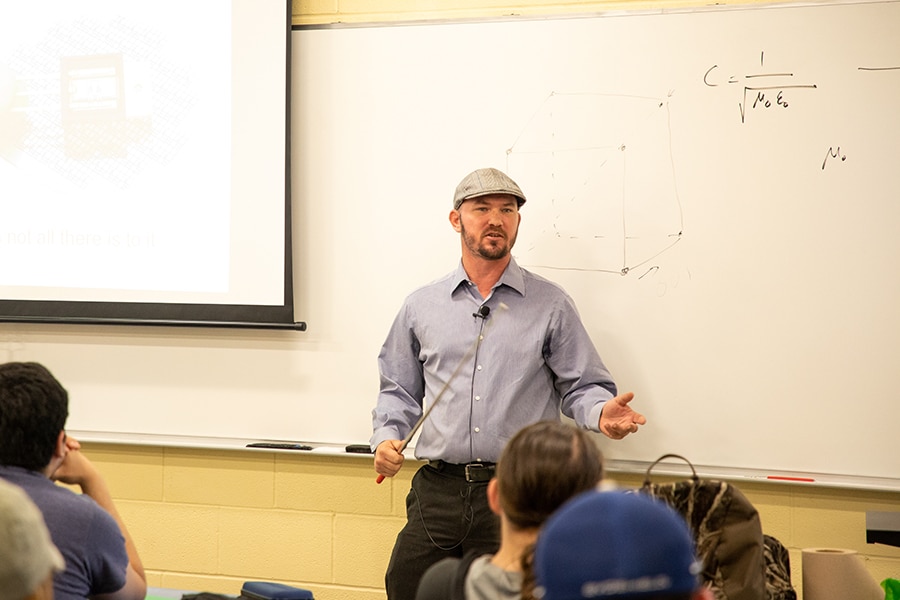 Dr. Perry Grant, a 2011 alumnus of the College of Science and Engineering at Southern Arkansas University, has taken his education to the next level in high-tech research for the United States Air Force. "It's my way of giving back to my country," he said during a recent visit to SAU.
Grant earned his BS in Engineering/Physics from SAU and his PhD in Microelectronics-Photonics (MEPH) from the University of Arkansas at Fayetteville. He now works at Kirtland Air Force Base in Albuquerque, New Mexico. He is using his expertise in semiconductor growth to develop high-precision sensors for space applications. Dr. Abdel Bachri, dean of the COSE, called Grant's work "the science frontier."
Grant imparted his wisdom and experience to SAU physics and engineering students, speaking to them about possible next steps in their academic careers.
"I want them to follow their passion," he said. "I would support any decision a student makes. We need scientists in the private sector and in the classroom. Students can make a lot of money working in private industry, but that doesn't always go back to making the country safer."
A graduate of Camden-Fairview High School, Grant attended SAU-Tech from January 2003 to December 2004, graduating with an A.A.S. in Industrial Technology with an emphasis in Electronics. Working for SMI Steel (now CMC Steel) in Magnolia gave him experience in "the engineering side of industry. This put me on the path toward furthering my education." He enrolled at SAU in 2007 as an Engineering/Physics major.
Under Bachri's tutelage, Grant served as an intern over two summers on a project at the Lawrence Berkeley National Laboratory (LBNL). "The first summer, we actually built two cosmic radiation detectors," Grant said. "These detectors were constructed using scintillators, a material that fluoresces when struck by a charged particle or high-energy photon. These not only detected cosmic ray muons, but gamma radiation from radioactive sources. The detectors were tested and shown to perform as designed."
Achieving this scholarship meant a world of difference to me.
The second summer, Grant and Bachri studied sources of electromagnetic and background particle radiation for a titanium or stainless steel pressure vessel. Each summer's work resulted in published journal articles with Grant and Bachri as co-authors.
While a student at SAU, Grant received the Dr. Rudy J. Eichenberger Scholarship, which benefits a junior or senior student in the COSE.
"Achieving this scholarship meant a world of difference to me," Grant said. "This allowed me to complete a year of study without racking up several thousand dollars in debt. It was extremely important that I graduate with the smallest amount of student loan debt. Furthermore, this scholarship proved that the hard work put into my education would pay off and that I was capable of furthering my education even more once I left SAU."
When we worked together at the LBNL, it became evident to me that he would go on to achieve great things.
A veteran of the U.S. Air Force, Grant found that he could use his education from SAU to "move on to the next step" in military research. "Everything I learned at SAU can be applied to the work I do today."
Bachri said that Grant is "a true success story who should make every one of his professors proud. When we worked together at the LBNL, it became evident to me that he would go on to achieve great things. He enjoyed tinkering with instruments and liked to troubleshoot, which is a common denominator among great experimental scientists."
Grant praised the growth he has seen in the COSE. "It is very important for SAU to have the kind of Physics and Engineering program it has today," he said. "We need to keep high technology here so that more people will come and study and produce research. The more scientists you have, the better your educational system, which means greater opportunities for all."
SAU's Engineering program was established in 2014 with strong industry support from across the region. The program has steadily grown and support from generous donors and industry continues, funding state-of-the-art technology in the Norvell-Cook Engineering Center. To find out more, visit www.SAUmag.edu/Engineering.