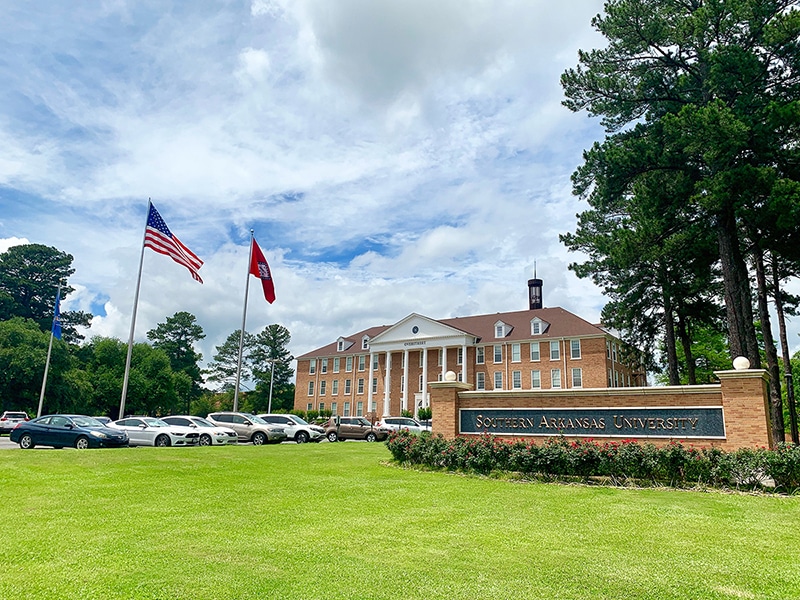 Officer training returns to Southern Arkansas University after 28 years.  It is meaningful that this approval comes shortly after Memorial Day 2019, the day we honor those who have served and given the ultimate sacrifice.  SAU announced today, after its regularly scheduled Board of Trustees meeting, the beginning of OCS (Officer Candidate School) Guard Officer Leadership Development (GOLD) program that will serve the Arkansas National Guard. The program will begin this fall offered through the College of Liberal and Performing Arts, and potential officers will minor in Military Science.
SAU has a long history supporting the armed forces dating back to 1926 with the erection of the old National Guard Armory on its campus until it erected a new one in 1976.  SAU, (then Southern State College) applied to the U.S. Army in 1953 for an ROTC program but was judged too small to support one.  When the Vietnam antiwar protests caused many colleges to end ROTC, SSC received Army approval in 1972. Within a year, SSC had more freshman participation in ROTC than any other Arkansas college.  This program was closed in 1991 due to a downsizing effort, and the University hosted a Readiness Center until its closure and conversion to an engineering center in 2016.  The University has continued to seek partnerships with our military since that time. Dr. Trey Berry commented, "SAU has had a storied history with military training and military science almost since the founding of our institution.  We are truly excited to be working with the Arkansas National Guard to bring this tradition back to our campus."
In other business, Dr. David Lanoue, provost and vice president for academic affairs, requested the addition of a BFA with Emphasis in Art Therapy which was passed unanimously.  The new BFA program would represent a collaboration between the departments of Art and Design and Behavioral and Social Sciences and serve as a preparatory program for those seeking admittance to a master's program in Art Therapy.
In other action, the University System budget for SAU and SAU Tech of over eighty-eight million dollars was approved. At the SAU campus, tuition will be $214.00 per credit hour for a total of $3,210 per semester for undergraduate in-state students enrolled in 15 hours. This represents a decrease of $14.00 per credit hour due to the University separating the athletic fee out of the tuition line to be more transparent and be consistent with all other universities in Arkansas.
Total mandatory fees will be $1,280 with increases from .50/credit hour to $2.00/credit hour in technology, library, facility, athletics, and academic excellence fees.
The room and board charges for 2019-20 will be $3,208 per semester for traditional housing and a continuous dining meal plan, which is a 4.5% increase.  Room rate increases fund student housing renovations and the increased costs of operation. The board increase is a reflection of the increased cost to the University from our food service contractor due to the increases in mandatory minimum wage.
Total attendance cost for undergraduate students enrolled in 15 credit hours a semester will increase by 3.5 percent (off-campus students) and 3.91 percent (on-campus students).
The Board also authorized the refinancing of series 2019-A and 2019-B bonds.
The SAU Tech campus will have no increase in tuition and no housing increase but will have a $3.00 per credit hour security fee added.
Chancellor Jason Morrison informed the Board of the recent $12,000,000 award to construct a residential facility on the training grounds of the SAU Tech Arkansas Fire Training Academy and almost $900,000 from the Arkansas Natural and Cultural Resources Council to restore the administration building.
Other items included approval of SAU to participate in a grant program to develop or improve sidewalks on campus.
After returning from Executive Session to discuss personnel matters, the Board approved the extension of President Berry's five-year rolling contract by one year with the provision to increase his salary equivalent to the cost of living adjustment given to the faculty and staff.
The next regularly scheduled Board of Trustees meeting will be held in early fall.