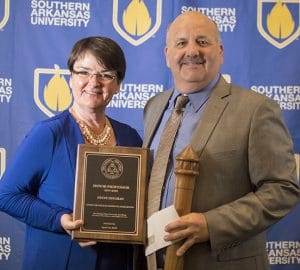 Southern Arkansas University honored the outstanding achievements of its faculty on Thursday, April 12, at the 2018 Faculty Excellence Awards Banquet.
Steve Dingman, director of the online M.S. in kinesiology and coaching program and chair of Health, Kinesiology & Recreation, was named the 2018-2019 Honor Professor, accepting the ceremonial Mace from Dr. Abdel Bachri, outgoing Honor Professor. Dr. Deborah Wilson, chair of Behavioral and Social Sciences and associate professor of psychology, presented Dingman with the Honor Professor plaque. She also read the roll call of past SAU Honor Professors.
Honor Professor is the highest accolade bestowed upon faculty at SAU. It recognizes faculty members who are excellent in the areas of teaching, research and service. Dingman received his B.A. from Peru State College in Nebraska and his M.Ed. from SAU.
In 2014-15 Dingman was honored with the Faculty Excellence Award for Service.  He currently serves on numerous department, college and university committees and is a national program reviewer for the United States Center for Coaching Excellence and the National Committee for the Accreditation of Coaching Education.
Dingman has taught numerous undergraduate and graduate courses while at SAU including Organization and Administration, Measurement and Evaluation, Sport Administration, and many other Recreation, Fitness and Health related courses. He is currently the longest-serving department chair at SAU.
"To be added to the list of exemplary faculty who previously received this award is a great honor that I will cherish," he said. "This award is a reflection of the great colleagues and students I have the pleasure to work with on a daily basis."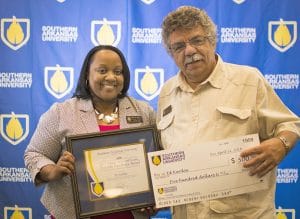 Other faculty awards included:
Dr. Ed Kardas, professor of psychology and director of the SAU Honors College, received the Mary Armwood Diversity Award from Jennifer Turner, program director and assistant professor of social work.
Dr. Angela Stanford, assistant professor of education for SAU's Teacher Education program, was presented the Research Award by Raymond Adams, assistant professor of social work.
Whitney Gass, assistant professor of criminal justice, was presented the Auburn Smith Service Award by Dr. Neelie Dobbins, chair of Teacher Education/MAT director.
Rami Alroobi, assistant professor of computer science, and Dr. Mahbub Ahmed, associate professor of engineering, were presented the Robert Walz and Calvin Wetzig Teaching Awards by Dr. David Lanoue and Jody Nations.
Jennifer Turner and Connie Wilson, assistant professor of education and ELP director, received Spirit of SAU Awards from Dr. Lanoue, provost and vice-president of academic affairs.
Dr. Svetlana Paulson, professor of history, served as master of ceremonies for the event, which took place in the Reynolds Center Grand Hall.