The Southern Arkansas University Board of Trustees approved on Tuesday a bond proposal in the amount of $7.9 million through the Alumni Association for the construction of a new student residence hall that will help the University meet continued enrollment growth projections.
The Board also approved a separate bond proposal in the amount of $6.2 million for growth areas and deferred maintenance. Dr. Trey Berry, president, said the bond issuance would cover improvements around campus and pay for an expansion of facilities to support the College of Education and the SAU Band.
Edgar O. Lee was appointed chairman of the board, replacing W. Steve Keith, whose term has expired. David Nelson was voted vice-chair and Lawrence Bearden was appointed secretary. Keith was also honored for his service to SAU during what Berry called "some of the most rapid and significant changes in the history of this institution."
Bond proposals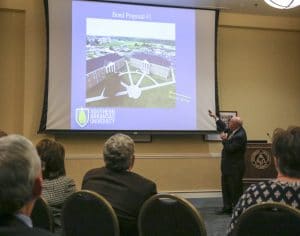 Berry outlined the need for SAU to build Arkansas Hall, a 132-bed residence hall to be located on the north side of the campus, adjacent and similar to Magnolia and Columbia halls. SAU has had an average growth of incoming freshmen of 105-120 new students annually living on campus over the past five years. SAU residence halls were home this past fall to more than 1,850 students. The increase from last year's residential record of 1,764 was made possible by the opening of two new residence halls this August, Eichenberger Hall and Burns-Harsh Hall.
"If we want to continue to grow, we need to have space for our students," said Berry.
Other campus improvements occurred over the summer to prepare for the growth, including a cafeteria expansion, moving of the tutoring center to the centralized library, and the main throughway being converted to a boulevard for improved pedestrian and cyclist safety and enjoyment.
Under the agreement executed Tuesday, the Alumni Association will take out the bonds and SAU will be financially responsible for the note. SAU will pay the Alumni Association $25,000 per year for five years beginning in the fall of 2019.
"We are excited the Alumni Association will do this for us," Berry said. "It has played a significant role."
Once Arkansas Hall is finished, the four new residence halls on the west end of campus, including the 85-bed Burns-Harsh Hall, will have a capacity of almost 500 students. "What a great way to enter the campus," Berry said.
For the second bond, the primary project is a two-story, 10,000 square-foot addition to Cross Hall. Berry explained that this new facility will consolidate the growing College of Education and accommodate the University's anticipated doctoral program.
The bond also includes an expansion of the Oliver Band Hall, now inadequate due to the rapid growth in the SAU Band program, to add practice rooms and storage. Other items include construction of an office and locker room facility for tennis, golf, and possibly other athletic programs.
Shawana Reed, vice president for finance, explained the details of the bonds and presented a proposed refinancing of a 2007 Bond that would create significant savings for the University. The Arkansas Department of Higher Education Coordinating Board has final review and approval of the bonds, she said.
After brief discussion, the Board unanimously approved the bond proposals as well as the E&G and auxiliary resolutions.
Board honors Keith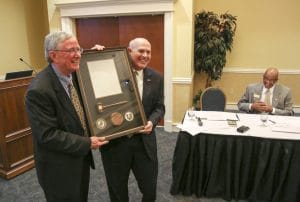 Keith was honored with a special presentation to honor his five years of service to the University. He served on the Board from 2013-2018 and is replaced on the panel by Monty Harrington of Magnolia. Tuesday marked Harrington's first meeting as a trustee member.
Berry lauded Keith's service as secretary, vice chair, and finally chairman of the board, shepherding both SAU and SAU Tech through "significant changes." He cited continuous technology and infrastructure upgrades, the new softball field, the Mulerider Activity Center, and the construction of four new residence halls as among those changes during Keith's tenure.
"Your service deserves lasting recognition," Berry said, presenting Keith with a memorabilia case that included Keith's gavel and a copy of the resolution, which was placed in the official minutes.
Keith replied that he also saw the hiring of Berry as president and Jason Morrison as chancellor of SAU Tech, "two great accomplishments." He said he made many great friends while serving as a trustee and thanked faculty, staff and administration for their hard work.
He said one of the most impactful parts of his time on the Board was watching graduation ceremonies at SAU and SAU Tech and seeing the emotional graduates and their proud parents. "That's what we are here for. If we don't have kids, we're out of business."
He thanked his wife, Kerry Cloud Keith, for supporting him, and noted his special connection to SAU. Not only did he earn two degrees from SAU, a B.S.E. in 1974 and a M.S.E. in 1977, but several members of his family are also proud alumni. They include his mother, the late Dorothy Keith; his sister, Nelda Keith Peace; his brothers, Mark and Phil Keith; his son, Kyle; and his wife, Kerry.