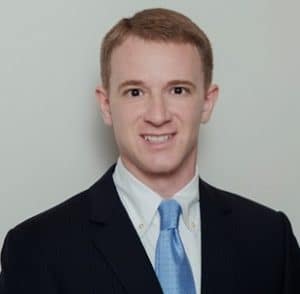 One could say that Jamie Waller's career in banking began with a crime. Not a crime on his part, of course. Instead, it was one Jamie was trying to stop.
As a senior in his last semester in college at Southern Arkansas University, Jamie was working at Stage one evening when someone ran out of the store with some merchandise. Jamie made a split decision – he ran after the shoplifter with the intention of retrieving the merchandise.
As he ran across the parking lot, he bumped into a shopper exiting what was then Kroger's. That customer just happened to be Todd Smith, then president of Peoples Bank.
"He told me if I ever needed a job, to give him a call," Jamie tells the story now with a laugh.
Jamie took him up on that offer, and the rest, as they say, is history as Jamie Waller was recently named president of Peoples Bank of Magnolia.
The beginning of his career is certainly unique, the type of story the people talk about for years. Yet it was that same admiration for long-time legendary bankers in Magnolia that attracted Jamie to the business from an early age.
"I've always had an interest in banking," explained Jamie. "I've always respected bankers as leaders in the community."
A Magnolia native, Jamie graduated from Magnolia High School in 1999. Growing up, he developed a love for the city and the people who lived in it. Jamie decided to stay close to home and attended SAU. "I felt like I had a better chance to succeed if I remained in the community."
He began as a marketing major, but then his interests led him to accounting and finance. He graduated from the Rankin College of Business with a degree in general business with an emphasis in finance. Jamie enjoyed his accounting and finance classes, and especially enjoyed the classes taught by Dr. David Ashby, now of Mustard Seed Wealth Management of Magnolia. "I thought Dr. Ashby's classes helped me understand how the concepts worked."
He is also a graduate of the Graduate Banking School at Louisiana State University.
Jamie has learned banking through almost every vantage point a bank has to offer. At Peoples Bank, he has worked as a general office assistant, teller, loan clerk, loan assistant and branch manager.
Once an admirer of the bankers in the community, Jamie has been following their examples through his involvement in a number of community groups and activities: he's the former president of the Arkansas Bankers' Association Emerging Leaders Board, treasurer of the Magnolia Rotary Club, United Way Board member, Magnolia City Council member, SAU Alumni Association Board member and former president, Magnolia Regional Medical Center treasurer and Board member, and is an official starter for the Magnolia High School track meets.
Jamie and his wife, Caroline, have one daughter, Sloane. Jamie is just as dedicated to being a great husband and father as he is to his career.
"I want to maintain that personal work/life balance so that I can be the dad and husband I want to be and also be the community leader I want to be."
He learned those values, dedication to family and hard work, from his parents, Sammie and Kay Waller of Magnolia.
"I credit everything I've been able to accomplish to them. Without their guidance, I certainly wouldn't be where I am today," said Jamie.
It's those same values that Jamie encourages students to embrace on their quest for career success.
"I didn't just do what they asked me to do at my jobs – I did more. That will separate you from other employees," said Jamie, when asked what advice he would give to current students. "You have to work hard and be dedicated, and don't always just for every greener pasture early in your career. Sometimes loyalty will pay off in the long run."