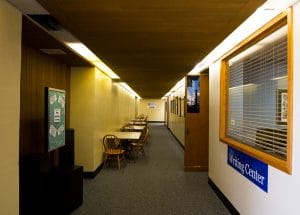 Student Support Services will be in a new location this fall. Tutoring, the Academic Enrichment Center and Supplemental Instruction will now be found on the first floor of Magale Library.
Eunice Walker, director of student support services and executive TRIO director, said the programs offered under SSS will be located in one convenient space for students. There will be no other changes to the programs, which were formerly housed in Wilson Hall, she said.
Walker as well as Lavana Kindle, Amanda Anderson, Nancy Stone, and Connie Rogers will now be working on the first floor of Magale, just off the Robert G. Campbell Music Listening Library.
Student Support Services is a federally-funded program designed to increase the retention and graduation rates and foster an institutional climate supportive of the success of low-income and first generation college students and those with disabilities. Participants are encouraged to take advantage of the free individual and/or small group tutoring services offered.
Hours of operation are Monday-Thursday, 9 a.m.-5 p.m. and Friday, 9 a.m.-noon. Peer tutors are trained, recommended by SAU professors and have at least a 3.0 GPA.