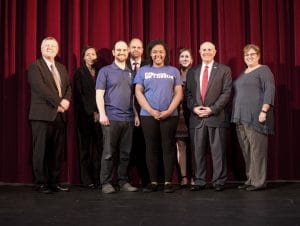 The SAU Department of Theatre has announced that Alycya Thomas, a junior theatre major from Jonesboro, has been hired as a production assistant for The Lion King: The Musical on Broadway.
She was among a few students nationwide invited to apply for this position after she met with the stage management team during this past fall's New York Theatre Experience – an annual student travel opportunity offered by SAU Theatre.

Monday night, Thomas' announcement was shared with members of her theatre class in the Harton Theatre. Dr. Trey Berry, president of SAU, and other administration officials also attended. She was applauded by her classmates.
Thomas was asked to submit a short essay and had a phone interview. At SAU, she has performed in or worked on Romeo and Juliet, A Christmas Carol, The Dutchman, Beauty and the Beast, Godspell, The Crucible, Out of Order, The Wizard of Oz, Our Town, You're a Good Man Charlie Brown and Dial M for Murder.
Thomas will be with The Lion King for four weeks during the summer, working with stage management and actors. She is the first current SAU student to work on Broadway and the first from the University to work on Broadway in 20 years. Thomas' hiring will enhance SAU's standing and reputation in the world of professional theatre.
She thanked SAU faculty for allowing her to take the New York Experience trip with three of her peers. "This all started with that amazing opportunity," she said. "We got to sight-see, watch Broadway shows, have talkbacks with the cast and crew, and shadow stage managers and designers who work on these shows. We learned how these shows are run professionally."
She called The Lion King "a show I'll never forget. We saw the stage manager's office, the dressing rooms, the costumes; we went on the actual stage, and met some of the cast."
She said SAU notified her and two other students of the chance to apply for a job with The Lion King shortly before last winter break.
"We couldn't believe it," she said. "There were so many questions. I was so scared but I knew that opportunities like this do not come every day so I took action."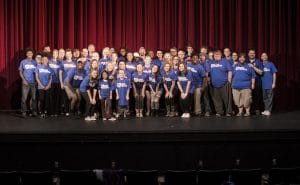 Fast-forward two months and Thomas "got one of the biggest emails of my career, that I indeed got hired on to work with The Lion King on Broadway this summer."
"I'm ecstatic to learn from professionals of this caliber and bring what I will learn this summer to my peers here at SAU."
She said she is still "working out the details of when I will be leaving but I am counting down the days. Everyone in the SAU Theatre department is my family. We have all grown together and been through so much that sharing this exciting news with them was the icing on the cake. I felt complete and I'm glad to have this department and community rooting for me."
Her job title this summer will be stage manager production assistant, "which means that I'm the stage manager's right hand. On The Lion King, there are four stage managers I will observe, learn to 'call' the show which means I will actually run the show for one night, learn how to do day-to-day paperwork, work with the actors during rehearsal and show time and in any other needed areas."
Thomas said that "it's kind of intimidating to think about because I know it's going to be a lot of hard work and a lot of information thrown my way, but this is a dream come true and I'm thankful for this opportunity."
She said theatre majors are often told how hard they will have to struggle in order to be successful, "but receiving this job means I can do this. All I need is faith and hard work and I hope that anyone else from a small town can realize they can, too."