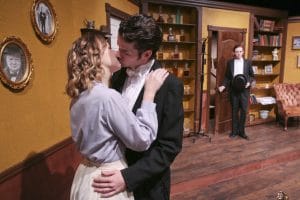 Southern Arkansas University Theatre is set to perform "Dial M for Murder" at Harton Theatre starting at 7 p.m. nightly Feb. 2-4 and at 2 p.m. Feb. 5.
Tickets can be purchased through www.showtix4u.com or by calling 870-235-4255. There is limited seating and the public is encouraged to order tickets early. Prices are $10 per adult/general admission seat and $5 for SAU students, faculty and staff. The performance on Saturday, Feb. 4, will be followed by an actor talk-back.
The thriller, written by Frederick Knott, is a suspense thriller based on the classic 1954 Alfred Hitchcock film. An ex-tennis pro carries out a plot to murder his wife; when things go wrong, he improvises a brilliant plan B.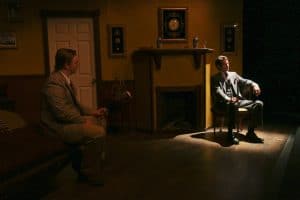 The play features SAU Theatre students Lainey Walthall (Margot); Tyler Spears (Max); Sterling Davis (Tony); Bodee Starr (Lesgate); Caleb Burkhalter (Hubbard); Grant Aaron Diffee (announcer); Josh Rogers (Thompson) and Paris Terry (Williams). Cason Murphy, theatre director, is the sound designer and voice coach. Fight choreography is by Daniel Spiropoulous.
SAU's final show of the season and the big musical of the year, "The Little Mermaid," will run April 20-22 at 7 p.m. nightly and at 2 p.m. on April 23 at Harton Theatre.