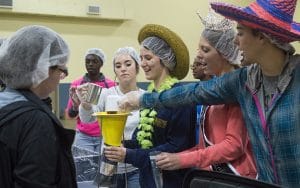 Battling food insecurity in Columbia County was the goal of a Feed the Funnel Party sponsored by The Pack Shack on Wednesday, Nov. 8, 2017. The party, which saw the participation of about 150 volunteers, was held at the Engineering Building on the campus of Southern Arkansas University and made possible by the efforts of around 20 SAU Greek and student organizations.
Haley Burrow, assistant director of Student Activities for Greek Life, said the groups joined forces to raise money and give of their time to fight the growing local problem of food insecurity. Arkansas is second only to Mississippi in the nation in food insecurity, which means that many people, including children, do not know when they will get their next meal.
The Pack Shack is a national organization that works with local groups by throwing Feed the Funnel parties in which bags of food are assembled by volunteers and collected for distribution to food banks and shelters. Burrow said Stew Pot and local food pantries would benefit from the collection.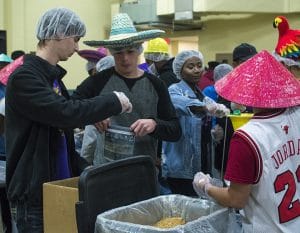 Via fund-raisers, SAU organizations were able to raise more than $5,000 of its $6,000 "dream-big" goal, Burrow said. At the party, groups of 50 volunteers – working in shifts from 2 p.m.-5 p.m. – put together the rice-based meals by feeding a funnel, having each bag of healthy food items weighed and then boxed by another team for shipment. The fast-paced atmosphere was enhanced by music, and organizers encouraged the teams to dance, jump, and have fun while they worked. "You provide the people, and Pack Shack provides the party," Burrow said. "We had so many volunteers that we had to turn people away."
More than 22,000 meals were packed in the three-hour time frame, Burrow said. Each meal cost only 25 cents to produce, she said.
"This was our first time working with Pack Shack," Burrow said. "It's a great cause, and we are so proud of our SAU volunteers."
The following organizations donated their time, money and effort into the Pack Shack event: Alpha Sigma Alpha, Phi Mu, Sigma Alpha, Sigma Sigma Sigma, Phi Lambda Chi, Sigma Pi, Alpha Gamma Rho, Tau Beta Sigma, Student Government Association, Student Activities Board, Phi Mu Alpha Sinfonia, International Student's Association, Alpha Kappa Alpha, College Panhellenic Council, Inter-Fraternity Council, Inter-Greek Council (Kappa Alpha Psi, Sigma Gamma Rho, Zeta Phi Beta, Iota Phi Theta).