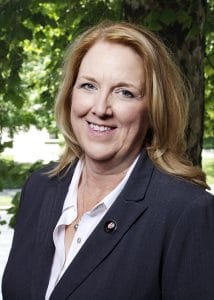 Southern Arkansas University has hired Dr. Robin Sronce to serve as Dean of the David F. Rankin College of Business, effective July 5, 2017. Sronce is currently Dean of the Breech School of Business and Associate Professor of Management at Drury University in Springfield, Mo.
"We are very excited to have Dr. Sronce join us at SAU," said Dr. David Lanoue, Provost/Vice-President of Academic Affairs. "She has the experience, vision, and insight to be the next great Dean of the Rankin College of Business. Her colleagues at Drury describe her as a creative, hard-working, and caring administrator. We are very pleased that she has chosen to come to Magnolia."
Sronce replaces Dr. Lisa Toms, who has accepted the position of Dean at Arkansas Tech.
Sronce received her doctor of philosophy degree in Business Administration in 2003 at Southern Illinois University at Carbondale, where she also earned her MBA in 1997. She received her BA at Drury, majoring in business administration and sociology and minoring in economics.
"I am honored at my selection to lead the Rankin College of Business at SAU," she said. "The business college has an outstanding reputation for providing excellent education with a personal touch, something I saw firsthand on my visit to the SAU campus.  I admire the variety of ways students are engaged in the local, national, and global community and will work with the faculty to continue expanding engagement opportunities."
Sronce joined the Drury faculty in 2006 and as incoming dean of the business school in 2015, Sronce led the school through AACSB accreditation renewal.  New programs started under her tenure include a Cybersecurity Leadership Certificate at the graduate level, an international business degree at the undergraduate level, and an Elite Career Prep program developed in conjunction with the Drury's Career Planning and Development team.
While a member of the business school faculty, Sronce was the coordinator of Communication and Outreach.  In this position, she worked to increase connections between the university and the business community.  This included creating "Breech Business Week," a week of activities related to professional development for students, and inviting business leaders into the classroom with a
"Professor for the Day" program.  She also spearheaded the Breech newsletter, website content updates, and efforts to forge social media connections with alumni.  As dean, she continued these activities and worked closely with the Breech Advisory Board, expanding its role in supporting the business school.
At the University level, Sronce served as chair of the Program Prioritization committee, coordinator of the Faculty Research Series, chair of a subcommittee on university strategic planning, member of the Drury Alumni Council, promotion and tenure committee, and chair of the search committee for the VP of Development and Alumni Relations.  Additionally, she was the Mortar Board Student Group advisor and worked with the Breech Student Advisory Board.
Sronce is committed to global education, and while at Drury, she led several study abroad trips with students. She led five groups of MBA students to Beijing, China, undergraduates on service-learning trips to Greece, and helped to strengthen partnerships with universities in Slovenia and the UK. An advocate of project-based learning, students in her classes were responsible for starting a study abroad scholarship for business students funded by an alumni golf tournament, which is now in its fifth year.
Other community contributions include Sunrise Rotary, Springfield Chamber of Commerce Small Business Committee, and volunteer and tutor for Ambassador for Children. Affiliations include MidAmerican Deans, AACSB; Academy of Management; Society of Human Resource Management; and Organizational Behavior Teaching Society.
Honors include the President's Award for Community Engagement; Drury University Faculty Leadership Award and Delta Mu Delta and Phi Kappa Phi honor societies. Her teaching experience includes human resource management, project management, international management, professional business experience and social entrepreneurship.