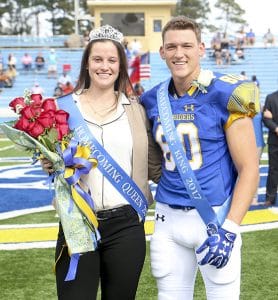 Kile Pletcher and Caroline Ficher both said they were taken by surprise when they were selected as Southern Arkansas University's Homecoming King and Queen for 2017-2018, but they plan on representing the University to the best of their abilities over the course of the year.
Pletcher, from Magnolia, and Ficher, from Sao Paulo, Brazil, said they were happy to have been nominated by their peers for the honor. "I really wasn't expecting to run for it," Pletcher said. "My roommate's girlfriend told me the cheerleading team had nominated me. I was kind of surprised. I had a lot of support. I knew three or four of the girls running for Homecoming Queen and they would mention my name and help me out, and the football team definitely helped me out. It was a cool experience."
Ficher said she was nominated by the Student Government Association for Homecoming Queen. "I was surprised – I said, 'What?!' We don't have homecoming in Brazil. Everything here is a new experience for me. I said, 'What do I do?' I had to go through the interview process, and then once you pass the interview, you have to write an essay. I wasn't expecting to win, but I had so much support. I tried my best, and after I passed my interview, I said, 'What is the next step?' I started campaigning really hard, I made flyers, I talked to people personally and asked them to vote for me."
Pletcher is a senior finance major and Ficher is a senior exercise science major. Pletcher said he has decided to go to medical school after graduating from SAU with his finance degree.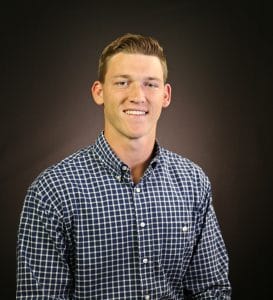 "I started in business two years ago, but I always thought about doing Pre-Med," Pletcher explained. "I always told myself it would take too long. The idea just kept coming back to my mind, and I decided to go for it. I can still fall back on my business degree. I would really like to go to UAMS in Little Rock – that's my first choice."
Pletcher has played football for the Muleriders since walking-on to the team his freshman year.
"I wasn't planning on playing," he said. "I was actually really nervous about it. I only played one year of football in high school. My receiver coach told me I could walk-on here at SAU. I took his word for it and tried it, and I made it. I've gotten really close to a lot of guys on the team and developed a lot of friendships. We've had some pretty good teams over the last two years."
Ficher transferred to SAU two years ago after attending a junior college in Price, Utah, for two years. Basketball brought her to the United States from her home in Sau Paulo.
"I've played basketball since I was seven," she said. "My mom always loved basketball, but she had to stop playing to raise her family. I fell in love with basketball and never stopped."
She visited the college in Utah briefly before moving there. "I wanted to see how basketball is played here in America. Here it is way faster, it's way more physical. In Brazil, you play more with your mind and here, you play with both. My first semester in Utah, I became a three-point shooter."
A surgery on her torn ACL kept her in Brazil one extra year before going to Utah on a scholarship. "My parents were very surprised and happy that I was going to America," she said. "I've been gone for five years now. We talk often and we FaceTime as often as we can."
Living in Utah for two years showed her that life in America is markedly different than in Brazil.
"There are so many opportunities here. In America, if you do the right thing, you are going to be successful," she said. "I always wanted to come to America, especially for my education. Everything is just so easier than in Brazil. There are job opportunities. I did struggle adapting at first. Sao Paolo has 20 million people, so I had to adjust to a small town. It was weird in the beginning, but I do think the small town is better. It keeps you focused."
She said she sometimes gets homesick. "My mother would cry, she would bawl her eyes out, when I said I had the money to go to America. My dad did, too! But after one month, they said, 'It's what she wants, and she will have a better future.' I text them every day and call them every two weeks."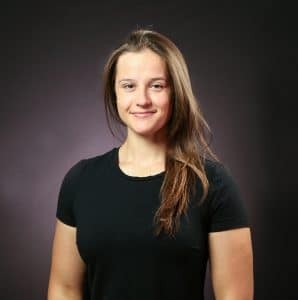 Ficher said she has adapted well to life in Magnolia. "It's a slow pace, there's no traffic, no pollution. It's beautiful here. My image of America was California, but it is good to see the other side of the country, to see what other people do."
Living in America has changed her. "I used to be shy, but I have improved my socializing skills and I am way more social now." She said she still enjoys team sports. "It is just about being a family and everyone at SAU has been so helpful and supportive."
Ficher said she will graduate in May while Pletcher looks forward to playing for the Muleriders next season before he graduates. He said he also looks forward to his role as Homecoming King.
"It means you are a leader on the campus," he said. "You have to set a good example. For that year, you are seen as a representative of the University, and it definitely shines the spotlight on you a little bit more."
He said he appreciates the "family atmosphere" at SAU. "Even though I've lived in Magnolia my whole live, the campus experience is completely different. I feel like I've made a lot more friends here than I probably would have somewhere else."
For Pletcher, attending SAU – and being selected as Homecoming King – resonates across generations of his family. His mother, Shelly Pletcher, is an RN for University Health Services. His grandmother served as athletic director secretary and his grandfather also attended classes here. "It goes back a long way with my family being part of SAU."
Ficher's host parents in Magnolia are Ronny and Cammie Hambrice.