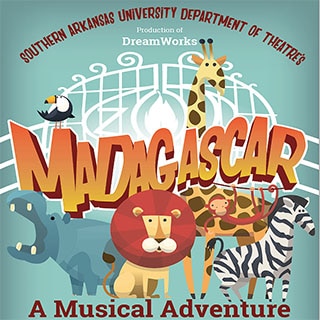 The family-friendly production Madagascar—A Musical Adventure, based on the popular Dreamworks animated motion picture, comes to Harton Theatre at Southern Arkansas University on Nov. 16, 17 and 18, with performances nightly at 7 p.m. and on Nov. 19 at 2 p.m.
A special, behind-the-scenes look at the production of the musical will be offered Saturday, Nov. 11, for children ages 12 and under. Madagascar: Behind the Foliage will give children a chance to meet the cast and crew, tour the theater, see costuming and makeup firsthand, and have a special choreography session to learn the dance of the hit song, "I Like to Move It."
Join your favorite quartet of Zoosters of Central Park Zoo — Alex the Lion, Marty the Zebra, Gloria the Hippo, and Melman the Giraffe — who escape and end up on an action-packed journey that leads to the island paradise of Madagascar, home to an assortment of strange and wacky inhabitants, led by the lemur King Julien.
The musical runs 70 minutes and is packed with enough madcap fun and hop-out-of-your-seat musical numbers to make the show a "must-see" for audiences of all ages.
Tickets are $12 for general admission, $10 for SAU faculty, staff, and students, and $5 for youth 12 and under. Last spring's hit musical The Little Mermaid sold out—and SAU has added a third student matinee to meet the demand for Madagascar—so online reservations for public performances are recommended at www.showtix4u.com. Group sales are available by calling Director of Theatre Cason Murphy at 870-235-4263.
The schedule for Madagascar: Behind the Foliage is as follows: 10:00-10:45 a.m.; 11:00-11:45 a.m.; 2:00-2:45 p.m.; 3:00-3:45 p.m. (10 children per group). Reserve your slot by emailing casonmurphy@saumag.edu or call 870-235-4263 with your preferred time. Make sure you child has a roaring good time seeing what goes into making a musical.