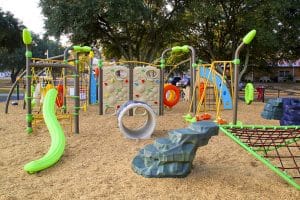 Southern Arkansas University is encouraging area youth to get outdoors and play after it officially opened the new SAU Community Playground on Friday, December 1.
"We are excited to be opening the new SAU Community Playground, which is truly a gift to the community," said Dr. Trey Berry, SAU president. "This is a gift from the long list of donors who made this effort possible, and our Development office, Physical Plant, and other faculty and staff who helped facilitate and construct this beautiful area that will be enjoyed by area youth for years to come."
The playground, located near the duck pond and tennis courts at SAU, is for children ages 2-12 and has an occupancy limit of 35. It includes several climbing components, a floating tunnel tower, pad and ring swing challenge ladders, and a single sectional slide. The ground covering is soft wood mulch, and the area is enclosed in a four-foot black chain link fence. Children must be accompanied by adult supervision at all times.  It will be open from dawn to dusk.
This area of SAU's campus around the duck pond hosts several fishing derbies each year, and the nearby walking trail welcomes families from the area and hosts 5K competitions. The tennis courts, which will soon be renovated, also encourage campus and community members to enjoy the outdoors.
A benefit of encouraging youth to visit SAU's campus for the playground and other activities is to acclimatize them to a college setting. The playground will also serve children of the SAU family – students, faculty, and staff – who live on or visit campus.
This project was among the first crowdfunding projects on the SAU Ignite website. More than 60 donors almost doubled the goal with a total of $14,840 given. Current Ignite projects include helping send SAU's cheerleading squad to NCA College Cheer Nationals and a Mulerider Track Friends and Family fundraiser. Visit https://ignite.saumag.edu to participate in these efforts and to see other recent project results.
"The project would not have happened without the phenomenal leadership of Aaron Street (Associate Dean for Integrated Marketing and Public Relations), from having the vision to forming a committee, to producing the wonderful heartwarming video, to ordering the equipment," said Vice President for Student Affairs Dr. Donna Allen. "His personal love for SAU, children, and the project was shown from start to finish."
The playground is also supported by Making Magnolia Blossom (MMB), which is the community organization founded at SAU. Through community projects, MMB works to bridge SAU and the Magnolia community.