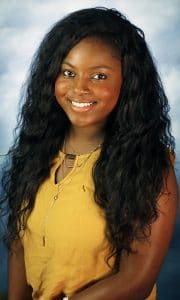 Gabrielle Davis, a senior political science major at Southern Arkansas University, experienced firsthand the rigors of graduate study and preparation for entrance into graduate programs through the Summer Undergraduate Research Experience.
Davis, of Magnolia, Arkansas, said the SURE program was hosted by Dr. Maurice Gipson, director of the Office of Diversity at Arkansas State University in Jonesboro, Arkansas. It is designed for exceptional undergraduate students from diverse backgrounds.
"I was only a part of the second cohort of students," Davis said. "It was a four-week, intensive program requiring students to meet strict deadlines in an effort to help them flourish, much like graduate school."
Davis said she attended a course on Introduction to Graduate Research & Writing on a daily basis. "As a part of this course, I had to complete a 20-page paper and complete daily assignments, such as developing a proposal and other planning elements for research)."
Her topic was African-American Underrepresentation in the 115th Congress. "My research required me to perform a descriptive analysis of the members and gather data crucial to answer the question: 'How do we increase the number of African-Americans elected to Congress?'"
The program paired her with a mentor, Dr. Veena Kulkarni, who "has helped guide my research. I have also met with other published scholars such as the chair of the political science department, Dr. William McLean; faculty-staff president, Dr. Loretta McGregor, and pre-law advisor, Dr. Hans Hacker. They have all taken the time to make sure I have had the best research experience."
Davis also attended daily field seminars directed at impacting her career decisions following graduate school. "We have had speakers enlighten us on a career in law enforcement, social work, obtaining a PhD, the beauty of photography, financial and professional development," she said.
"We also went on a field trip to the National Civil Rights Museum at the Lorraine Motel in Memphis, Tennessee," Davis said.
"What I have obtained from this program is an understanding of how to effectively do research and put it into a coherent paper," she said. "I now have new aspirations to one day get my writing and research published so that I can join that community of scholars. I feel confident in my ability to succeed in graduate school in conjunction with earning my Juris Doctorate."
Davis' goal following graduation is to attend law school and earn her MBA.