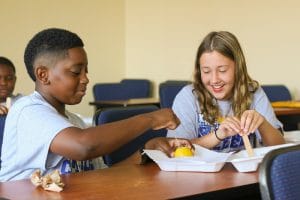 Class proposals are being accepted for the inaugural Mulerider Teen College (MTC) to be held July 5-7, 2017, at Southern Arkansas University.
The three-day MTC program will be for students entering grades 7-9. It is designed to give junior high students fun and educational experiences outside of a regular classroom setting.
"We realized there was a need to offer a program as great as Mulerider Kids College to the junior high age group," said Jana Walker, MKC coordinator. "We hope to foster a love for learning and open their eyes to look at college and career choices differently."
To submit a class proposal, visit http://web.saumag.edu/kids-college/proposal-form, on which prospective teachers can choose to submit to MKC or MTC.
Teachers are paid $175 per class, with the option to teach the class up to three different times at MTC, pending enrollment. Once the classes are selected from the proposals, students will be able to register online and select three classes. Students will also participate in leadership activities and hands-on learning. Teachers' children will also get to attend MTC for free.
The proposal deadline is Jan. 23. Classes that have proven popular are those that are hands-on, innovative and interesting.
With the addition of MTC to the two MKC camps upcoming next summer, SAU will now offer summer learning opportunities for students ranging between first and ninth grade. Other departmental camps and athletic camps are also offered on campus during the summer months.
Visit http://web.saumag.edu/kids-college for more information and/or to register to be an invaluable MTC or MKC volunteer in 2017.