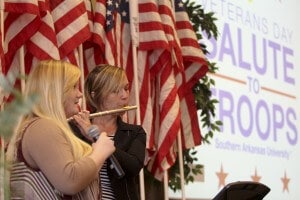 Wear your patriotic colors and join Southern Arkansas University's annual Veterans Day tribute from 12-1 p.m. on November 11, 2015.
The event will be held in the Reynolds Center, Grand Hall. Parking is available in the Reynolds Center parking lot, and the SAU President's Ambassadors will provide shuttle services to the area as needed.
Scheduled to speak at the tribute are SAU President Dr. Trey Berry and Lane Bailey, deputy director of the Arkansas Department of Veterans Affairs in Little Rock.
Inspiring entertainment will be provided by talented SAU students and faculty. Music students Joe Rogers, Dominic Mannino, Dillan Harris, and LJ Marlett will perform two songs a cappella. SAU student Devin Sipes, of the SAU Band, will perform "Taps." The SAU Brass Quintet will play service hymns performed by Devin Sipes, trumpet; Seth Loftin, trumpet; Renee Jorgensen, horn; Raechel Settlemoir, trombone; and Director of Bands J.P. Wilson, tuba.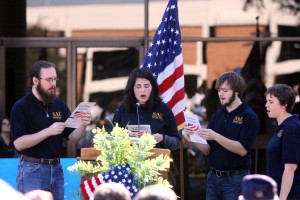 USMC SSGT Louis Roy, veteran and assistant professor of criminal justice at SAU, will present textbook stipends to aid two current SAU students receiving veteran benefits. SAU is home to returning veterans looking to get a college education, and the University has been awarded for the past six years the designation of "Military Friendly School" by G.I. Jobs, the premier magazine for military personnel transitioning into civilian life.
For more information, contact Vicki Butler, Veterans Resource Center director, at 870-235-4026 or vjbutler@saumag.edu. A reception will follow the tribute. In case of rain, the tribute will be held in Reynolds Center Grand Hall.
Also on Nov. 11, in the Reynolds Center Rotunda, a Veterans Resource Fair will be held from 10 a.m.-12 p.m. with area veterans' organizations and SAU veterans support services providing information about their services.