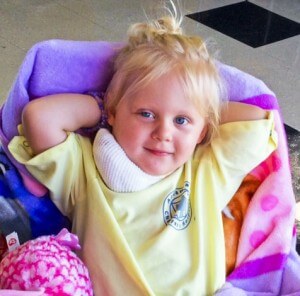 Proud alumnus of Southern Arkansas University, Cheerleading Coach and Assistant Director of Financial Aid are just a few of the titles that Anne Sands has acquired throughout her years. Other titles she holds dear are wife and mother. She is mom to two daughters, Kendall, 12, and Kaylynn 2, as is married to fellow SAU alum, John.
Anne recently was given news that would shake any mother to her core, that little Kaylynn has cancer. The bright-eyed young girl was diagnosed with ganglioneuroblastoma, a cancer which develops in the nerve tissue.
Kaylynn, like most 2-year-olds is active. She loves dressing up as a princess, is playful, smiles all the time, and loves being with family, especially her "sissy" Kendall. Kaylynn is a Mulerider fan through and through.
"She practices her cheers and moves all the time, and she loves the Mulerider cheerleaders!" said Anne.
In response to this difficult news, several efforts have been established in order to support Kaylynn and the Sands family. There are bracelets being sold for $5, which read "Lifting Up Kaylynn." They can be purchased at the Office of the Vice President for Student Affairs at SAU, Overstreet 114, or by calling 870-235-4012.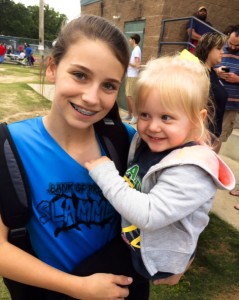 A pancake breakfast has been organized for September 12 at Calvary Baptist Church. Tickets are $10, and can be purchased through Mallory Kornegay at 870-235-5150.
There is also a raffle for a Henry Goldenboy 22 long rifle with octagon barrel, including 480 rounds of ammo. Tickets for the raffle are $2, or $20 for 15, and can be purchased from Jessica at Studio Salon, 1707 Eastridge, 870-234-0410.
Through this difficult time Anne has been touched by the support that the SAU community has shown.
"SAU is family," Anne said. "I have been overwhelmed by the outpouring of generosity and love that everyone has shown. We are so grateful."