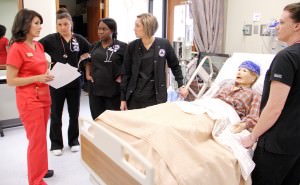 Construction is underway for the region's first rural simulation-based healthcare educational training center at Southern Arkansas University, and that is just one of many things the SAU Department of Nursing is excited about.
The 1,920 square-foot SAU Health Science Simulation Center (HSSC) will provide the latest technologies in simulation equipment. Construction cost for the project is $94,686. The equipment cost will be $149,128, which is being funded thanks to a recent grant from the Blue & You Foundation for a Healthier Arkansas. Some of the items being purchased include hospital beds, crash carts, AED trainer, CPR trainers, mobile medication center, and audio-visual equipment with recording capabilities.
The Center will be open for groups coming from across the Ark-La-Tex for innovative simulation education and professional training. It will also provide a unique, hands-on type of instruction for nursing students at SAU, with a higher level of acute care experience.
"The learning experiences in the SAU-HSSC will be in an environment that is safe and realistic to enhance critical thinking abilities, communication skills, and collaboration among healthcare teams," said Ginger Covington, simulation coordinator and instructor of nursing.
The HSSC will be comprised of four studios. Each studio will have control rooms attached for viewing and recording sessions, along with providing a private area for facilitated and reflective debriefing. The available simulation environments will include Medical-Surgical, ICU, ER, and Labor and Delivery. High-fidelity simulators (HFS) will be used in each room to enhance the realistic environment needed for successful simulation experiences.
The categories of training available will include simulation built-in to the curriculum for SAU nursing students, as well as the following: inter-professional (physicians, RNs, LPNs, etc.) for hospitals, nursing homes, and other health care facilities; new staff training; annual competency trainings; CPR/ACLS trainings; and performance improvement training.
The HSSC should be completed by June, and the auditorium is also undergoing renovations. It will have the capacity to house 115 people when completed, and will be fully equipped with wifi. The Leadership Council at the SAU Department of Nursing said that their nursing students have enjoyed getting out and about across campus this spring semester. Scrubs have been seen in flocks going from the Wharton Nursing Building to nearby rooms at SAU to have classes away from the construction.
The Leadership Council said there are changes being made beyond those on the facilities. More of a focus is being placed on the Bachelor of Science in Nursing (BSN) program to help meet the complex needs of today's and tomorrow's patients. According to the Council, by 2025 the BSN will be the entry-level hire for nurses. Many of the larger medical facilities in the region, including Arkansas Children's Hospital, have already or will soon make this BSN qualification transition for new hires.
The deadline for applications for the SAU BSN program is February 28. Visit www.saumag.edu/BSN for more information.
"We want SAU Nursing to be on the forefront of industry trends," said new Department Chair Dr. Brenda Trigg, who heads up the Leadership Council. "We understand that the medical care needed now must emphasize community, and we will provide nursing alumni who will give the best care to communities in our three surrounding states and beyond."
Because of industry developments and to provide more resources for the BSN program, the department decided to relinquish the Associates of Nursing Degree program.
The Council is excited about academic changes ahead. They are working to establish a master's program in nursing in the next couple of years. Support for this new addition has been strong from the student body, reports the Council, because there is not such a program in the region and SAU nursing graduates would love to stay at SAU to continue their education.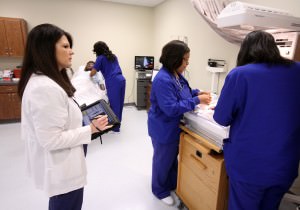 More closely into the future, fall 2015 will be the introduction of a concept-based curriculum. This change will facilitate collaborative and active learning.
"SAU is really on the forefront of nursing education because no other nursing program in Arkansas has yet to make the move to a concept-based curriculum," said Trigg. "Our goal is to continue to look forward. We have an awesome administration at SAU and that is evident by all the great changes taking place and coming soon."
The Council expects the program to continue to grow in the same way their reach has expanded across the region. This semester there are six students completing a leadership externship at Arkansas Children's Hospital, and others are at the Arkansas Heart Hospital, Arkansas Baptist, Saint Michaels in Texarkana. They have also expanded clinical sites to give students a more diverse experiential foundation.
Even though SAU nursing reports a retention rate right on par with national averages, they have appointed Becky Parnell to Retention Director to help improve student's board results. Parnell, also on the Leadership Council, is excited to have started consulting with students about creating habits that will lead to success.
The department has also decreased the number of students in each class, allowing more one-on-one time with professors. "We have already noticed that students leave with more 'aha' moments, and they have loved the small classes," said Parnell.
The Nursing Leadership Council includes Trigg, Parnell, Dr. Heather McKnight, and Dr. Pamela DeGravelles. The nursing faculty at SAU includes two Ph.D's, two DNP's, two BSN's and seven have master's degrees. Of those, two are pursuing DNP's, one is in  Ph.D. program, and two are earning master's degrees. SAU Nursing faculty also complete research and present in Arkansas and nationally. They are also active in state nursing organizations and in community involvement.